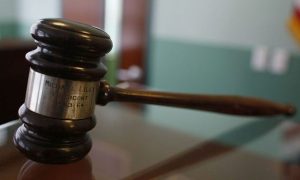 A Chinese man pleaded guilty on Tuesday to having obstructed an international human trafficking investigation.
Xu Zhang, 31, a New York resident and Chinese national, pleaded guilty to having conspired to tamper with evidence in relation to the probe, announced acting U.S. Attorney for the Middle District of Tennessee, Mary Jane Stewart.
He allegedly conspired with his girlfriend and alleged co-conspirator, Gao Xing, who is also a Chinese national, to destroy and hide records that were pertinent to a federal grand jury investigation, according to federal prosecutors.
Zhang was indicted in September 2019. His sentencing is on Sept. 15 and he is facing up to 20 years in prison.
Prosecutors allege in court documents that Zhang on Sept. 6, 2019, visited Xing in jail while she was the subject of an international human trafficking investigation. Xing told Zhang during the meeting to delete certain information that was material to the probe. She said that that the information would make her situation worse if uncovered by authorities.
The information included contacts and conversations from her account on WeChat, a Chinese application used for messaging, social media, and other purposes.
Xing allegedly told Zhang to obtain her login information to her WeChat account from her mother in China, and also gave him other details about her account. She also asked Zhang to help her change her WeChat account name.
Zhang, on the following day, informed Xing during a phone call made from the jail that he had followed her instructions and deleted the information requested by her, including changing her WeChat account name.
Authorities said Xing later committed suicide in her cell in November 2019 at the Daviess County, Kentucky Detention Center.
Homeland Security, IRS-Criminal Investigation, and the Tennessee Bureau of Investigation investigated the case, which is being prosecuted by Assistant U.S. Attorney Sara Beth Myers.