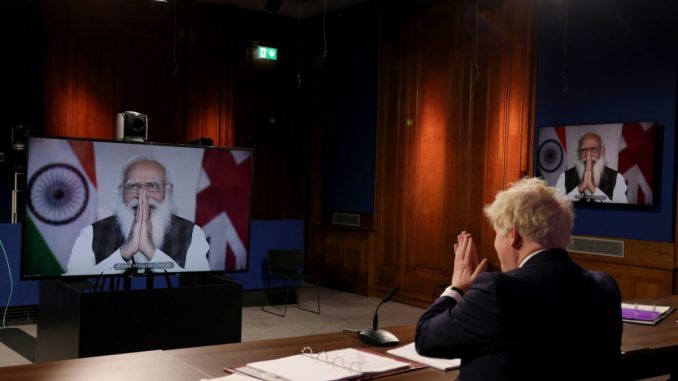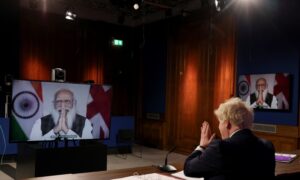 British Prime Minister Boris Johnson and his Indian counterpart Narendra Modi have agreed on ambitious plans for a "quantum leap" in bilateral relations over the next decade, Downing Street said on Tuesday.
During a virtual meeting on Tuesday, the two leaders agreed on a "2030 Roadmap," which will provide a framework for UK-India relations across health, trade, education, science and technology, and defence, the government said in a press release.
Downing Street said that India is "an indispensable partner" in the Indo-Pacific region, the importance of which was highlighted in the UK's Integrated Review of security, defence, ad foreign policy, which was published earlier this year.
Johnson and Modi agreed that the two countries will "work in lockstep" to tackle security threats "in all their forms."
The UK's Carrier Strike Group, led by HMS Queen Elizabeth, will visit India later this year and undertake joint training exercises with the Indian navy and air force.
In a statement, Johnson said the two countries "share many fundamental values."
"The UK is one of the oldest democracies, and India is the world's largest. We are both committed members of the Commonwealth. And there is a living bridge uniting the people of our countries," he said.
Johnson previously planned to visit India and hold talks with Modi in person, but was forced to cancel the visit due to concerns over the devastating second wave of the CCP (Chinese Communist Party) virus in that country.
"In the last week the British people have stepped up in their thousands to support our Indian friends during this terrible time in a demonstration of the deep connection between the UK and India," he said.
"This connection will only grow over the next decade as we do more together to tackle the world's biggest problems and make life better for our people. The agreements we have made today mark the beginning of a new era in the UK-India relationship."
Johnson and Modi agreed on a series of trade and investment deals worth £1 billion ($1.4 billion), which Downing Street said will create more than 6,500 new jobs in the UK.
They also committed to negotiating a Free Trade Agreement with a view to doubling UK-India trade over the next decade.
Also on Tuesday, the Home Office said Britain and India have signed an agreement allowing young UK and Indian nationals to work and live in each other's countries.
Under the agreement signed by Home Secretary Priti Patel and Indian Foreign Minister Subrahmanyam Jaishankar, young professionals aged 18 to 30 will be able to work and live in the other country for up to 24 months.
The agreement will also address long-standing problems of illegal migration from India to the UK.
Under its terms, Patel said, the UK will be able to "remove those with no right to be in UK more easily and crack down on those abusing our system."
PA contributed to this report.