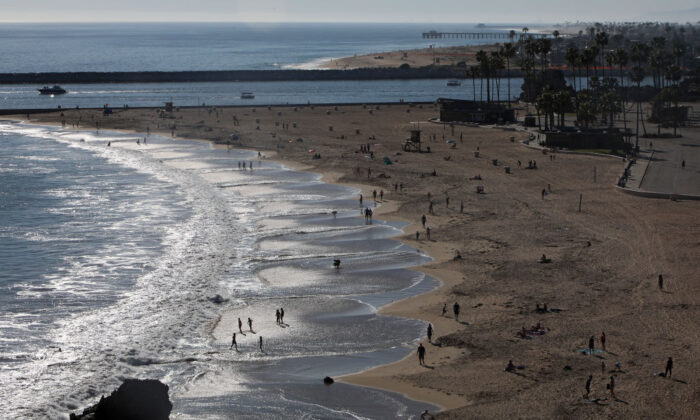 People are seen along Corona del Mar State Beach in Newport Beach, Calif., on April 15, 2020. Southern California has seen warmer weather over the last few days as social distance guidelines due to COVID-19 are still in place. (Michael Heiman/Getty Images)
Nine people were taken into U.S. Customs and Border Protection custody May 2 after they were dropped off at a Newport Dunes boat ramp by a pleasure boat.
The group of Mexican nationals consisted of seven men, one woman, and an unaccompanied 13-year-old boy, border control said.
The group was turned over to U.S. Border Patrol agents for processing after being taken into custody about 5:30 p.m. The Orange County Sheriff's Department assisted with the matter.
Newport Beach is about 100 miles north of the U.S.-Mexico border.
In Dana Point, a 25-foot abandoned boat washed ashore April 21, also prompting an U.S. Customs and Border Patrol investigation.
Lori Haley, spokesperson for the Los Angeles department of Immigration and Customs Enforcement, said both incidents are under investigation by Homeland Security Investigations and the Los Angeles Border Enforcement Security Task Force.