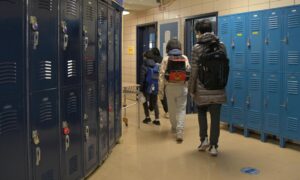 Public school students in New York City on Oct. 11 will be celebrating Italian Heritage Day and Indigenous People's Day instead of Columbus Day, and Juneteenth will become a school holiday for the first time, the city's education official announced Tuesday.
In the 2021–2022 school year calendar released Tuesday afternoon, Oct. 11 was originally labelled as Indigenous Peoples' Day. However, the Department of Education (DOE) sent out an update later, clarifying that the Columbus Day holiday will actually be renamed "Italian Heritage Day/Indigenous People's Day."
"Italian Heritage Day/Indigenous People's Day will celebrate the contributions and legacies of Italian Americans and recognize that Native people are the first inhabitants of the land that became our country," a spokesperson for the department said in a statement. "By including these holidays on our calendar we are honoring the past, present, and future contributions of Indigenous communities and Italian Americans."
There won't be any snow days in the upcoming school year, according to the calendar. The education officials said schools will switch to remote learning in case of heavy snowfall or other extreme winter weather.
"Over the years, the DOE introduced additional holiday observances as part of the school calendar, and has contractual obligations which limit the number of possible school days," a spokesperson said. "The pandemic has also created the ability to switch seamlessly to remote learning, and DOE central and schools have distributed hundreds of thousands of devices to ensure that learning can continue remotely during school closures."
Election Day, which falls on Nov. 2, will also be a fully remote day for all students.
In addition, schools will be closed on June 20, 2022, to celebrate Juneteenth, which marks which marks June 19, 1865, when federal troops arrived in Galveston, Texas, to enforce the Emancipation Proclamation. Governor Andrew Cuomo last year signed into law a bill designating Juneteenth as an official public holiday in New York State.
The Education Department's initial replacement of Columbus Day with Indigenous People's Day upset several city and state legislators, including state Sens. Diane Savino and Joe Addabbo, both Democrats of Italian ancestry, who said they were "incredibly disappointed" by the decision to eliminate the Genoa-born navigator's name from the holiday.
"Their insensitive decision to eliminate Columbus Day, which is a legal, Federal holiday from their calendar and substitute it with Indigenous People's day does a terrible disservice to a difficult and complex conversation," the lawmakers said in a joint statement. " In one block-headed decision, they have harmed both communities and fanned the flames of division."