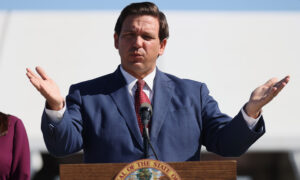 Florida Gov. Ron DeSantis on Tuesday scheduled a special election to fill the U.S. House seat vacated by the late Rep. Alcee Hastings (D-Fla.) for Jan. 11, 2022.
"I am going to be doing an executive order to set the special election for Congressional District 20, Alcee Hastings' seat," DeSantis said. "We're going to do the primary for November 2, the general election for January 11."
"I know someone who ran for it before. There's a lot that goes into it. I know there'll be a lot of folks who want to run for it. So hopefully that gives them enough time to be able to get on the ballot and do what they need to do to be competitive," DeSantis added.
Florida's 20th district is considered safe territory for the Democrats and the governor's decision to set the special election for next year is all but sure to be criticized. Democrats hold a razor-thin majority in the U.S. House, meaning that the election will leave them without a potentially crucial vote for another eight months.
One of the Democrats running for the seat, Broward County Commissioner Barbara Sharief, had called for a primary in August and the general election in November. Palm Beach County elections supervisor Wendy Link called for a primary on Sept. 14 followed by a general election on Nov. 9
Hastings passed away last month at the age of 84 after a battle with pancreatic cancer. He represented the 20th district for nearly 30 years. He started his career as a civil rights attorney before he was nominated in 1979 by then-President Jimmy Carter as a federal judge. Hastings was later impeached by the House for perjury and bribery and was later convicted in the Senate.
However, Hastings was able to mount a political comeback in 1992 and won a seat in the House before he was reelected 14 more times. He most recently served as Vice Chairman of the House Rules Committee and was also a member of the U.S. Helsinki Commission and the Dean and Co-Chairman of the Florida Delegation.
Hastings said in 2019 that he was diagnosed with pancreatic cancer.
Jack Phillips contributed to this report.