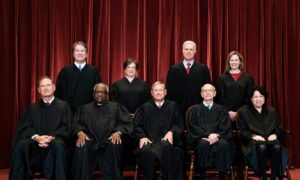 The U.S. Supreme Court on Monday declined to take up a challenge against Maryland's ban on bump stocks and similar devices that can make guns fire faster.
The high court on Monday turned away a challenge (pdf) to the ban, which took effect in October 2018. A lower court had dismissed the challenge at an early stage and that decision had been upheld by an appeals court.
As is typical, the Supreme Court did not issue a reason for declining to take up the case.
Maryland's ban preceded a nationwide ban on the sale and possession of bump stocks that was put in place by the Trump administration and took effect in 2019.
The Supreme Court previously declined to stop the Trump administration from enforcing that ban. Both Maryland's ban and the nationwide one followed a 2017 shooting in Las Vegas in which a gunman, Stephen Paddock, allegedly attached bump stocks to assault-style rifles he used to shoot concertgoers from his hotel room.
Several weeks ago, however, the Court of Appeals for the 6th Circuit recognized that Congress alone has the ability to define new federal crimes, which the president and federal officials are the ones who enforce those laws.
The Department of Justice issued a 2017 ATF rule "to clarify that [bump stocks] are 'machineguns' as defined by the National Firearms Act of 1934 and the Gun Control Act of 1968" as these devices "allow a shooter of a semiautomatic firearm to initiate a continuous firing cycle with a single pull of the trigger."
But the 6th Circuit said that changes in criminal law are up to Congress, not the executive branch.
"It is not the role of the executive—particularly the unelected administrative state—to dictate to the public what is right and what is wrong," stated Judges Alice Batchelder and Eric Murphy of the 6th U.S. Circuit Court of Appeals, who wrote the 2-1 majority opinion in late March. "Granting the executive the right both to determine a criminal statute's meaning and to enforce that same criminal statute poses a severe risk to individual liberty," they added.
"Entrusting the interpretation of criminal laws to the judiciary, and not the executive mitigates that risk and protects against any potential abuses of government power," the judges further said, adding that a bump stock can't change a semi-automatic gun into a fully automatic one.
"A bump stock may change how the pull of the trigger is accomplished, but it does not change the fact that the semiautomatic firearm shoots only one shot for each pull of the trigger," the judges said. "With or without a bump stock, a semiautomatic firearm is capable of firing only a single shot for each pull of the trigger."
The Associated Press contributed to this report.
The case is 20-855 MD SHALL ISSUE, INC., ET AL. V. HOGAN, GOV. OF MD.