The Greater Manchester Police have condemned violence during protests on Sunday against the owners of the Manchester United football club.
Two officers were injured when some United fans threw bottles and barriers at the police. One of the officers was attacked with a bottle and sustained a significant slash wound to his face, requiring emergency hospital treatment, the force said.
It happened after around 100 fans stormed the pitch at Old Trafford on Sunday ahead of the game in protest at Manchester United's American owners, the Glazer family, over the club's decision last month to sign up for the breakaway European Super League, which collapsed within 48 hours amid protests from football associations, fans, and politicians.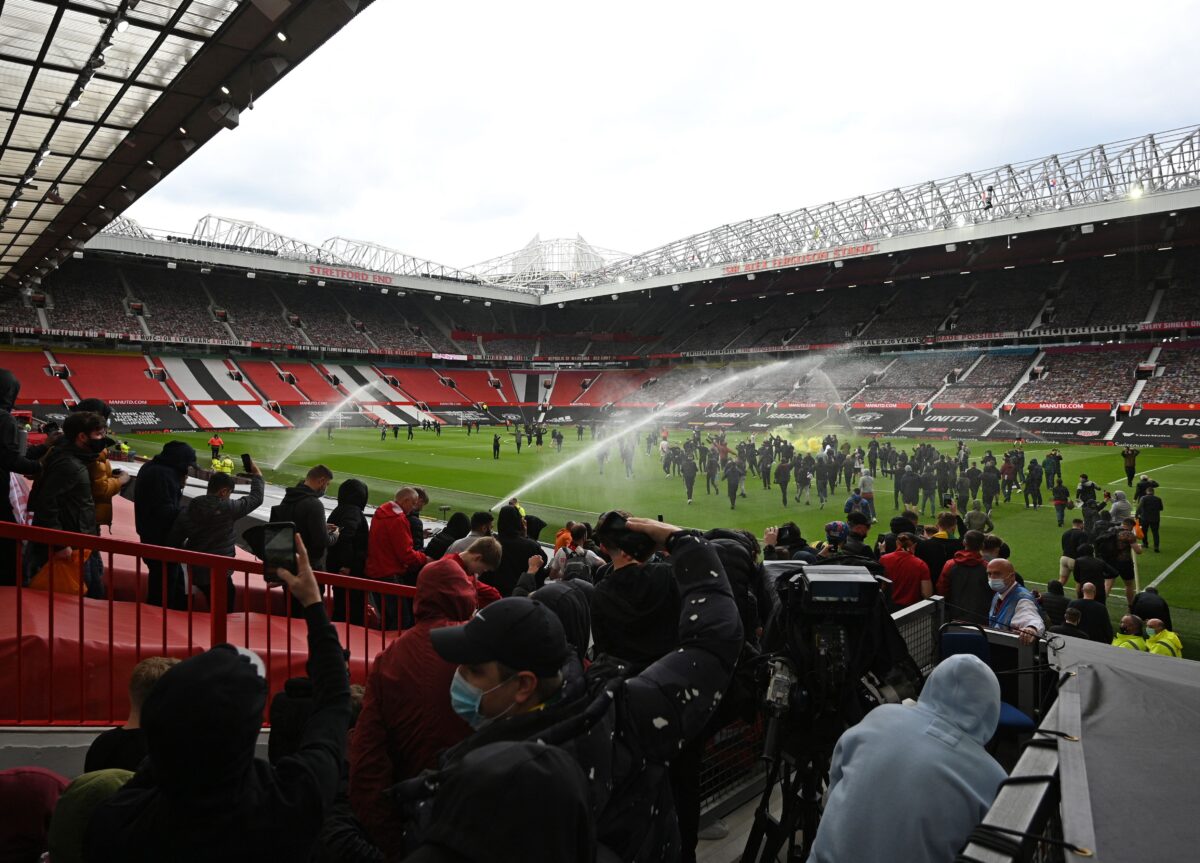 The protests forced the Premier League to postpone the match for safety reasons.
Russ Jackson, assistant chief constable of Greater Manchester Police, said the protesters' behaviour was "reckless and dangerous."
"We understand the passion many supporters have for their team and we fully respect the right for peaceful protest. Plans were in place to ensure this could happen safely, but it soon became clear that many present had no intention of doing so peacefully," he said.
"The actions of those today required us to take officers from front line policing and call in support from neighbouring forces to prevent the disorder getting worse. At different points, bottles and barriers were thrown, officers assaulted and people scaled the stadium structure creating risk for themselves and officers.
He said police had launched an investigation and will "establish the full circumstances surrounding today's events and prosecute those responsible."
The Premier League said it understood the fans' "strength of feeling," but condemned "all acts of violence, criminal damage, and trespass, especially given the associated COVID-19 breaches."
Andy Burnham, the mayor of Greater Manchester, said on Twitter that there is "no excuse for the actions of a minority who injured police officers and endangered the safety of others."
Talking to Sky News on Monday, Foreign Office minister James Cleverly said that he "cannot condone" fans' behaviour.
But he added that "we do need to understand the frustrations that fans have, not just with Manchester United, but with a number of clubs across the game."
PA contributed to this report.