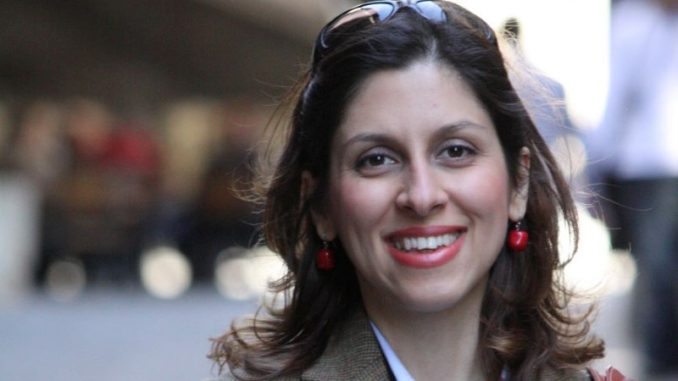 The Iranian regime shouldn't use British dual nationals as "political leverage," a British minister said on Monday.
James Cleverly, Britain's Foreign Office minister for Middle East and North Africa, said that the incarceration of British-Iranian nationals such as Nazanin Zaghari-Ratcliffe is "completely unacceptable and inappropriate" and should be kept separate from ongoing legal disputes between the two countries.
It comes after Iranian state TV on Sunday quoted anonymous sources as saying a deal had been reached for the United Kingdom to pay £400 million ($552 million) to see the release of British-Iranian woman Nazanin Zaghari-Ratcliffe.
The aid worker, mother of one was given a one-year jail term on April 26 for spreading "propaganda" against the Iranian regime, less than two months after completing a five-year sentence for plotting to overthrow the clerical establishment, a charge she denies.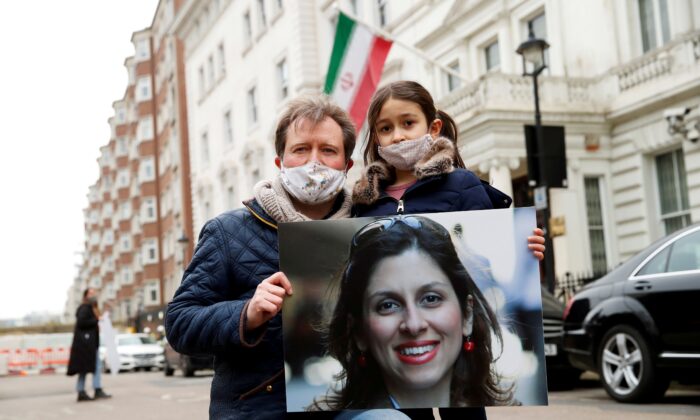 The charges against her and other dual citizens "are illegitimate, they're unfounded, their incarceration is completely unacceptable and inappropriate," Cleverly told Times Radio.
"That is a completely separate issue to the legal dispute that is still ongoing with Iran," he added.
"Iran should absolutely not be linking the two."
The legal dispute Cleverly referred to dates back to the 1970s when the then-shah of Iran paid the UK £400 million for 1,500 Chieftain tanks.
Britain refused to deliver the tanks to the new Islamic Republic when the shah was toppled in 1979, but kept the cash despite British courts accepting it should be repaid.
After Iranian TV claimed that the UK agreed to pay for the release of Zaghari-Ratcliffe on Sunday, the UK's Foreign Office said that the UK continues "to explore options to resolve this 40-year-old case and we will not comment further as legal discussions are ongoing.''
Cleverly told Sky News on Monday that the UK government has "always said that British dual nationals should not be used as political leverage," and accused the Iranian regime of using disinformation.
"We have also seen a number of occasions where the Iranian regime have used disinformation, we're hearing inaccurate reports coming out over the last couple of days," he said.
"On the one hand, they are saying that these proceedings are legitimate, we don't agree with that at all, but then also saying that they are linked to this legal dispute—it can't be both," Cleverly added.
"We're making it very, very clear. It is in the hands of the Tehran regime to release these people and they should be released."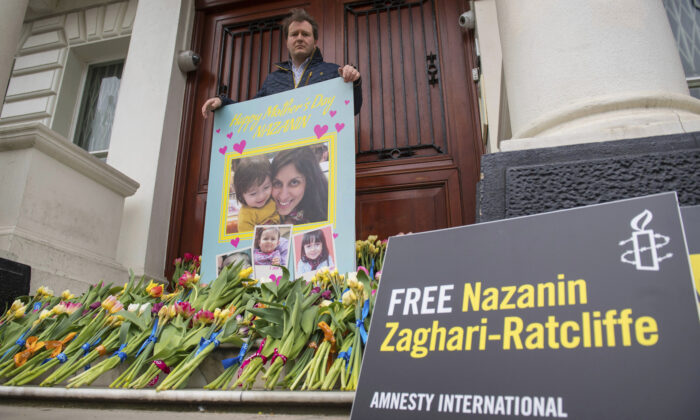 Zaghari-Ratcliffe's MP Tulip Siddiq told Sky News that she thinks the UK should pay the money to the Iranian regime.
"If you owe someone money, even you should pay it," Siddiq said, adding that Cleverly had told Parliament that there's no dispute about repaying the £400 million debt.
However, earlier on Sunday, British Foreign Secretary Dominic Raab had said that what's holding up the negotiation of Zaghari-Ratcliffe's release is not just over the debt.
Asked if she is being held hostage, Raab told the BBC's The Andrew Marr Show: "I think it's very difficult to argue against that characterisation.
"It is clear that she is subjected to a cat and mouse game that the Iranians, or certainly part of the Iranian system, engage with and they try and use her for leverage on the UK."
Asked about the debt the UK owes Tehran over tanks, Raab said: "It's not solely about that.
"That is not actually the thing that's holding us up at the moment, it's the wider context as we come up to the Iranian presidential elections and the wider elections on the JCPOA [Joint Comprehensive Plan of Action] which, inevitably from the Iranian perspective, the two are considered in tandem," Raab said.
"Nazanin is held unlawfully in my view as a matter of international law, I think she's being treated in the most abusive, tortuous way, I think it amounts to torture the way she's being treated."
In the same report on Sunday, Iranian state TV also said that "four Iranian prisoners are to be released and $7 billion are to be received by Iran in exchange for releasing four American spies,"
U.S. State Department spokesman Ned Price immediately denied the report, saying it was "not true."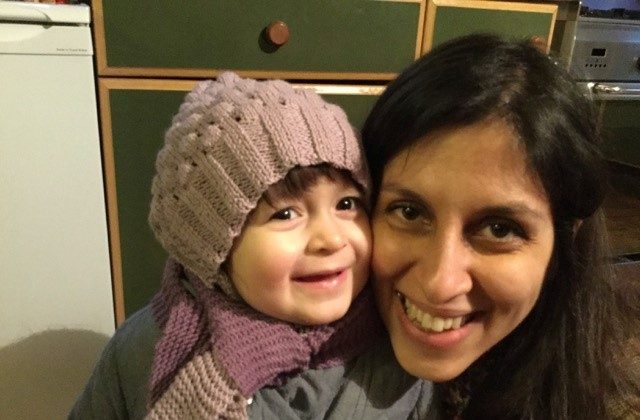 Zaghari-Ratcliffe, 42, a project manager with the Thomson Reuters Foundation, was arrested at a Tehran airport in April 2016 as she was heading back to Britain with her daughter Gabriella after a family visit.
She was later sentenced to five years in jail after being convicted of plotting to overthrow Iran's clerical establishment. Her family and the foundation, a charity that operates independently of media firm Thomson Reuters and its news subsidiary Reuters, deny all charges against her and say she was only visiting relatives in Iran.
Zaghari-Ratcliffe was released in March, having carried out hunger strikes in protest over her treatment in jail as diplomatic efforts were made to secure her freedom.
But she and her family were delivered a fresh blow last week when she was given an additional one-year jail term.
She was also banned from leaving Iran for a further year.
PA, the Associated Press, and Alexander Zhang contributed to this report.