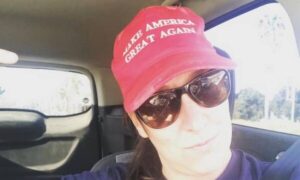 The lawyer for the family of Ashli Babbitt, the woman who was killed by a Capitol Police officer during the Jan. 6 Capitol breach, said that witnesses did not hear the officer give a warning before he shot her.
The officer, who has not been identified, was cleared by federal prosecutors of any wrongdoing in the shooting, saying that it was reasonable that the officer fired in self-defense. The officer's attorney Mark Schamel has told news outlets his client did, in fact, warn Babbitt and others who were behind the door attempting to get into the Capitol.
"It's a false narrative that he issued no verbal commands or warnings," Schamel told news outlets last month, adding that witness statements corroborate his account. "He was screaming, 'Stay back! Stay back! Don't come in here!'"
However, Babbitt family lawyer Terrell Roberts disputed Schamel's account.
"We've interviewed several witnesses on the same side of the door with Ashli Babbitt," Roberts told journalist Sharyl Attkisson on Sunday. "They didn't hear any kind of warning. I think a reasonable officer would know, given the noise on the other side of the door, that anything that he's saying would not be heard."
According to video footage of the incident, the officer appears to issue no commands to stop or any verbal warning that he would fire.
"In fact, if you watch the video carefully," Roberts said, "there's an officer in a suit that strolls across the hallway at the time that he is supposedly yelling an announcement, who doesn't even seem to react to that. So those are three important factors why we think he didn't give an announcement."
Video footage recorded by Capitol breach participants shows the officer taking a defensive position in a doorway before aiming his weapon and shooting Babbitt who appeared to be trying to climb through a broken window in the door. Officials later said that Babbitt, a U.S. Air Force veteran, reportedly had no weapon.
Roberts noted that Babbitt was part of a crowd that was starting "to hit the door, break some of the windows." The footage, he said, then shows three officers "move out of the way" of the rioters.
"At the time that this officer shoots, there's no member of Congress in that lobby," the lawyer noted Sunday. "So I think all this adds up to a situation where the officer did not need to shoot and kill the lady."
In previous media interviews and in a statement to The Epoch Times, Roberts said he is planning to file a lawsuit against the U.S. Capitol Police, arguing that the officer violated the constitutional rights of Babbitt. Last week, he said the family will seek $10 million from the agency.
The Epoch Times has contacted the U.S. Capitol Police for comment.