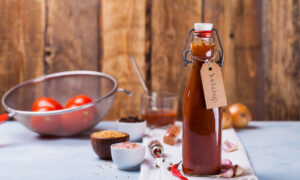 So, this is a first for me. Honestly, Heinz ketchup is about as common a product as any in the Hunt refrigerator. So why on earth would I even think of making it myself? If you haven't read this in the news, brace yourself.
The U.S. is experiencing a ketchup shortage. Not kidding. Ketchup! And specifically, our favorite brand, Heinz.
Seems that manufacturing has not kept up with demand—the next COVID-19 related challenge. With the pivot to drive-thrus and curbside pickup, Americans have fairly devoured the entirety of the national supply of those little packets of ketchup. Add to that the episode in the Suez Canal that caused unprecedented obstacles in the global supply chain. Good sense dictates that we need to get ready for shortages of other products, too, like the infamous toilet paper, coffee, and furniture.
As for the ketchup, I don't understand why Heinz could not figure out how to push the button on the packet-filling machine to turn out a sufficient quantity, but then again, I'm not in that business. The folks at Heinz tell us they're increasing manufacturing as fast as possible to get production up to 12,000,000,000 (yes, you read that right: 12 billion) packets a year, but that won't be happening overnight.
In the meantime, this situation is about to hit consumers at all levels.
Restaurants, we learn, are now resorting to ketchup in bottles, opting to fill little to-go containers themselves. And they're clearing out the shelves at the big-box stores and warehouses. You should assume they're heading to a supermarket near you.
But not to worry! We can make it ourselves, and remarkably come out with a product that is very (very!) close to Heinz ketchup—not for dollars but for just pennies!
Here's a recipe for Copycat Original Heinz Ketchup, inspired by "Top Secret Recipes" by Todd Wilbur.
My cost to make this recipe, using store-brand tomato paste, is about 70 cents. An equal amount of Heinz original ketchup, at about 15 cents per ounce at my supermarket, works out to $3.59 for the same amount—more than five times this homemade version. Wow! What savings.
Enjoy!
Copycat Original Heinz Ketchup
1 6-ounce can tomato paste
1/2 cup light corn syrup
1/2 cup white vinegar
1/4 cup water
1 tablespoon white granulated sugar
1 teaspoon salt
1/4 teaspoon onion powder
1/8 teaspoon garlic powder
Into a medium saucepan set over medium heat, pour all of the ingredients. Stir or whisk until all ingredients are well incorporated and the mixture looks smooth. Once the ketchup comes to a boil, reduce the heat to simmer. Allow to simmer for 20 minutes, stirring every couple of minutes (be careful to not let it burn). Remove the pan from the heat. Cover and allow to cool. Store in a covered container in the refrigerator. Best when used within six weeks.
Mary Hunt is the founder of EverydayCheapskate.com, a frugal living blog, and the author of the book "Debt-Proof Living." Mary invites you to visit her at her website, where this column is archived complete with links and resources for all recommended products and services. Mary invites questions and comments at EverydayCheapskate.com/contact, "Ask Mary." Tips can be submitted at Tips.EverydayCheapskate.com. This column will answer questions of general interest, but letters cannot be answered individually. Copyright 2021 Creators.com