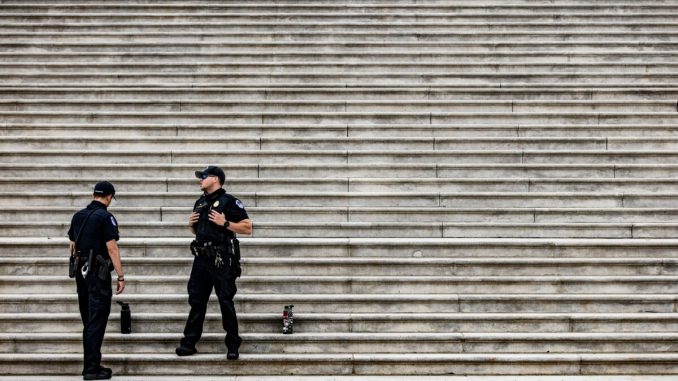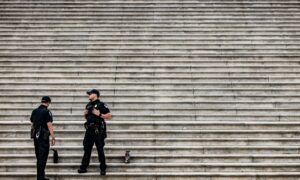 Three House Republicans are looking to hold a series of hearings concerning the U.S. Capitol Police Board in wake of the lapses which contributed to the Jan. 6 breach of the U.S. Capitol.
In an April 29 letter (pdf) to Committee on House Administration Chairwoman Zoe Lofgren (D-Calif.), Reps. Rodney Davis (R-Ill.), Barry Loudermilk (R-Ga.) and Bryan Steil (R-Wisc.) asked that all three members of the Capitol Police Board (SPB) testify before lawmakers, the first such appearance since 1945.
The Republicans cited recent testimony by U.S. Capitol Police (USCP) Inspector General Michael Bolton, who according to the letter said the board " is in desperate need of reform."
"The events of January 6th highlighted significant problems with the CPB's structure and responsibilities. When warranted, the CPB has the serious responsibility to make the decision to declare an emergency, a determination required to authorize the USCP Chief to call in the National Guard," Davis, Loudermilk, and Steil wrote. "However, on January 6th, the CPB's bureaucratic structure and partisan membership crippled its rapid response capabilities and decision-making abilities, and the United States Capitol Complex remained in chaos and without National Guard assistance for hours."
"Further, it is clear from email correspondence uncovered by this Committee that the Architect of the Capitol, who makes up one-third of the voting membership of the CPB, was left out of key security decisions, a recurring problem for the CPB," the lawmakers added.
In testimony to lawmakers, Bolton said that the inspector general's office had identified issues with the USCP "in the areas of intelligence, training, operational planning, and culture."
Lofgren did not immediately respond to a request for comment.
The three-member Capitol Police Board consists of the sergeant at arms of the U.S. House of Representatives, the sergeant at arms and doorkeeper of the U.S. Senate, and the architect of the Capitol. The chief of the Capitol Police serves as an ex-officio member.
Then USCP-chief Steven Sund said that the House and Senate sergeants at arms, both of whom have since resigned, rejected his requests for National Guard reinforcements because they were concerned with the optics of a formal announcement.
Senate Majority Leader Charles Schumer (D-N.Y.) nominated Karen Gibson, a retired lieutenant general in the United States Army, as the new Senate sergeant at arms. House Speaker Nancy Pelosi nominated William Walker, who was the head of the D.C. National Guard on Jan. 6. President Donald Trump nominated and the Senate confirmed J. Brett Blanton as the U.S. Capitol architect in 2020.