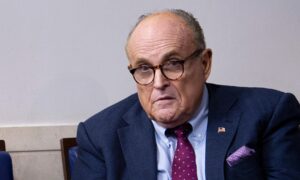 Days after federal investigators searched his apartment and confiscated several devices, former New York City Mayor Rudy Giuliani claimed that the FBI is "trying to frame him."
"At about 6 a.m., there was a banging on my door—a very loud banging, and outside there was a group of an endless number of FBI agents," Giuliani told Fox News on Monday. "Usually a person who has been a former assistant U.S. attorney, a U.S. attorney, a mayor, the associate attorney general, usually they receive a subpoena—not have their home raided," he added.
Federal prosecutors executed a search warrant at the former mayor's Manhattan apartment reportedly as part of an investigation into whether he violated Foreign Agents Registration Act related to his work in Ukraine.
The FBI agents "showed me a warrant that sought the electronics in my apartment and purported to be about an alleged violation of the Foreign Agents Registration Act, FARA, for failure to file as a foreign agent on behalf of an unnamed Ukrainian official," Giuliani added, saying he "never did this" and claimed he was offering to discuss the allegations with the U.S. Attorney's Office for the Southern District of New York.
"My contracts have clauses that I will not act as a foreign agent, and I wanted to show these things to the government so that they would stop their consistent illegal leaking of an investigation," Giuliani added.
Going further, Giuliani said federal agents are motivated by an animus against former President Donald Trump, a former client of Giuliani's. Trump and Giuliani appear to have parted ways after Giuliani mounted a campaign for the former president to challenge the results of the Nov. 3 election.
"They are trying to frame me," Giuliani said. "They are trying to find something they can make into a crime, some technical violation, some mistake I made."
Giuliani has not been charged with a crime.
Former alleged Giuliani associates Lev Parnas and Igor Fruman have already been charged with various crimes including campaign finance violations. Giuliani previously has distanced himself from the two men, accusing one of them of lying about their relationship and dealings.
While in Ukraine, Giuliani attempted to find incriminating evidence about then-candidate Joe Biden, whose son Hunter sat on the board of a gas firm, Burisma Holdings, reportedly for a lucrative monthly sum.
The Epoch Times has contacted the Department of Justice for comment. Previously, the Justice Department declined to comment on the search.