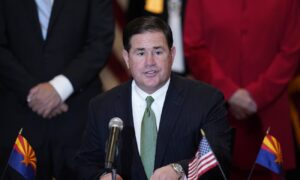 Arizona Gov. Doug Ducey (R) rescinded an executive order issued last year that waived the requirement for Arizonans to prove they are actively looking for a job in order to receive unemployment benefits.
Ducey said the pandemic-era order issued in March last year is no longer necessary because the state's economy has recovered and vaccines are widely available.
"A year out from the start of the pandemic, jobs and vaccines are readily available," Ducey said in a statement. "Arizonans are ready to get back to work. Our economy is booming, jobs need filling, more than 2 million Arizonans are fully vaccinated, and vaccination appointments are available to anyone who wants one."
The Arizona Department of Economic Security will start enforcing the requirement the week of Sunday, May 23.
There were more people employed in Arizona on May 3 than there were at the start of the pandemic, according to Ducey. The states's restaurant and hospitality sectors are struggling to hire workers at least in part due to the attractive unemployment benefits from the state combined with a $300 weekly boost from the federal government.
"As President Reagan said, the best social program is a job," Ducey said. "This statement rings true today. Unemployment benefits are still available to Arizonans who need them but now that plenty of jobs are available, those receiving the benefits should be actively looking for work."
Arizona is on pace to gain 325,000 jobs from the spring of 2020 to the spring of 2022, according to Ducey. The largest gains are expected in the restaurant and hospitality sectors, which have been hardest hit by the pandemic of the CCP (Chinese Communist Party) virus, commonly known as the novel coronavirus.
"Businesses cannot afford to weather another storm unable to fill positions," Tucson Metro Chamber President Amber Smith said in a statement. "Now that vaccines are out far and wide, many businesses are scaling back up looking for employees. It's important that we work to meet this job demand and get the word out that a variety of jobs are available."
As of May 3, Arizona had administered 5,102,705 vaccinations against the CCP virus, with 2,329,956 Arizonans fully vaccinated.