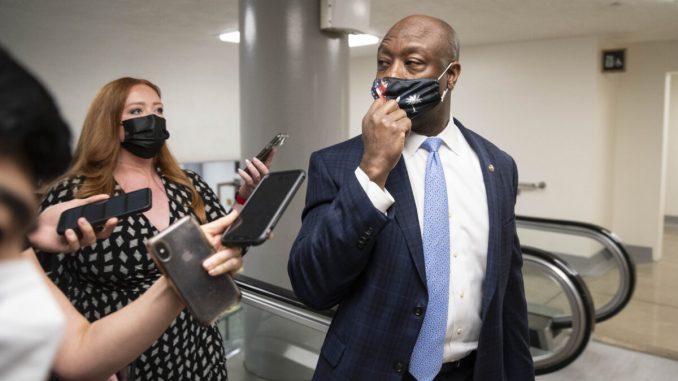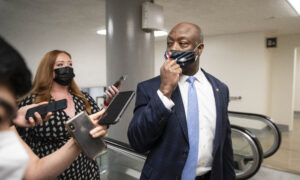 Sen. Tim Scott (R-S.C.) on Sunday said that he's now hopeful on negotiating police reform with colleagues on the other side of the aisle as Democrats have since last year shifted their focus from looking for an "issue" to finding a "solution" to the problem.
Nearly a year after the Republican senator first unveiled his law enforcement reform bill in response to the nation-wide protest against police brutality fueled by the death of George Floyd, Scott said he is more optimistic about working with Democrats on the issue.
"One of the reasons why I'm hopeful is because, in a way, this time, my friends on the left aren't looking for the issue; they're looking for a solution," Scott, the first black politician from the South to serve in the U.S. Senate, told CBS's "Face the Nation."
"And the things that I offered last year are more popular this year. That gives me reasons to be hopeful," he told host John Dickerson.
Scott last June introduced the 106-page legislation named the Just and Unifying Solutions to Invigorate Communities Everywhere (JUSTICE) Act as a Republican counteroffer to the Democrat's George Floyd Policing Act of 2020.
The measure was blocked from moving forward by Senate Democrats, who criticized it for not going far enough in many areas, particularly to combat any racial profiling and protections for police (qualified immunity) who are proved to have used excessive force.
It focused on long-term solutions for police accountability and transparency, while addressing short-term issues specific to rebuilding trust in minority communities.
The George Floyd bill has not yet been considered by the Senate. However, Republicans have criticized the legislation because it strips police officers of any qualified immunity.
Advocates for qualified immunity say, the doctrine allows police to do their job without having to worry that a split-second decision may cost them their job or livelihood, while opponents say it protects brutal officers and prevents victims from receiving justice.
Scott is now working with a bipartisan group of lawmakers to negotiate police reform legislation.
"How do we change the culture of policing? I think we do that by making the employer responsible for the actions of the employee," Scott said. "We do that with doctors. We do that with lawyers. We do that with almost all of our industries. If we do that in law enforcement, the employer will change the culture."
Scott told Dickerson he's confident that lawmakers on both sides of the aisle could overcome major sticking points in the Senate version of the proposed bill and that it could be brought "very close together" with the version that passed the House.
"Think about the [parts] of the two bills that are in common … data collection," Scott said. "I think through negotiations and conversations, we are closer on no-knock warrants and chokeholds, and then there's something called Section 1033 that has to do with getting government equipment from the military for local police.
He added, "I think we're making progress there too, so we have literally been able to bring these two bills very close together."
Days earlier, while delivering the GOP rebuttal to President Joe Biden's first address to a joint session of Congress, Scott said he's "hopeful" that "this [police reform] will be different" this time round.
"Last year, after the deaths of Breonna Taylor and George Floyd, I built an even bigger police reform proposal, but my democratic colleagues blocked it," Scott said.
"I extended an olive branch. I offered amendments, but Democrats use a filibuster to block the debate from even happening. My friends across the aisle seemed to want the issue more than they wanted a solution. But I'm still working," he said.
"The goal isn't for Republicans or Democrats to win," the South Carolina senator added during his CBS interview Sunday. "But for communities to feel safer and our officers to feel respected. If we can accomplish those two major goals, the rest will be history."