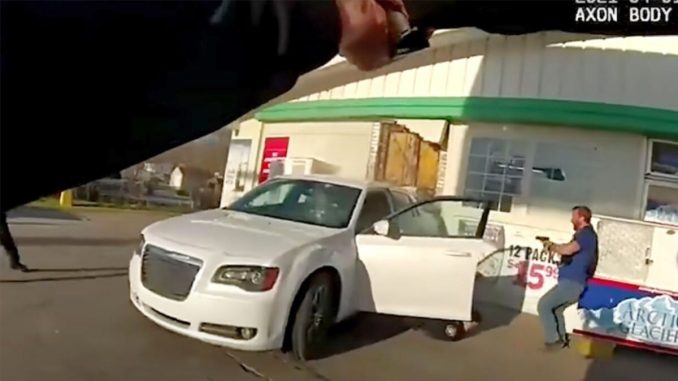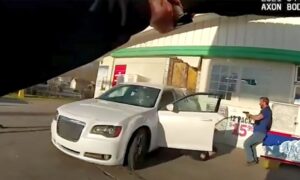 Police in Rock Island, Illinois, fatally shot a man who attempted to drive away in a stolen vehicle and dragged officers with him, according to police bodycamera footage.
DeShawn Tatum, 25, is seen running through an alley before he is seen stealing a bystander's vehicle at a gas station and dragging two officers before he crashed into a building. The incident took place on April 1.
Officers are heard yelling at Tatum to get out of the vehicle when he put the car in reverse and drove backwards into the building, hitting two officers with his door and dragging them.
Authorities told the Quad-City Times that Tatum attempted to grab his weapon, causing it to fire, shattering a window, and grazing an officer's head.
The video can be seen below (Warning: contains profanity):
Investigators said that officers fired at Tatum to protect the two officers who were under the car, according to the paper. One of the officers fired at him while being dragged.
After he was shot, he was moved to the ground where officers gave him CPR until paramedics arrived, officials said. He later died of gunshot wounds to his chest and head.
State's Attorney Dora Villarreal said no criminal charges will be filed against the officers who shot Tatum.
"After reviewing all of the video and audio of the officers who were at the scene, along with the surveillance footage from the Chicken Shack (the gas station), it is clear that although Tatum dropped the gun he had during the foot pursuit, he used a stolen vehicle as a weapon to drag and injure several officers and also attempted to disarm another during the collision into the Chicken Shack. After the white car collided with the wall and stopped, Tatum remained an imminent threat to all of the officers at the scene since the car was still running," Villarreal said in her report.