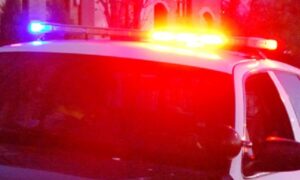 One person was killed and several others were injured in New York City late Thursday when an SUV jumped a curb and slammed into an outdoor dining structure on Ditmars Blvd in Astoria, Queens, police said.
A 29-year-old man who was on a Yamaha scooter when he was struck by the driver shortly before 8 p.m. was rushed to Mount Sinai Queens Hospital, but was pronounced dead shortly later.
It's not clear what led to the crash, however, the driver of the 2013 Mercedes-Benz, a 60-year-old woman, was transported to Elmhurst Hospital Center, police said.
A 32-year-old woman who was dining at Rosatoro restaurant was taken to Mount Sinai Queens in stable condition with injuries to her legs.
According to officials, the driver crashed into two parked vehicles before striking the 29-year-old's moped and the outdoor dining area.
Video footage from the scene published on Twitter shows people being loaded into an ambulance on stretchers and debris scattered across the street that's lined with outdoor seating amid the COVID-19 pandemic. It also showed a dark-colored car stuck inside a wooden structure.
Kevin Sales, Rosatoro's general manager, told The New York Times that the driver was likely slowed down by a tree and an electrical pole near the restaurant.
"Or else she would have been inside the restaurant," Sales said.
The New York Police Department's Twitter account for the 114th Precinct urged residents to avoid the area of 35th Street and Ditmars Blvd due to police activity.
Thursday's crash occurred as officials announced that the city aims to "fully reopen" on July 1, after more than a year of closures and capacity restrictions implemented to curb the transmission of the CCP (Chinese Communist Party) virus.
"We are ready to bring New York City back fully on July 1," Mayor Bill de Blasio told reporters at a news briefing Thursday. "Now we can see that light at the end of the tunnel."
De Blasio said he had not discussed the city's reopening date with Gov. Andrew Cuomo, but his announcement came a day after Cuomo set out a timeline for which he would lift restrictions such as curfews for outdoor and indoor dining, and capacity limits. The state has the power to impose or lift CCP virus-related restrictions.
"I think the best way to proceed here is to set out the city's vision," de Blasio said.
Asked about New York City's reopening plan at a press conference later, Cuomo said he was "reluctant" to set a date but was hopeful it could happen even before July 1.
"I don't want to wait that long," said Cuomo. "I think if we do what we have to do, we can be reopened earlier.
Reuters contributed to this report.