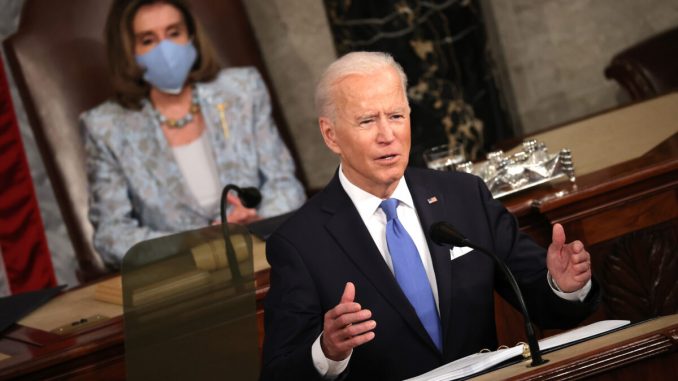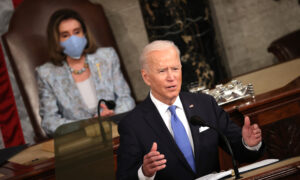 Republican lawmakers have criticized President Joe Biden's first speech to Congress for not taking a tough enough stance against the Chinese communist regime, especially over its severe human rights abuses.
Biden, in remarks to a joint session of Congress on April 28, warned that Chinese leader Xi Jinping is "deadly earnest on becoming the most significant, consequential nation in the world."
"We're in a competition with China and other countries to win the 21st Century," Biden said, adding that these countries were "closing in fast" on the United States due to falling domestic investment in research and development.
Recalling his first phone conversation with Xi in February, Biden said he told the Chinese leader that the United States was not looking for conflict with the regime. "But I made absolutely clear that we will defend America's interests across the board," Biden said. This included standing up to the regime's unfair trade practices and its theft of American intellectual property, he added.
Biden said the United States will maintain a strong military presence in the Indo-Pacific region. He added that "America won't back away from our commitment to human rights and fundamental freedoms."
Some Republicans however were not impressed with Biden's statements with regards to the Chinese regime, saying he could have sent a stronger message against Beijing's abuses.
Sen. Tom Cotton (R-Ark.) said Biden's "remarks on China did not meet the moment."
"He missed an important opportunity to rally our nation against the greatest foreign threat to the United States," Cotton wrote in a tweet on Wednesday.
Rep. Bill Huizenga (R-Mich.) said in a tweet that if Biden would hold China to the same tough standards that he wants to apply to Russia, he would gain stronger support in Congress.
Other lawmakers called out Biden's failure to mention Beijing's rampant human rights abuses in Xinjiang, which was designated by the United States as genocide earlier this year.
"President Biden completely refusing to call out China for their egregious Uyghur genocide in Xinjiang," Rep. August Pfluger (R-Texas) wrote in a tweet.
Rep. Lisa McClain (R-Mich.) urged Biden to hold the regime accountable for its "horrific" human rights violations against Uyghurs in Xinjiang. "America must continue to be tough on China," she said in a tweet.