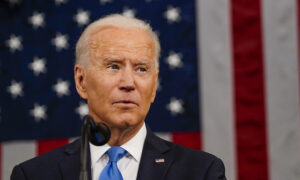 The Department of Defense (DOD) announced it is canceling U.S.-Mexico border wall construction efforts that were paid with funds that were initially allocated for the military.
Former President Donald Trump ordered the diversion of billions of dollars in military and defense funds toward building the wall, using his emergency executive powers.
"The Department of Defense is proceeding with canceling all border barrier construction projects paid for with funds originally intended for other military missions and functions such as schools for military children, overseas military construction projects in partner nations, and the National Guard and Reserve equipment account," said Jamal Brown, a spokesperson for the Pentagon, in a statement.
Brown said the returned funds will now be used for deferred military construction projects.
"DOD has begun taking all necessary actions to cancel border barrier projects and to coordinate with interagency partners. Today's action reflects this Administration's continued commitment to defending our nation and supporting our service members and their families," he said.
The Department of Homeland Security also announced on Friday that it would take steps to address "physical dangers resulting from the previous administration's approach to border wall construction."
The decision is expected to draw criticism from Republicans.
GOP Congress members have previously accused President Joe Biden of illegally halting congressionally approved border wall construction projects, while the Government Accountability Office is investigating whether the administration acted illegally.
Sen. Jim Risch (R-Idaho) described Friday's move as a national security threat.
"Having a secure, defined border is important to our national security & public health efforts. This is an ill-advised decision at best," he wrote on Twitter.
Illegal immigration has become an issue for Biden as his administration has dealt with a surge of illegal immigrants and unaccompanied minors along the southern border. Several weeks after taking office in January, Biden signed executive orders rescinding several of Trump's policies, including the "remain in Mexico" initiative.
Even some Democrats have faulted the president for his messaging, including Sen. Mark Kelly (D-Ariz.), who said the president has not laid out a comprehensive immigration plan so far.
"While I share President Biden's urgency in fixing our broken immigration system, what I didn't hear tonight was a plan to address the immediate crisis at the border," he stated, referring to Biden's speech to Congress on Wednesday. "And I will continue holding this administration accountable to deliver the resources and staffing necessary for a humane, orderly process."
Reuters contributed to this report.