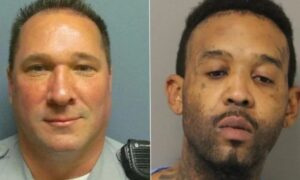 A Delaware police officer was declared clinically dead after he was beaten while responding to a 911 call, officials said.
Delmar Police Chief Ivan Barkley announced Keith Heacook, a 22-year veteran with the Delmar Police Department, was pronounced clinically dead on Wednesday. He was seriously injured on Sunday morning while responding to a call about a fight at the Yorkshire Estates Community, said the Delaware State Police in a release.
Officials said a 911 caller "reported one of the occupants, who was later identified as Randon Wilkerson, was being disorderly, fighting with other residents of the house, and destroying items inside the residence" before a separate 911 call was received by another resident who said he and his wife were assaulted, police said.
The man and his wife are 73 years old and 76 years old, respectively, police said.
When Heacook responded, he was allegedly "met with physical confrontation with Wilkerson," officials said. Authorities found the officer unresponsive inside the home by additional officers who responded.
Officials upgraded the charges against Wilkerson from attempted murder to murder, according to a statement from Delaware Attorney General Kathy Jennings.
"The man who stole him from his family and from his community has been arrested, and mark my words: he will be prosecuted to the fullest extent of the law. It is with nothing but sadness that I commit, now that Cpl. Heacook is no longer with us, that his killer's charges will be upgraded to include murder," said Jennings.
A GoFundMe campaign has been set up for Heacook's family, which has raised $36,000 so far.