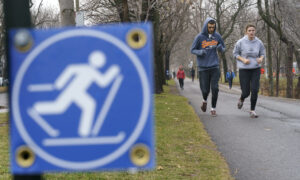 The pandemic and measures to prevent its spread have made Canadians change their lifestyle—some for the better, and some for the worse. But according to a recent Dalhousie University survey, health in general has declined.
"Canadians are just not healthy. Canada is much heavier now than 14 months ago, I can tell you that. That we know for sure," Sylvain Charlebois, director of the Agri-Food Analytics Lab at Dalhousie University, told The Epoch Times.
Charlebois's lab, in partnership with data insights platform Caddle, surveyed 9,991 Canadians in April 2021 and found that 42.3 percent said they gained more weight than they wanted and 15.6 percent said they lost more weight than desired.
"I think people will have to think about a new lifestyle coming out of [the pandemic]. Lifestyle is going to be a big one for sure," Charlebois said.
The survey reported that pandemic-generated stress has impacted people's eating habits, with 74 percent of respondents admitting so.
Over 61 percent agreed that a snack will lift their mood and 50.4 percent said they eat more when stressed than when they're calm.
"People will probably be looking to get back into shape in some sort of way. And to do that you're going to really have to do two things. You have to spend more energy—burn more calories—and eat less calories or eat different kinds of calories."
Golfing, Yard Work, Cooking
Some Canadians have already embraced more exercise because the pandemic has shut down typical social activities. In Wolseley, Saskatchewan, about 100 kilometres east of Regina, pre-K and kindergarten teacher Noelle Bonk said the pandemic has changed her social life substantially.
"I used to get together with friends a lot, … especially with ones who live farther away in Regina. I hardly ever see anybody there anymore," Bonk said in an interview. "With my dad, we would go to lots of rodeos and racing events and things. They aren't happening."
Although Wolseley has only 850 people, the 50-year-old has found plenty to do.
"I spray-painted, cleaned up all my lawn furniture," Bonk said. "I have a really big yard, like three lots … so I've been able to do a little bit more out there too, cleaning up dead branches and trimming and raking where I've never raked before," she added with a laugh.
The local 9-hole, par-3 golf course is within walking distance, though a nearby town has another course Bonk also likes.
"I took up golf a couple of summers ago, a little bit, but … last summer there was literally very little else to do. I was out there every day almost. And I'm just walking more, and I've been biking more. In some ways, I've been more active."
Asked if she felt healthier, Bonk said she wasn't sure.
"Sort of yes and sort of no, because I also really like cooking and so I've been able to do a lot more cooking. And who is going to eat all this food?"
Bonk is not alone. A study released by Charlebois's lab in February found that nearly one-quarter of Canadians have prepared every meal they ate since the pandemic began. And over one-third have learned a new recipe.
B.C. Grandma Takes Up Mountain Biking
In Victoria, Gitte Wilson used to take her foster boys regularly for swimming and to BMX races, but that stopped with the pandemic. Bike trails remained open, but to take her boys there, Wilson needed her own wheels.
"I pulled out my bike that's been sitting in the garage for 20 years and I had to get practising. So I've been riding my bike to Sidney and back, which is about 30 [kilometres], two or three times a week, so I can keep up with them," Wilson said.
"When they're in school, I'm in training. And it's wonderful because it just opened up a whole new world—because [with] mountain biking, you don't have to pay a membership fee, you don't have to sign up for race fees. You can just have freedom to go, get on a bike, and start travelling right on the trail."
Pandemic restrictions have kept Wilson from her grandchildren in Vancouver for the past year, but she's been going to the beach more and have made friends there.
"We meet up with a dog walker down there who takes dogs out every day. And we've met more people that we wouldn't otherwise be around. So even though we've been restricted in so many areas, there's new areas that have opened up for us, new sports, new relationships."
Life as a foster mom actually got easier.
"My life was in like half-hour increments all day long: have to go here, have to be there. And it just all shut down," Wilson said. "I have time to do things that I've never had time to do before. … The stress just left."
Wilson is among those who've fared much better than most. The Dalhousie survey in April found that 68 percent of boomers thought their stress levels has risen since March 2020, while 83 percent of millennials and 82 percent of Generation Z respondents said the same.
Social isolation has been the number one reason for stress, reported by 67 percent of respondents, with fear of the COVID-19 virus and work-life balance ranking second and third.