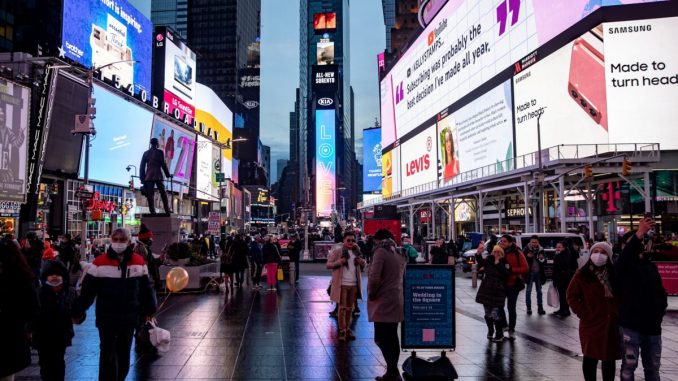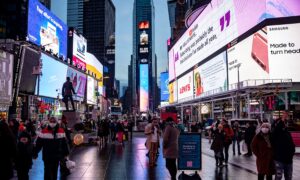 New York City suffered a massive loss in tourism revenue during the CCP virus pandemic but is set to invest $30 million in a campaign to get visitors back as the city reopens.
A report by New York Comptroller Thomas DiNapoli on Wednesday showed that only 22.3 million people visited the city in 2020 compared to 66.6 million in 2019. This past year tourists spent just $13 billion, which is a 73 percent decline from the $47.4 billion they spent the previous year. In total, the shutdowns cost The Big Apple $1.2 billion in tax revenue for the 2021 fiscal year.
"The pandemic's damage to this industry has been staggering and it may take years before tourism returns to pre-pandemic levels. The city and state must help with the safe reopening while targeting relief funds to workers and to hotels, venues, restaurants, and other businesses that are unlikely to recover until visitors return," DiNapoli said.
Tom Harris, acting president of the Times Square Alliance said a Time Square recovery was vital for a New York City recovery, with over 60 percent of Times Square employees living in the outer boroughs.
"We applaud Comptroller DiNapoli's efforts to focus on this vital sector of our economy and support the recommendations made to accelerate a safe return for the industry while also targeting marketing efforts to ensure visitors return to New York City soon and enjoy Times Square again," Harris said.
Donna Keren of NYC & Company said the industry was seeing steady growth prior to the shutdowns caused by the CCP (Chinese Communist Party) virus (novel coronavirus) pandemic.
"Comptroller DiNapoli's report highlights just how vital tourism is to all five boroughs of New York City, and is also a sobering reminder of how difficult this pandemic has been for our city's tourism industry," she said.
DiNapoli said tourism is an essential part of New York City's economy and put out a set of recommendations to help tourism return to full capacity which includes, ensuring health and safety infrastructure in public spaces, giving financial support to the transport and hotel industry, promoting tourist activities, targeting leisure travelers, and improving airport transportation.
Mayor Bill DeBlasio announced on April 21 that the city will invest $30 million in a tourism campaign.
"So today we're going to spark our economic recovery with a new $30 million marketing campaign to bring back the tourists and to bring back all that they do to invest in the city, bring back to jobs. Campaigns called New York City reawakens … This will be the largest ever campaign to promote tourism in New York City," DeBlasio said.
During an interview on Thursday with MSNBC, DeBlasio said that the City's plan is to fully reopen businesses, offices, theaters, and more on July 1 and that it will be possible because vaccines are reaching millions of people in New York City,
"Because look, what we're seeing is people have gotten vaccinated, an extraordinary number, 6.3 million vaccinations in New York City to date. We're doing a lot to reach people at the grassroots," added DeBlasio.