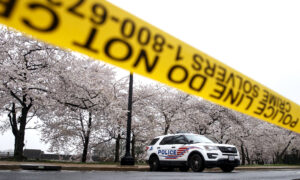 A North Carolina sheriff's deputy has been killed and another has been wounded in a Watauga County standoff that continued after nightfall with law enforcement officers surrounding a home, authorities said.
Watauga County Sheriff's Office Sgt. Chris Ward died from his injuries after a standoff at a home in the town of Boone that began Wednesday morning. Law enforcement officers were dispatched to the residence after the homeowner and his family didn't report to work or answer telephone calls.
When they entered the home, an unidentified shooter opened fire, striking the pair.
Ward was airlifted to a hospital in Johnson City, Tennessee, where he was pronounced dead shortly after.
A second deputy with the sheriff's office, K-9 Deputy Logan Fox, was injured in the incident, and remained at the home in an unknown condition, Watauga County Sheriff Len Hagaman said.
The conditions of the other deputies who were dispatched to the home aren't known at this time.
The standoff with the suspected shooter is still ongoing, the Sheriff's Office said in a release.
Some 15 law-enforcement agencies, including the North Carolina State Bureau of Investigation and the North Carolina State Highway Patrol, have responded to assist with the standoff, including deputies from neighboring counties.
The Watauga County Sheriff's Office didn't immediately respond to a request for comment.
"This is an incredibly tragic situation and our thoughts and prayers are with everyone involved as well as their families and our community," Hagaman said in a statement. "I greatly appreciate the tremendous support we are receiving from law enforcement agencies across the region and the state."
Police said the neighbourhood has been evacuated as the armed individual continues to periodically fire at officers. A shelter-in-place order was issued by authorities for those living in the area.
Clarence Wilson, 78, was on the porch of his home in Boone when sheriff's deputies pulled up in front of the house across the street. Gunfire erupted after the deputies arrived, Wilson told The Associated Press.
"Then they told me to get back in the house and stay," he said.
Wilson said he saw deputies pull a man from the house.
"I don't know if it was a deputy or who it was," he said. "I was just worried about keeping myself safe."
Wilson said he heard a second barrage of gunfire around noon. Police remained on the scene more than four hours later, he said.
He said it's a "real quiet neighborhood" with many retirees like himself.
"We ain't used to all this," he said.
Nearby residents have been asked to remain in their homes and to keep their windows and doors closed.
Sen. Thom Tillis (R-N.C.) said in a statement that he and his wife are "heartbroken" over the news of Ward's death in the line of duty.
"We are praying for his family, the officer wounded, and their community. A tragic reminder of the dangers our law enforcement officers face every day."
The Associated Press contributed to this report.