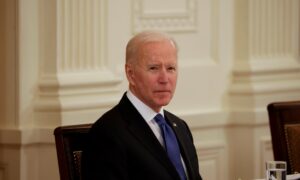 President Joe Biden said Thursday that he learned about the search of former New York City Mayor Rudy Giuliani's home after it happened and wasn't given advance notice.
"I made a pledge I would not interfere in any way, order or try to stop any investigation the Justice Department had underway," Biden told NBC News.
The president said he was not briefed on any investigation into Giuliani, who had also served as former President Donald Trump's personal attorney.
"I learned about that last night when the rest of the world learned about it. My word. I had no idea this was underway," he said.
Federal prosecutors executed a search warrant at Giuliani's apartment in New York City on Wednesday before federal investigators confiscated several smartphones, electronic devices, and phones, the former mayor's lawyer said, adding that the equipment contains privileged attorney-client information.
"The search warrants involve only one indication of an alleged incident of failure to register as a foreign agent," Giuliani lawyer Robert Costello said in a statement Wednesday.
"Mayor Giuliani has not only denied this allegation, but offered twice in the past two years through his attorney Bob Costello to demonstrate that it is entirely untrue," he said in the statement. "Twice the offer was rejected by the SDNY by stating that while they were willing to listen to anything Mr. Costello had to say, they would not tell Mr. Giuliani or Mr. Costello, the subject matter they wanted him to address."
Speaking to NPR, Costello separately said the FBI search was connected to possible violations of the Foreign Agents Registration Act linked to Giuliani's work in Ukraine. Giuliani went to the Eastern European country in 2019 as part of an effort to make a documentary TV series about Biden and his son, Hunter Biden, who had previously sat on the board of a Ukrainian gas company, Burisma Holdings, that has long been accused of corruption.
The actions of Giuliani, also a former prosecutor, became a side-note in the first impeachment effort against Trump. House Democrats and some impeachment witnesses alleged that Giuliani attempted to push out a former U.S. ambassador to Ukraine, which both Trump and Giuliani have denied. Trump was ultimately acquitted in the Senate.
Costello added that the Justice Department targeted Giuliani due to politically motivated reasons.
"It is outrageous that the Trump Derangement Syndrome has gone so far that hatred has driven this unjustified and unethical attack on the United States Attorney and Mayor who did more to reduce crime than virtually any other in American history," his statement said.
Meanwhile, FBI agents also showed up at the home of Victoria Toensing, who had worked with Giuliani and Trump, according to her law firm.
"She would have been happy to turn over any relevant documents. All they had to do was ask. Ms. Toensing was informed that she is not a target of the investigation," a spokesperson for her law firm told several news outlets on Wednesday.
The Epoch Times has contacted both Giuliani's office and the FBI for comment.