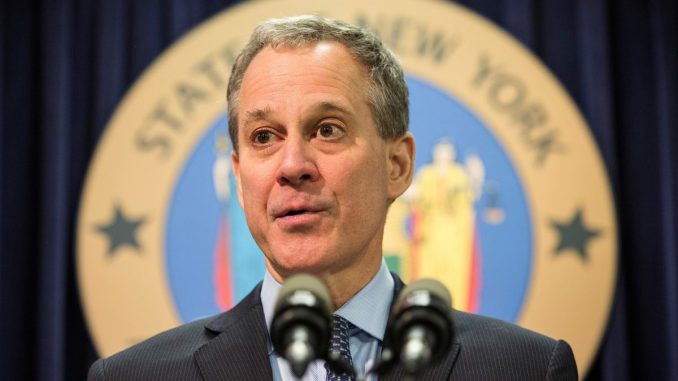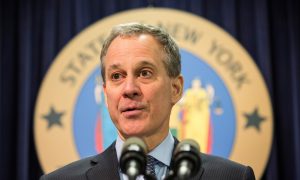 Former New York Attorney General Eric Schneiderman will lose his law license for a year beginning on May 28 after admitting to physical and emotional abuse of three women, according to a court filing (pdf).
Schneiderman resigned from his post in May 2018 after The New Yorker published an article detailing allegations of abuse by him of multiple women. The Nassau County District Attorney's Office declined to prosecute him six months later, citing statutes of limitations and other matters.
The one-year suspension was agreed upon by Schneiderman as part of disciplinary proceedings before the Attorney Grievance Committee for the First Judicial Department. As part of the deal, Schneiderman admitted to the physical abuse. The punishment against him was softened due to lack of prior offenses and his having committed to mental health and alcoholism treatment.
"Respondent's admitted misconduct involves verbal and emotional abuse, and unwanted physical contact with three women. However, respondent does not have any criminal or disciplinary history, he has a significant record of public service, and he has taken steps to address his alcohol abuse and past abusive behavior via his participation in AA and therapy," the court order states.
Schneiderman's attorney, Michael Ross, did not immediately respond to a request for comment.
As part of the settlement, Schneiderman admitted that during a consensual relationship with a woman between July 2013 and December 2014 he slapped a woman on multiple occasions and placed his hands on her neck and applied pressure without consent. He admitted to abuse of another woman between August 2016 and September 2017.
"Respondent conditionally admits that, by virtue of his unwanted physical contact with the three women described above, he engaged in professional misconduct; that is, conduct that adversely reflects on his fitness as a lawyer," the court order states.
The New Yorker article featured the accounts of four women, two of whom came forward on-the-record. Schneiderman resigned from office three hours after the article was published.
His admission in court papers features the initials of two of the women which match the names from the New Yorker story, Michelle Manning Barish and Tanya Selvaratnam.
"They allege that he repeatedly hit them, often after drinking, frequently in bed and never with their consent," the article had stated. "Manning Barish and Selvaratnam categorize the abuse he inflicted on them as 'assault.'"
Shortly after the ruling, Manning Barish wrote on Twitter: "My life was torn apart and truth telling cost me everything. It was worth it. I did it for every woman and for our daughters. Keep speaking up, and keep supporting your sisters. I am grateful for this ruling. No one is above the law."