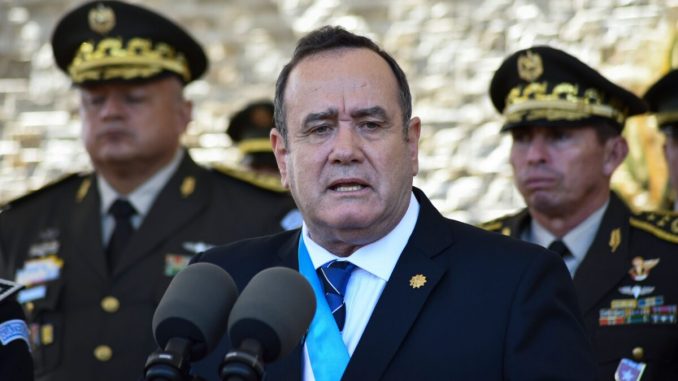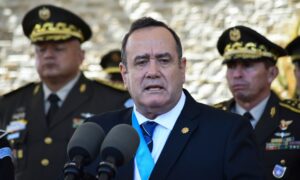 Vice President Kamala Harris in talks with Guatemalan President Alejandro Giammattei Monday proposed that the United States helps train members of a Guatemalan task force in charge of protecting the country's border.
In a virtual meeting, Harris offered to send 16 Department of Homeland Security employees to assist in the effort, amid a recent spike in unaccompanied minors arriving at the southern border—many of them Guatemalan.
The vice president also said that the United States will increase aid to the region and will assist Guatemala with the construction of shelters for returned migrants.
The U.S. government will provide $310 million in assistance for humanitarian relief and to address food insecurity in the Northern Triangle, Harris said.
Harris and Giammattei also "agreed to open Migrant Resource Centers in Guatemala to provide services for people seeking lawful pathways of migration as well as those in need of protection, asylum referrals, and refugee resettlement," the White House said.
President Joe Biden, who has moved away from predecessor Donald Trump's hard-line immigration approach, gave Harris the job of leading U.S. efforts with Mexico and Central America's Northern Triangle countries—Honduras, El Salvador, and Guatemala—to stop migrants from crossing into the United States.
The United States is planning to "strengthen" its "cooperation" with the region to better handle the influx of illegal border crossings at the U.S.-Mexico border, Harris told Giammattei in their second conversation in less than a month.
"We want to work with you … in a way that will bring hope to the people of Guatemala, that there will be an opportunity for them if they stay at home," Harris said during the virtual meeting.
The U.S. effort to train Guatemalan task force members will be led on the Guatemalan side by the Division of Border Ports and Airports.
She highlighted the need for the United States and Guatemala to better cooperate to "manage migration in an effective, secure, and humane manner."
President Giammattei said Guatemala is looking forward to the vice president's visit but wants to reach an agreement on issues before she travels.
"I believe that we should build a roadmap between governments … so that we can reach an agreement … [and] can work on this very hard road that we have ahead of us," he said.
Harris' announcement marks a stark contrast to policies under the Trump administration, which in June 2019, withheld hundreds of millions of dollars in foreign aid from the Northern Triangle countries—the main source of mass illegal migration into the United States.
Trump made the call after the State Department determined that the three countries weren't doing enough to curb migration to the United States.
The apprehensions of people crossing the border illegally have substantially increased in recent months.
Border Patrol agents detained more than 150,000 immigrants last month, former Customs and Border Protection Commissioner Mark Morgan said on March 30, citing internal data.
While the Biden administration has said that the border isn't open, Biden reversed or altered a number of key Trump-era immigration enforcement policies such as the "Remain in Mexico" program, which contributed to the surge, experts have told The Epoch Times.
Reuters contributed to this report.