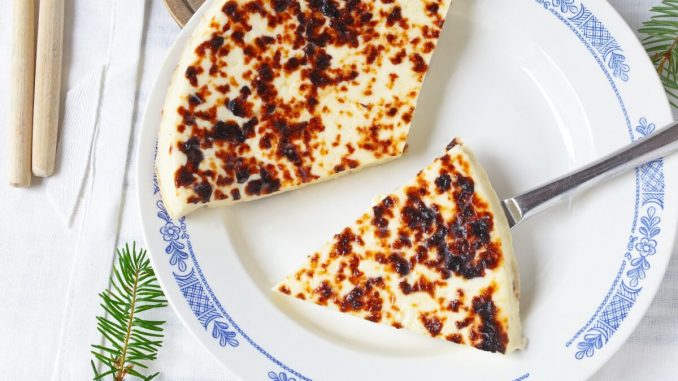 At the Dane County Farmers Market around the state Capitol in Madison, Wisconsin, you can find a lot of local cheese, as you can imagine. One of them is a bit of a delicious spectacle: Brunkow Cheese draws a crowd around a large vendor tent, where folks line up, toothpicks in hand, to skewer samples of an unusual Finnish variety of cheese: juustoleipa (pronounced YOO-sto-LAY-pah).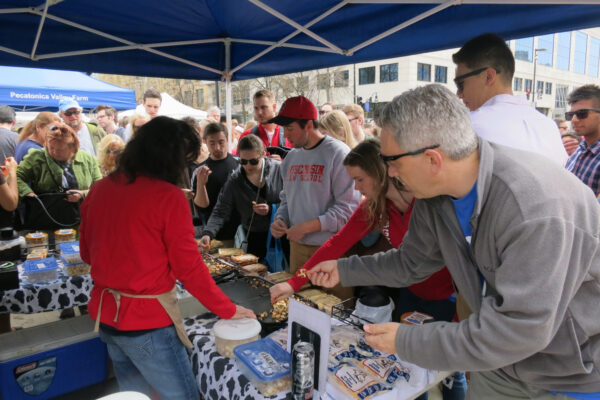 This firm, half-inch-thick slab has brown spots on it from baking. The vendors cut up their "Brun-Uusto" and its flavored varieties for samples, dump the cubes on a large griddle to fry, and move them to sample trays when they've browned enough. Cue the cheese-stabbing masses.
Slightly dense and mild in flavor, juustoleipä squeaks in your teeth like a fresh cheese curd when cool, but fries up to a golden-brown color without melting into a puddle. The frying caramelizes the exterior a bit more, and makes the cheese softer, with some added creaminess.
Years ago when I first tried it, I reported the experience to my grandmother, a child of Finnish immigrants who once lived on a farm in northern Wisconsin. "Have you ever heard of this Finnish cheese? I just had some!" I told her, and she waved it off, unimpressed. "My mother used to make that all the time in the oven." Wait, what? Why am I always the last to know this stuff?
My great-grandmother heated fresh milk from the family's own cows, added rennet, pressed the resulting curds into a pan, and baked it in a wood-fired oven like a loaf of bread until the surface browned a bit. Beestings, the rich milk from a cow that has recently given birth, is said to make the best cheese. Back in Finland, they often used raw reindeer milk, as well as cow and goat milk, but those latter two may be just a bit easier to come by in these parts, and pasteurized product works just fine.
Pilgrimage to Suomi
In 2017 on a trip to meet my Finnish cousins, I ate the cheese with family. In stores I saw it labeled leipajuusto (bread cheese), so I asked my cousin Irene about the discrepancy.
"Juusto as such means cheese, and leipa means bread. The two ways to name it are as controversial as ever. Leipajuusto is more of a national name, but we in Southern Kuusamo and Kainuu call it juustoleipa," she told me. "There are as many experts as there are Finns, I expect. We think we are right, of course, because it is like a bread made of cheese so that makes it juustoleipa." Fortunately, that's also how we have it in Wisconsin, so no conflicts there.
Irene cut a small wheel of it into cubes, and I was prepared to pop the room temperature cheese into my mouth and enjoy the squeak. But to my surprise, she poured out cups of hot coffee for everyone and dropped a few cubes into each, warming the cheese and giving the coffee a very slight buttery quality. The rest we ate with cloudberry jam on it.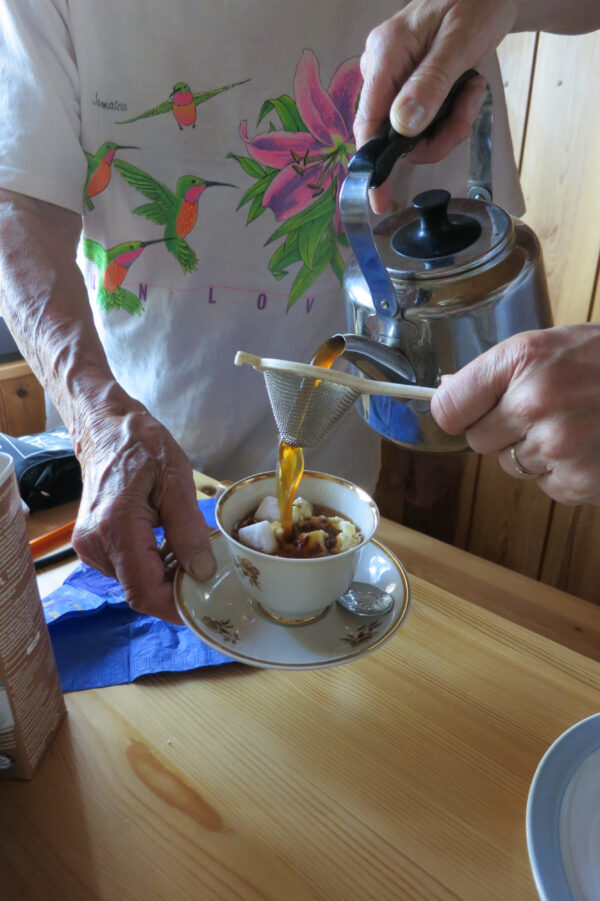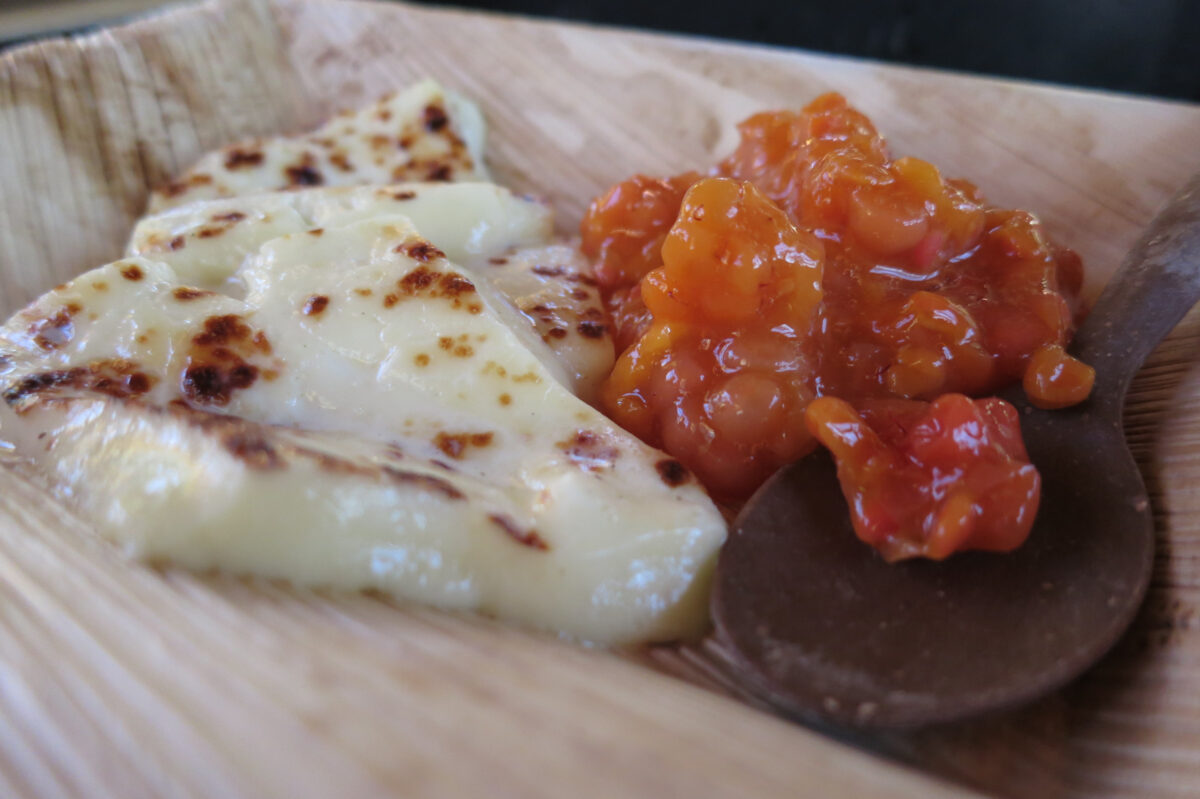 Wisco Juusto
With the abundance of Finnish immigrants across northern Wisconsin and Michigan's Upper Peninsula, it's no surprise juustoleipa has resurfaced in this area. While homemade varieties have become increasingly rare with the passing of generations, professional cheesemakers have effectively taken up the mantle.
Brunkow's crowded Brun-Uusto display at the market has gone a long way in spreading the juustoleipa love. Another cheesemaker, Scott Erickson of Bass Lake Cheese Factory in Somerset, Wisconsin, was the first person to earn a Master Cheesemaker certification for the style. And Carr Valley Cheese, a Wisconsin company that makes more than 100 varieties of cheese, is also making large quantities of it.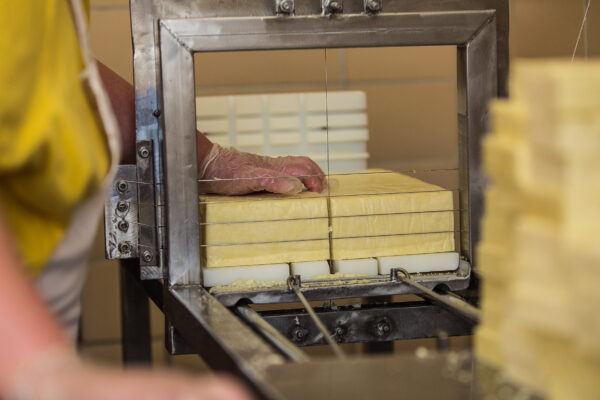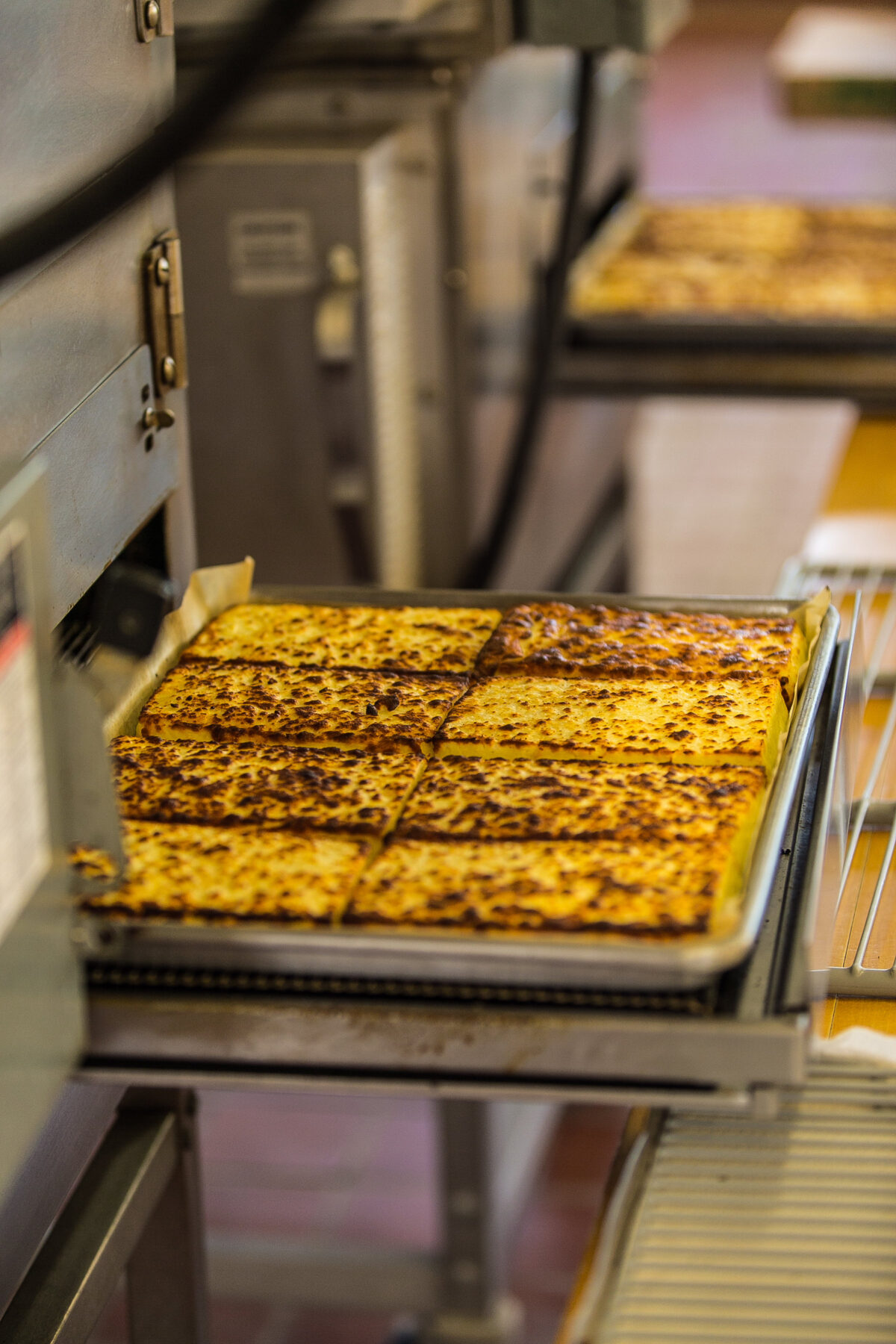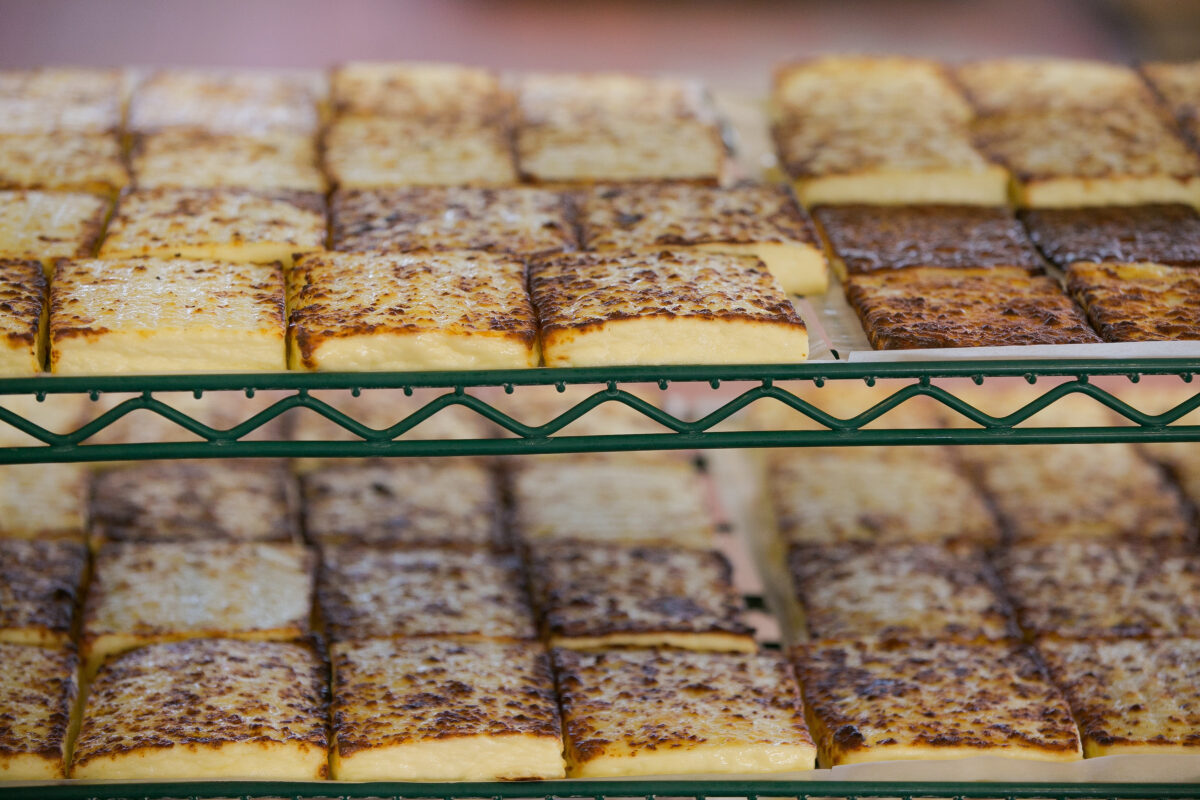 According to Sid Cook, the owner and award-winning master cheesemaker of Carr Valley, juustoleipa, which they call simply bread cheese, has become one of their top sellers. Carr Valley also sells flavored versions, such as garlic, jalapeño, bacon, and chipotle, as well as a variety made with goat's milk.
Cook credits the style's popularity to its versatility: "Creative professionals and home chefs are finding ways to take it to another level, such as frying it and serving it with marinara for a gluten-free replacement to the mozzarella stick, grilling it for vegetarian kabobs, serving it with maple syrup or honey for a sweet-savory combination, or even making cheese 'croutons' to top soups and salads."
The traditional cheese was homemade and baked in a wood-fired oven, as my great-grandmother used to do. The resulting cheese might have lasted seven days. But the commercially packaged cheese has a longer shelf life and better shippability.
Says Cook, "Perfecting the process took a lot of experimenting as well as working with the Center for Dairy Research at the University of Wisconsin in Madison. I've always believed cheese making is 50 percent science and 50 percent art."
The delicious result is available in shops throughout Wisconsin, shipped directly from a few cheesemakers, or even ordered online. Don't forget the cloudberry jam.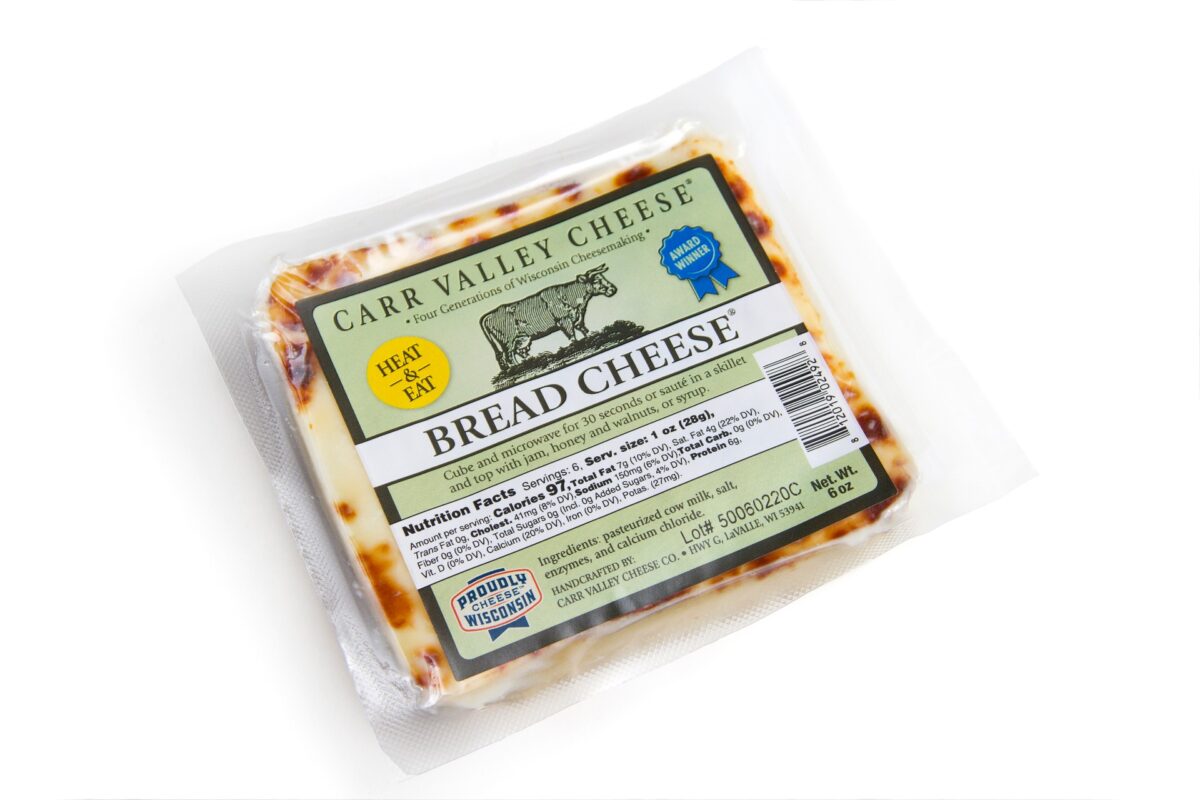 Homemade Juustoleipa
If you don't want to send away for it, cook up your own juustoleipa. If one could make this cheese in an hour in a wood stove in a kitchen without modern conveniences, you can imagine this is a DIY-friendly creation. This recipe, adapted from the already simple instructions at New England Cheesemaking Supply Co., should get you there.
Makes one 10-inch wheel
2 gallons milk
1 teaspoon rennet
1 tablespoon cornstarch
1 tablespoon salt
1 tablespoon sugar
Heat the milk to 85 degrees F and remove from heat. Dissolve the rennet in a small amount of warm water. Then whisk the corn starch, salt, sugar, and dissolved rennet into the milk. Wait for the curds to form, then transfer to a colander to drain off the whey.
Place the curd into a round, 10-inch-diameter, 2-inch-deep pan and broil in the oven for about 20 minutes or until browned. Remove from the oven and let it cool enough that you can turn it over into the pan and broil the other side until it too browns.
Cut into narrow slices like pie, or cube it for your coffee.
Kevin Revolinski is an avid traveler, craft beer enthusiast, and home cooking fan. He is the author of 15 books, including "The Yogurt Man Cometh: Tales of an American Teacher in Turkey" and his new collection of short stories, "Stealing Away." He is based in Madison, Wis., and his website is TheMadTraveler.com