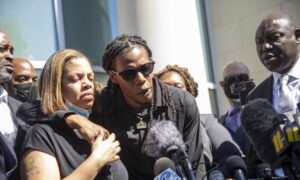 The family of Andrew Brown Jr, the man who was fatally shot by North Carolina deputies outside his home last week, says the 20-second clip of bodycam footage released by police shows the 42-year-old being "executed."
Andrew Brown Jr. was killed after deputies from the Pasquotank County Sheriff's Office carried out drug-related search and arrest warrants on the morning of April 21 in a residential neighborhood.
Pasquotank County Sheriff Tommy Wooten II has said that multiple deputies fired shots. Seven deputies are on leave pending a probe by the State Bureau of Investigation.
Family members told the Atlanta Journal-Constitution that Brown didn't possess any weapons and was unarmed at the time of the shooting. Police didn't confirm the family's account of events last week, citing an "active criminal investigation."
A search warrant sought by Wooten's office released Monday detailed that Brown sold small amounts of cocaine and methamphetamine to an informant, and had been doing so for over a year. The informant described purchasing drugs at Brown's Elizabeth City home—the target of the search.
In March, according to the warrant, narcotics officers used the informant to conduct controlled purchases of methamphetamine and cocaine from Brown on two separate occasions. The warrant said both drug transactions were recorded using audio and video equipment.
The search warrant said investigators believed Brown was storing drugs in the home or two vehicles. The document, which indicated the search was not completed, did not list anything found.
Two arrest warrants released last week charged him with possession with intent to sell and deliver 3 grams of each of the drugs.
Bodycam Footage
"My dad got executed just by trying to save his own life," Brown's son, Khalil Ferebee, told ABC News after watching a 20-second portion of body camera video with other family members and one of their attorneys, Chantel Cherry-Lassiter. "The officers were in no harm of him at all. It just messed up how this happened."
Lassiter, who reviewed the footage multiple times, told reporters at a news conference that Brown did not appear to be a threat to officers as he backed his vehicle out of his driveway and tried to evade the arresting deputies who had their guns drawn.
"He was not threatening them in any kind of fashion," she said.
The attorney demanded further transparency, after just 20 seconds of footage was released from a single body camera for viewing.
"Twenty seconds is not transparency when you got multiple officers gunning down a man with his hands on the steering wheel trying to get away," Lassiter said. "We will have justice."
"They're trying to hide something," another attorney for the family, Benjamin Crump, said.
Lassiter told reporters that she lost count of the number of gunshots fired at Brown as he attempted to flee from deputies. She said she counted as many as eight deputies in the 20-second clip, some wearing tactical uniforms and some in plainclothes.
Elizabeth City officials on Monday declared a state of emergency (pdf) amid concern that the release of police bodycam footage may spark protests and riots.
Law enforcement expects a "period of civil unrest," Mayor Bettie Parker said.
Following the release of the video, Pasquotank County Attorney R. Michael Cox said in a statement that certain redactions are being made to body camera footage from the incident "to protect an active internal investigation."
Cox said in his statement that state law "also allows us to blur some faces on the video and that process takes time."
North Carolina Gov. Roy Cooper said on Friday that emerging details about Brown's death are "tragic and extremely concerning."
He added, "The body camera footage should be made public as quickly as possible and the SBI should investigate thoroughly to ensure accountability."
The Associated Press contributed to this report.