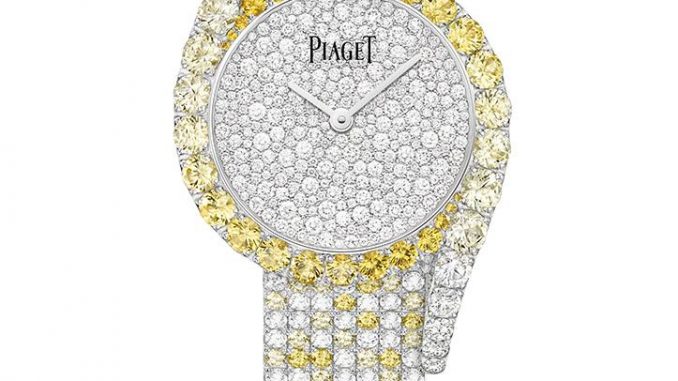 High-end jewelry watches have it all: investment value, artistry, and functionality. In the past few years, new setting techniques, gem cuts, and more adventurous designs are changing the way jewelry watches look. There is a growing sense of fearlessness in the design, with larger gems, more color, and more drama.
Gemsetting falls into that special segment of watchmaking metiers d'arts that is very technical but not just technical. No matter how perfectly the gemstones are set or how flawless the stones are, there is more to creating a great jewelry watch than lining up diamonds along the bezel (rim of the watch) or paving the dial. It's an art form that seems best-executed by brands that place creativity at the same level as technical expertise—brands with a couture sensibility, like Chanel or Hermès, or those that design high-end jewelry, like Chopard, Cartier, Bulgari, and Piaget. Even some traditional luxury watchmakers like Jaeger-LeCoultre, with a history of focusing on mechanical complications, have reinforced their craft workshops in recent years, empowering them to explore decorative designs that combine technology with innovative design.
Taking a jewelry watch to the next level can be as simple as placing a row of rainbow-colored sapphires along the outer edge of the case (the part protecting the watch movement) and bracelet (Chanel); surrounding a bezel with large gems of different colors and cuts (Bulgari); or putting a new spin on the pavé (the way small stones accentuate a main stone) setting by mounting the diamonds on springs (Cartier)—an extra touch that makes a watch appear as if it's dancing.
This energized sense of design dovetails with new developments in setting techniques that leave as much of the gem as possible outside the metal. The more light that can enter a gem, particularly a diamond, from the side facets, the more that can be reflected out through the table (the flat top of a faceted gem's crown), which results in more brilliance.
A jewelry watch is not just more beautiful, but also more valuable. Diamonds and gemstones add an intrinsic value to a watch that even the highest mechanical complication can't. Take a tourbillon apart and what you're left with is a pile of metal. Take a jewelry watch apart and you are left with a pile of gemstones that in themselves have a high, commoditized value. Carat count has long been the standard by which women's watches are evaluated on the high-end secondary market; winners at auction lean heavily on the gem-set side. Rarity is also a factor. Hours of hand-setting and finishing ensure jewelry watches are limited in production, and therefore exclusive.
The following jewelry watches were introduced during Watches & Wonders, a week of Swiss watch introductions in mid-April. Most of the movements are quartz, but some are mechanical automatic movements, a growing trend driven by the development of more ultra-thin automatic movements in recent years in response to the vintage trend in men's watches. As is the case with most jeweled watches, prices are available on request.
Bulgari Allegra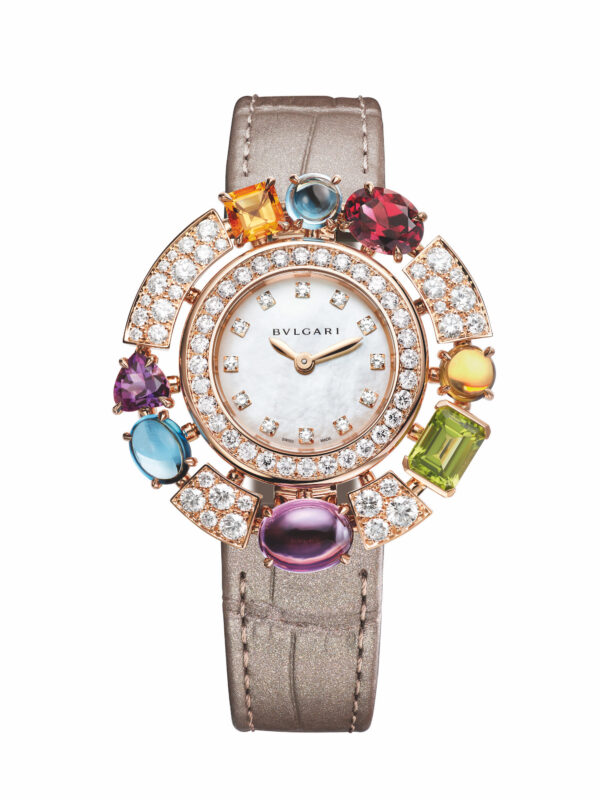 Bulgari has been using bold blocks of color in its jewelry since the 1950s, and it has become a signature design element that carries over to its jewelry watches. The diamond bezel of the Allegra is surrounded by a halo of large gems in mixed colors and cuts: two citrines totaling 1.45 carats; two amethysts totaling 3.06 carats; two blue topazes totaling 3.06 carats; a 1.29-carat peridot; and a 1.63-carat rhodolite garnet. The 82 diamonds total 2.23 carats. The movement is quartz.
Cartier High Jewelry Panthère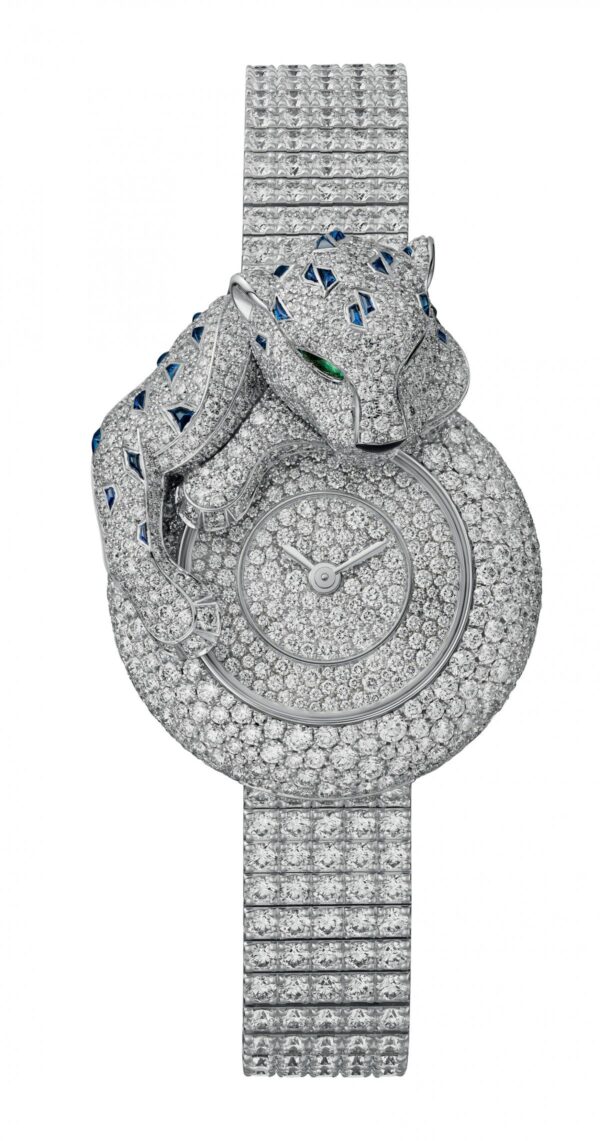 The panther motif first appeared on a Cartier watch in 1914, and has since appeared in various incarnations on a regular basis. Here, it springs to life on an 18k white gold watch set with 1,116 brilliant-cut diamonds totaling 4.57 carats, pear-cut emerald eyes, a
 black onyx nose, and sapphire spots. The bracelet is set with
 325 brilliant-cut diamonds totaling 9.15 carats. The movement is quartz.
Pasha de Cartier Serti Vibrant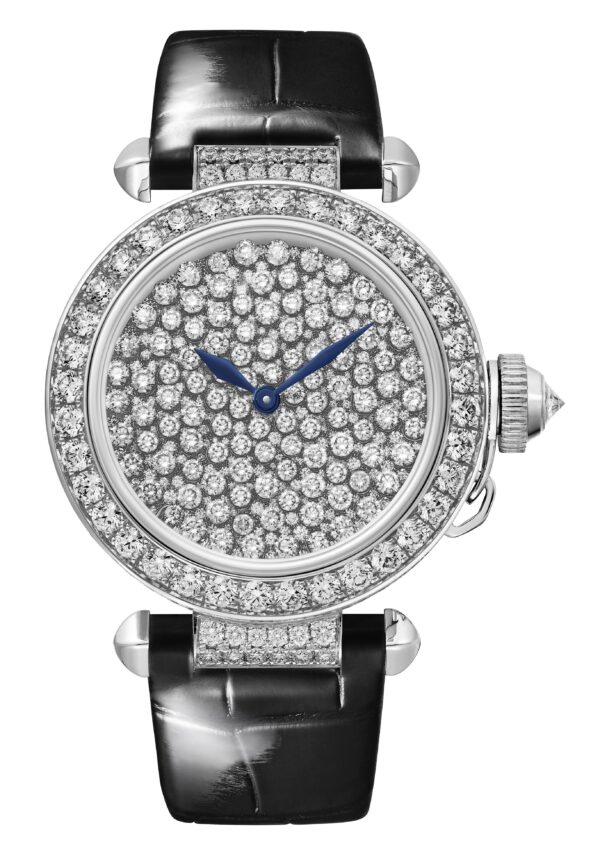 The dial of the Pasha Vibrant is paved with 318 brilliant-cut diamonds. The difference between this and other pavé dials is that these are set on tiny springs, so they vibrate with the wearer's every move. It works on the same principle as jewelry set en tremblant, something Cartier has been making since the 1920s. The case is 18k white gold and it contains the automatic caliber 530 MC.
Hermès Faubourg Polka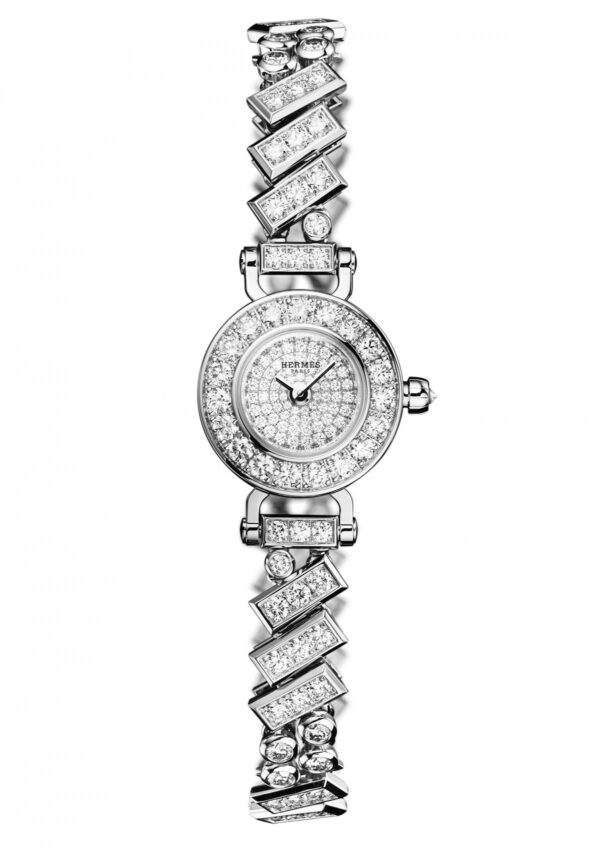 The Polka cocktail watch is slathered with diamonds, but not in the usual orderly fashion. The bracelet is made of interwoven dots and oblique lines—dots and dashes? Stripes and polka dots? Gold bricks and hockey pucks? Whatever you see, the watch radiates with 3.6 carats of round brilliant-cut diamonds, pavé set into the dial and in larger sizes on the bezel, bracelet attachments, and links.
Piaget's Limelight Gala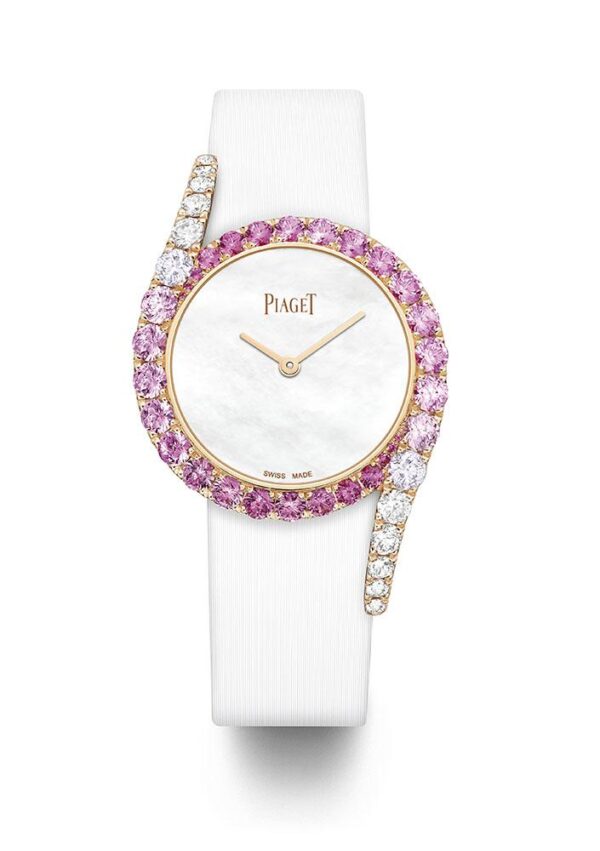 The asymmetrical lugs (projections that secure the bracelet onto the watch case) on this trio of Limelight Gala watches are the perfect place for gems. Here, they glow with colors that represent the course of the sun throughout the day: blue for the morning sky, yellow for the sun at high noon, and pink for the sunset. The pink, yellow, or blue sapphires are arranged in gradient hues and interspersed with diamonds. Dials are either mother-of-pearl or snow-set diamonds. They contain Piaget's automatic caliber 501P1.
Chanel J12 Electro Star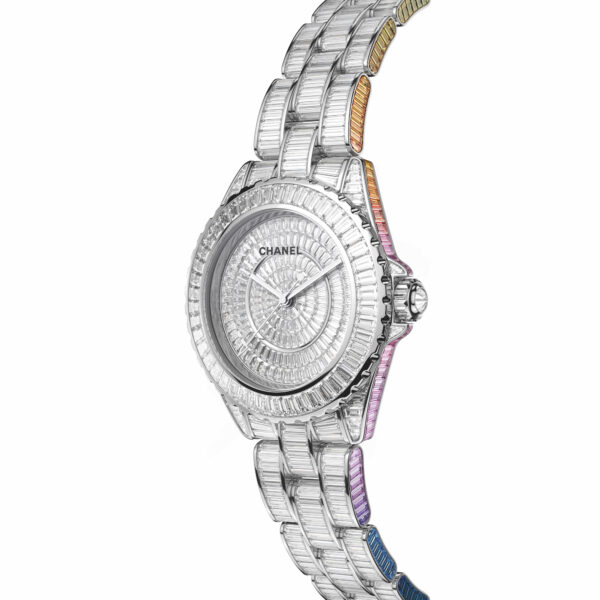 Chanel's theme for watches this year is the neon vibe of electro music culture, which creative director Arnaud Chastaingt describes as  "a radical, eccentric visual universe." The Electro Star is the haute joaillerie piece in the lineup, with an elegant rim of rainbow-colored sapphires set into the sides of the case and bracelet links. There are 32 carats of diamonds and 13 carats of rainbow sapphires. The movement is the automatic caliber 12.1.
Jaeger-LeCoultre Reverso One Precious Flowers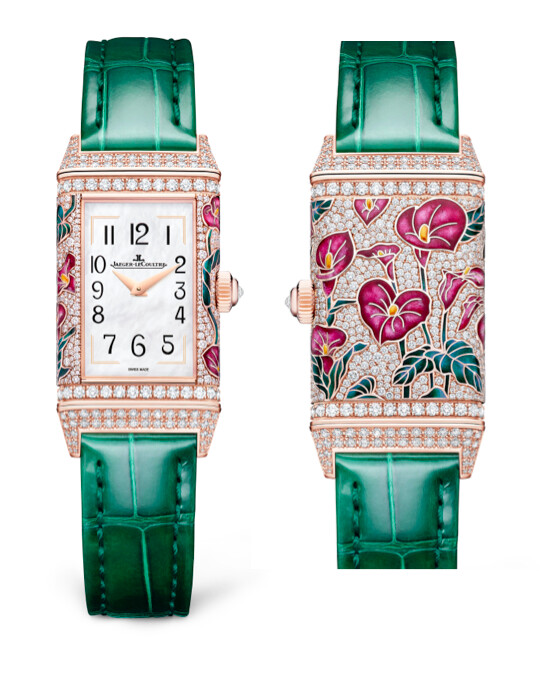 This is one of a set of four Reverso watches inspired by decorative jewels worn in the 1920s. Enameled Arum flowers wrap around the case in full foliage. The flowers are set against a background of 626 diamonds totaling 1.98 carats. The gemsetting on these models took 95 hours each. It is limited to 10 pieces.
Chopard Haute Joaillerie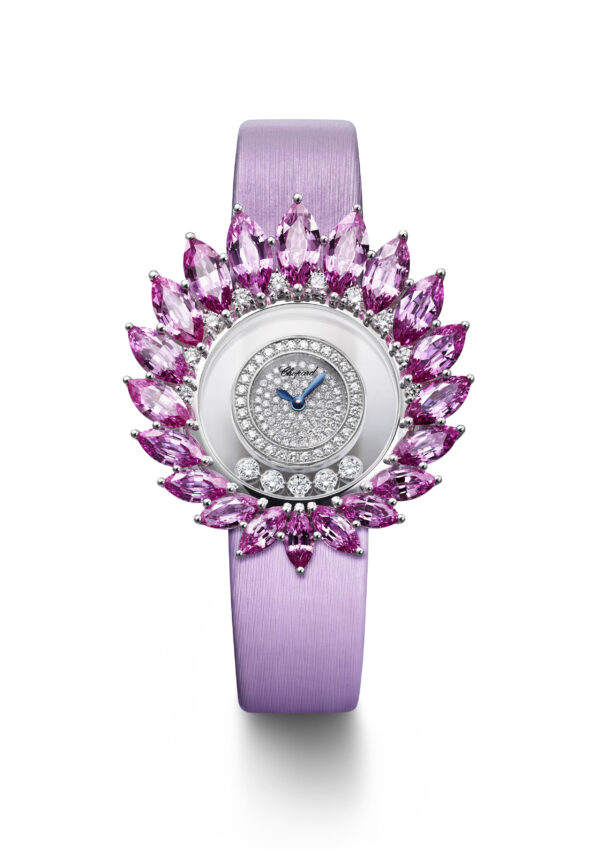 Chopard has not only been a watchmaker for more than 100 years, but has long been an important manufacturer of luxury jewelry, with roots in the jewelry-making district of Pforzheim, Germany. Its red carpet pieces are legendary, as is its use of color. This trio of watches is set with a halo of marquise-cut diamonds, blue sapphires, or pink sapphires. Five of the brand's signature happy diamonds move freely between two sapphire crystals. The dial is pavé set with round diamonds, surrounded by a bezel of diamonds.