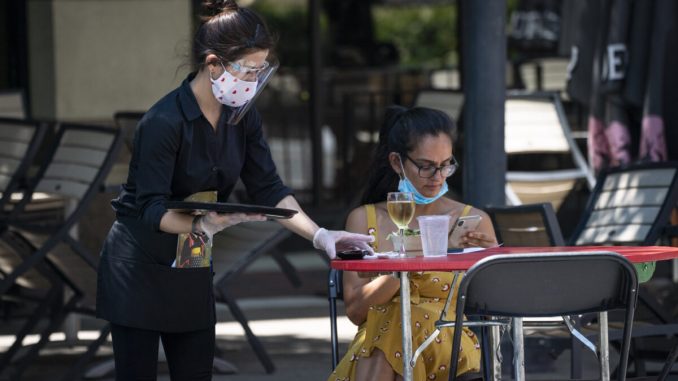 People who have been fully vaccinated against the virus that causes COVID-19 are no longer being advised to wear masks outdoors.
People who have gotten two Moderna or Pfizer shots, or the single-shot Johnson & Johnson vaccine, can conduct a range of activities outside without wearing a mask, the Centers for Disease Control and Prevention (CDC) said on Tuesday.
Those include dining at outdoor restaurants with friends and attending an outdoor gathering with a mix of vaccinated and unvaccinated people.
People who are not vaccinated against the CCP (Chinese Communist Party) virus are being told to continue wearing masks in those situations.
But even people who have not gotten a shot can walk, run, or bike outdoors and attend small, outdoor gatherings without masks, according to the CDC.
Both fully vaccinated and unvaccinated Americans should keep wearing masks while attending a crowded outdoor event like a live performance, parade, or sports game.
"CDC cannot provide the specific risk level for every activity in every community, so it is important to consider your own personal situation and the risk to you, your family and your community before venturing out without a mask," Dr. Rochelle Walensky, the agency's head, told a virtual briefing.
Previous guidance from the health agency recommended people wear masks if they were within six feet of others outside, regardless of their vaccination status.
The United States started administering COVID-19 shots in December 2020.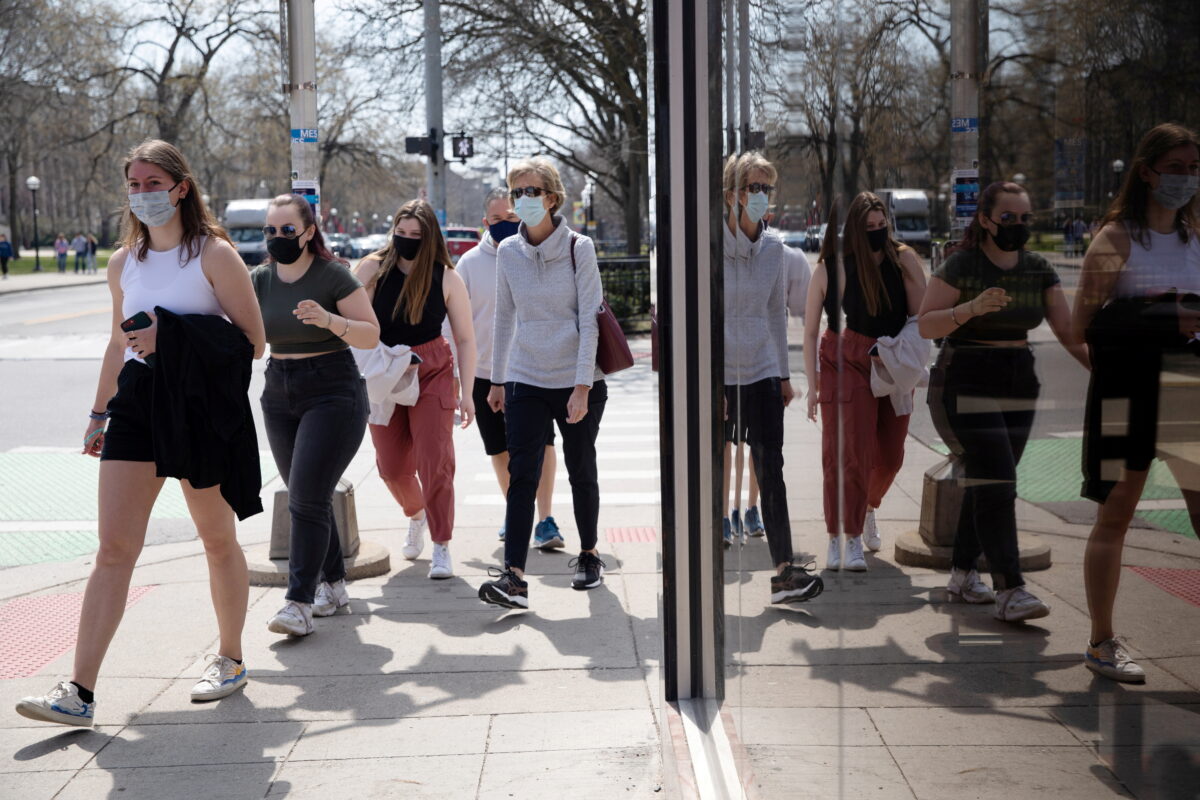 The change in guidance comes more than a year after widespread adoption of masks and after pressure from a range of doctors and other health experts to revise the recommendations.
The delay in changing recommendations prompted fresh criticism of the agency.
"Outdoor safe[ty] has ZERO to do with vax status. Known since March 2020. CDC guidance is stupid, and the principal effect will be to harm children — who present ~zero outdoor transmission risk — but now become the focal point of mask shaming and enforcement in liberaland," Phil Kerpen, the president of the Committee to Unleash Prosperity, who has tracked various COVID-19 metrics during the pandemic, wrote in a tweet.
Critics noted that few COVID-19 infections stem from being outdoors and virtually no studies back the wearing of masks outside, particularly for people who have been fully vaccinated against the CCP virus. Fully vaccinated means two weeks have elapsed since a person got their final injection.
For instance, a study late last year found that existing evidence "supports the wide-held belief that risk of SARS-CoV-2 transmission is lower outdoors." SARS-CoV-2 is another name for the CCP virus.
The CDC's webpage outlining which activities the agency recommends doing masked does not contain any citations to studies. The agency did not respond to a request for comment.
Walensky said the recommendations for fully vaccinated people to still wear masks indoors and even sometimes outdoors are "largely to protect others, and really to protect the unvaccinated."
Dr. Anthony Fauci, one of President Joe Biden's top medical advisers, acknowledged during a virtual event on Monday that "the risk of infection outside is really minimum."
"If you're vaccinated, and you're outside, it's even less," he added.
The shift also comes as the United States sees yet another decrease in cases even as more states have loosened restrictions, with some rolling back nearly every COVID-related rule while largely not seeing a corresponding increase in COVID-19 cases.