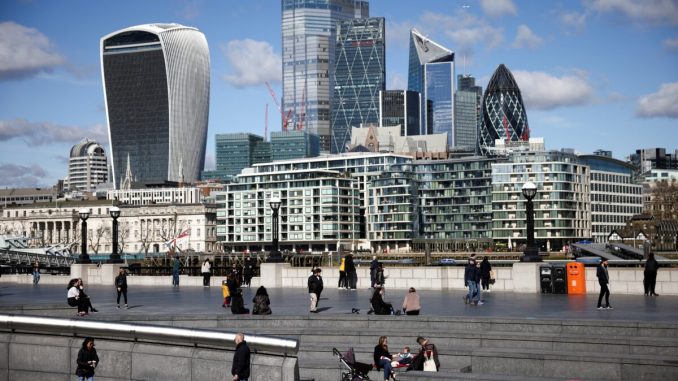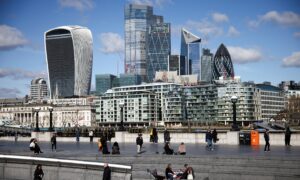 The City of London, the British capital's financial district, will convert empty offices into new homes as part of its plan to adapt to the new reality under the CCP (Chinese Communist Party) virus pandemic.
The City of London Corporation, the district's governing body, said it will work with the property industry to "explore new ways to use vacant space and aim for at least 1,500 new residential units by 2030."
Our action plan for the City will ensure the Square Mile is the world's most inclusive, innovative, and sustainable business ecosystem, an attractive place in which to invest, work, live, and visit. #SquareMileFutureCity

READ MORE: https://t.co/ax0A1fjPN0
With @OliverWyman pic.twitter.com/ltSEWMCLhV

— City of London (@cityoflondon) April 27, 2021
It is part of a plan produced by the City Corporation's Recovery Taskforce setting out a programme of actions over the next five years to enhance the competitiveness and attractiveness of the district, which is also known as the Square Mile.
"The Square Mile must adapt to post-pandemic economic and social trends in order to remain a world-leading ecosystem," the City Corporation said in a report published on Tuesday.
The Corporation said it will "curate an ecosystem of high-potential tech-led businesses" and "work with technology sectors not traditionally located in the Square Mile to help them access this ecosystem."
It will also provide the cultural and creative industries with low-cost, long-term lets in empty and low-use spaces.
William Russell, Lord Mayor of the City of London, said: "Hope is now on the horizon as our economy starts to reopen bringing a semblance of normality to life in the City. The Square Mile's future is bright and we will rise to the challenge of adapting to the new normal that emerges after the pandemic."
Catherine McGuinness, policy chair at the City Corporation, said: "Firms have told us that they remain committed to retaining a central London hub but how they operate will inevitably change to reflect post-pandemic trends, such as hybrid and flexible working.
"The Square Mile must evolve in order to provide an ecosystem that remains attractive to workers, visitors, learners, and residents."
According to a new survey published by office company IWG earlier this month, fewer than one in seven leaders in some of the UK's biggest companies have said they expect a full-time return to offices by the end of this year.
Firms are much more likely to pursue a hybrid work model in the future than go back to asking staff to work from a central office five days a week, the survey results showed.
PA contributed to this report.