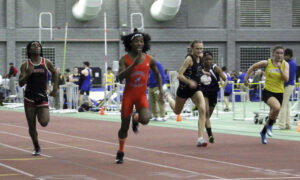 A federal judge has dismissed a lawsuit that seeks to ensure fairness in sports by preventing transgender athletes who are biological males from participating in women's competitions.
U.S. District Court Judge Robert Chatigny issued a ruling on Sunday against four female athletes who challenged a Connecticut Interscholastic Athletic Conference (CIAC) policy that allows students to compete in events according to their gender identity.
The female athletes had claimed that the policy placed biological female athletes at a competitive disadvantage in girl's sports when forced to compete with transgender but biologically male athletes. The lawsuit claims that the girls were deprived of multiple opportunities and prospective wins as a result of the disadvantage.
The case names two transgender athletes who were permitted to compete in girls' athletic competitions beginning in the 2017 track season. The plaintiffs' lawyers argue that the two transgender athletes had taken 15 women's state championship titles, which were held by nine different female athletes in 2016, and taken more than 85 opportunities to participate in higher-level female track competitions over three seasons.
Chatigny rejected the request to block the enforcement of the transgender policy, arguing that the case is now moot because the two transgenders had since graduated. Meanwhile, there is no indication that the female athletes will face competition by a transgender student in a CIAC competition next season.
An attorney for the female athletes said on Monday that the girls intend to appeal the dismissal in the 2nd Circuit Court. Alliance Defending Freedom (ADF) attorney Christiana Holcomb expressed disappointment over the ruling, saying that the judge had chosen to ignore the girls' "demoralizing experiences."
"Our clients—like all female athletes—deserve access to fair competition; that means authentically equal opportunities to compete, achieve, and win. But competition is no longer fair when males are permitted to compete in girls' sports," Alliance Defending Freedom (ADF) attorney Christiana Holcomb said in a statement. ADF is representing the plaintiffs.
"Males will always have inherent physical advantages over comparably talented and trained girls; that's the reason we have girls' sports in the first place. Unfortunately, this court has chosen to ignore our clients' demoralizing experiences of losing to male runners.
"But these committed female athletes—and young women across the country—deserve better. Today, the conversation centers on Connecticut's high school track and field program, but there's something bigger at stake here: Girls and women deserve opportunities that are truly equal—without being sidelined or dominated by males choosing to join their sport."
Meanwhile, the American Civil Liberties Union lawyers who represented the two transgender athletes characterized the ruling as "good news" for transgender students, while taking aim at states that had passed laws to prevent biological male students from participating in women's sports.
"This is yet another sign that lawmakers attacking trans youth in states around the country have no legal basis for their claims," lawyer Joshua Block said in a statement. "When Andraya and Terry ran in high school, they belonged on the girls' teams because they are girls. They benefited from being on a team, working to better themselves, and having an escape from the rest of their days—the same things that anyone else benefits from when playing sports. We will continue to fight against these attacks on transgender youth wherever they come."
The Trump-era Justice Department and Education Department had closely followed the case and sided with the female athletes. Then Attorney General William Barr and then Secretary Betsy DeVos weighed in on the case in a statement of interest, arguing that allowing biological male students in female sports would violate Title IX, the federal law prohibiting sex-based discrimination in education.
But the Biden administration in February reversed the action and withdrew support.
This comes as several Republican-led states seek to enact laws that would bar biological males from participating in women's sports. The bills also acknowledge the inherent biological differences between male and female student-athletes. Mississippi, Tennessee, Arkansas, and Alabama are among the states that have signed such measures into law.
CIAC Executive Director Glenn Lungarini said he was pleased with the district court's decision.
"The district court's decision recognized that the CIAC policy reflects the federal guidance in place at the time it was adopted, and that there is no basis for a claim for damages against public schools who participate in CIAC sponsored athletics," he said in a statement emailed to The Epoch Times.
"The CIAC has maintained throughout this lawsuit that its inclusive participation policy aligns with both federal and state law, and it was prepared to defend this lawsuit on the merits had there been any basis for it to continue."