The United States will start sharing its stockpile of AstraZeneca's COVID-19 vaccine with other countries, President Joe Biden's administration said on Monday.
The United States plans to share all the doses it has, provided they pass safety reviews. As many as 60 million doses will be sent to other countries in the coming months.
The administration already sent several million doses to Mexico and Canada last month but has been holding on to the bulk of the stockpile as a reserve.
AstraZeneca's shot is authorized for use in a number of countries, even though dozens of people died from post-vaccination blood clots in the UK and elsewhere. U.S. drug regulators are considering granting emergency authorization but have not yet done so.
"Given the strong portfolio of vaccines that the United States has already authorized and that is available in large quality, including two 2-dose vaccines and one one-dose vaccine and given that AstraZeneca is not authorized for use in the United States, we do not need to use AstraZeneca in our fight against COVID over the next few months," White House press secretary Jen Psaki told a briefing in Washington.
The vaccines will be shared with other countries "as they become available," Andy Slavitt, a White House senior adviser for the COVID-19 response, wrote on Twitter.
"To everyone who understandably says: 'about time' or 'what were they waiting for', at this time there are still very few available. No real time has been lost," he added.
White House officials have said there are enough doses for Americans among the three vaccines greenlit by U.S. drug regulators, even with the nearly two-week pause of Johnson & Johnson's shot because of concerns of post-vaccination blood clots. Nearly 29 percent of the U.S. population has been fully vaccinated against the CCP (Chinese Communist Party) virus, which causes COVID-19, as of April 26.
Of the AstraZeneca stockpile, about 10 million doses are currently available, although none have passed a review by the Food and Drug Administration (FDA), White House COVID-19 coordinator Jeff Zients told the Associated Press. About 50 million others are in various stages of production and could be available to ship in May and June pending FDA sign-off.
The United States has not yet finalized which countries will receive the shots.
"We're in the planning process at this point in time," Psaki told reporters.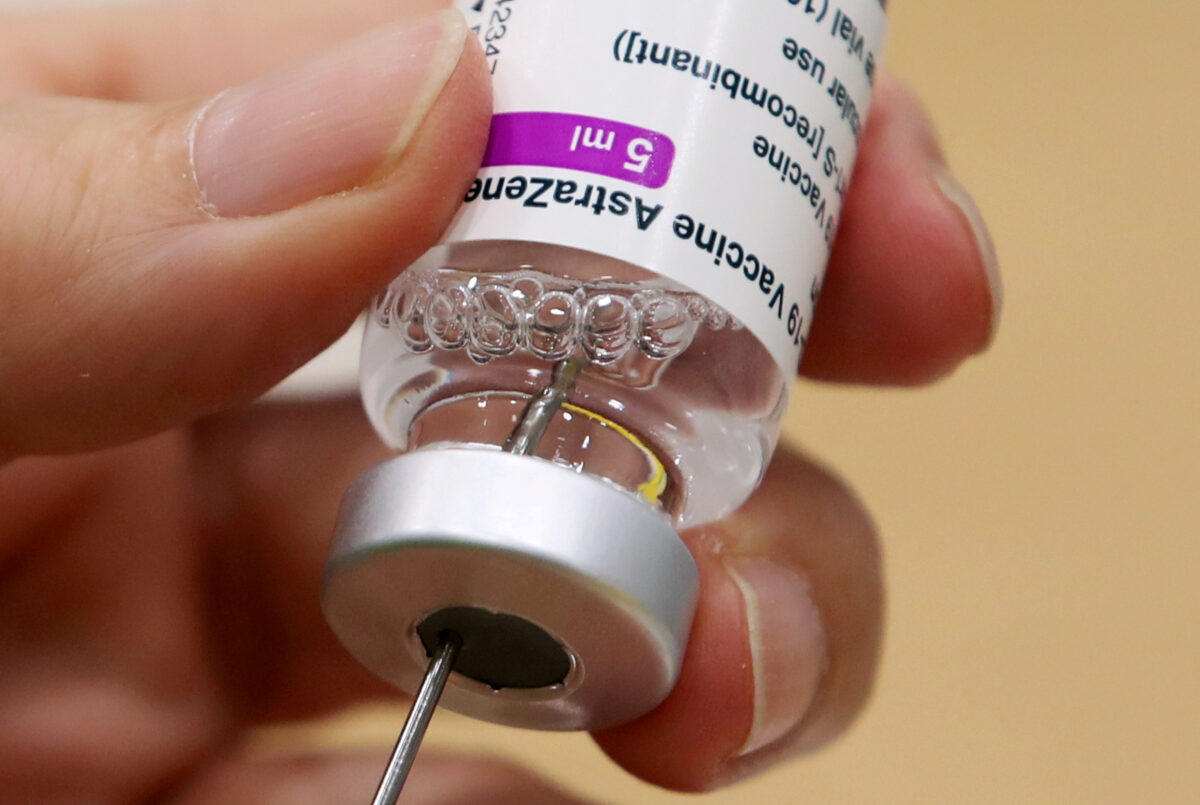 Countries that receive the AstraZeneca doses will not have to pay for them.
The vaccines were produced at an Emergent BioSolutions plant in Baltimore, Maryland, where millions of contaminated Johnson & Johnson shots were manufactured.
The review of the AstraZeneca jabs "is being done in the context of the FDA's ongoing review of all doses made at the plant," Psaki said.
On Sunday, Dr. Anthony Fauci, one of Biden's top medical advisers, said that the United States might send millions of AstraZeneca shots to India, which is seeing a surge in COVID-19 cases and a resulting lack of hospital beds.
"I think that's going to be something that is up for active consideration," Fauci said on ABC's "This Week."
"I don't want to be speaking for policy right now with you, but, I mean, that's something that certainly is going to be actively considered," he added.
Biden spoke to India's prime minister, Narendra Modi, on Monday.
According to a White House readout, Biden pledged America's support for the people of India amid the surge in cases.
"In response, the United States is providing a range of emergency assistance, including oxygen-related supplies, vaccine materials, and therapeutics," the White House said.
Psaki said the United States would be sending raw materials to India so the country could produce its own AstraZeneca vaccines, along with rapid testing supplies, personal protective equipment, and ventilators.