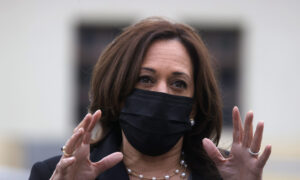 Vice President Kamala Harris has found herself in the hot seat, as lawmakers said she has yet to visit the U.S.-Mexico border, despite being the Biden administration's point person.
Harris visited New Hampshire to help support the Democratic Sen. Maggie Hassan's reelection bid in the state. The state GOP criticized her visit, writing on Twitter: "Welcome to the wrong border." Sen. Ted Cruz (R-Texas) also criticized Harris, saying she got confused when she visited the wrong border.
On infrastructure, Sen. Joe Manchin (D-W.Va.) says he prefers a smaller, more targeted bill to the one proposed by President Joe Biden, adding that the GOP proposal is a good start. Manchin holds great power in the closely divided Senate. He can single-handedly block Democrat bills by joining Republicans and maintaining the filibuster. With Manchin opposing Biden's infrastructure plan, it can't get off the ground.
And Border Patrol officials say there's a rise in smugglers bringing illegal immigrants into the United States. Those groups number 100 or more illegal immigrants. "Even with the spread of the COVID-19 virus, human smugglers continue to try these brazen attempts with zero regard for the lives they endanger nor to the health of the citizens of our great nation," Border Patrol officials said in a statement.
Tune into Deep Dive as we explore these topics and more.
Subscribe to our YouTube channel for more in-depth coverage. For more news and videos, please visit our website and Twitter.