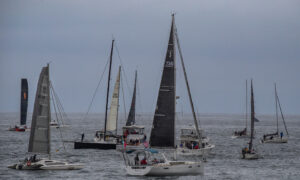 NEWPORT BEACH, Calif.—The 73rd Annual Newport to Ensenada International Yacht Race (N2E) saw vessels large and small setting sail to either Dana Point, San Diego or Ensenada, Mexico.
Among the boats on the water was 4U, a 16-foot RS Venture, owned and skippered by Christian Buhl of Lido Island Yacht Club in Newport Beach, California.
Dwarfed by the huge racing yachts swirling for starting positions around them, 4U stood out in the crowd during the April 23 start with its bright orange sail and crew donning similarly fluorescent orange caps.
4U, which made its N2E race debut, is a specially-designed and outfitted sailboat that enables sailors with disabilities to participate in sail races such as the N2E Newport to Dana Point Sprint.
Buhl's crew of three included JP Van Houden, who was able to participate despite having Parkinson's Disease, which he contracted 20 years ago. Peter Phillips from Challenged Sailors San Diego assisted in crewing the small-but-mighty vessel as it made its way down the coast of California.
Challenged Sailors San Diego was founded by a group of disabled sailors and experienced sailing volunteers, and provides therapeutic and recreational adaptive sailing opportunities for people with disabilities.
With smooth seas and winds blowing 10-to-12 knots, 4U made good time, coming in at 3 hours, 14 minutes and 2 seconds, taking second place in its class.
"N2E is really about the people who participate, and everyone has a different story about their sailing experiences and memories," NOSA representative Laurie Morrison told The Epoch Times.
Referring to the 4U race crew she said, "I think their participation is a good representation of the sailing community in general, we're used to overcoming the challenges of the sport, the difficulties are sometimes what make it so much fun in the long run."
Morrison said that one of the reasons N2E organizers decided to fold the other races in with the international race was to expand inclusivity for sailors of all boat size, age, ability and experience.
"It's about getting people out on the water, learning and having fun," Morrison said. "It opens sailing to those who may have a barrier of disability, who might not otherwise be able to participate in longer races like Newport to Ensenada."