Alaska Airlines banned Alaska state Sen. Lora Reinbold (R-Eagle River) from flying on the airline for repeatedly refusing to follow mask mandates.
"We have notified Senator Lora Reinbold that she is not permitted to fly with us for her continued refusal to comply with employee instruction regarding the current mask policy," Alaska Airlines spokesperson Tim Thompson told The Epoch Times via email.
"This suspension is effective immediately pending further review. Federal law requires all guests to wear a mask over their nose and mouth at all times during travel, including throughout the flight, during boarding and deplaning, and while traveling through an airport."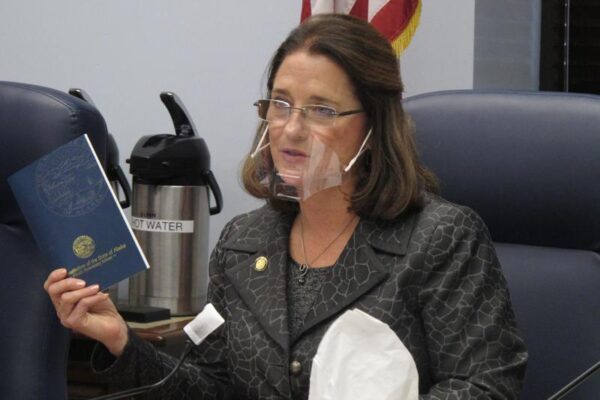 The length of the ban is to be determined after review.
The airline had banned 506 people as of April 23.
The senator wrote a statement where she says the story should have stayed confidential until a thorough review of both parties.
"Ak Air: Until there is a fair determination, after thorough review of both sides, I believe this should be confidential. I learned about Ak Air decision before I knew there was even an inquiry and before I had a chance to talk to or discuss this with anyone at Alaska Air. I never received a warning via a yellow card per their policy either," Reinbold stated.
She added that there was no due process before the incident was made public, noting that Alaska Airlines gave her information to the media without her knowledge or permission.
"I do believe constitutional rights are at risk under corporate covid policies," she said.
Videos on Twitter appear to show the senator discussing with the airline staff about the incident.
The Epoch Times reached out to Reinbold for comment.
For media inquiry, she wrote the following:
"I was reasonable with all Alaska Airlines employees. I have been flying on Alaska Air for decades and am an MVP gold. I inquired about mask exemption with uptight employees at the counter.
"The timing of complaint and a specific employee is of keen interest. The most divisive disaster bill hb76 is up Monday. I have been assured this be looked into.
"I was respectful of Alaska Airlines policies. We had a pleasant safe flight with happy flight attendants and great talented pilots. I hope to be on an Alaska Airlines flight in the near future."
Reinbold, who was in southcentral Alaska this weekend, decided to travel by land and sea to Juneau where the legislative session resumes Monday.
Lawmakers can participate in committee meetings by teleconference but cannot vote on the House or Senate floor remotely under current procedures.
"Alaska I went to new heights to serve you & have a new appreciation for the marine ferry system. I am keenly aware of the monopoly in air transport to Juneau that needs reviewed!" Reinbold wrote. "Please thank my husband for giving up his birthday to make a long unexpected trip to Juneau by road/ferry system!"
Reinbold has been a vocal opponent to COVID-19 mitigation measures and has repeatedly objected to Alaska Airlines' mask policy, which was enacted before the federal government's mandate this year.
Last year, she referred to Alaska Airlines staff as "mask bullies" after being asked by flight attendants to wear a mask aboard a flight. After the incident, she reportedly sent a cake to some flight attendants bearing the inscription: "I'm sorry if I offended you."
The Associated Press contributed to this report.