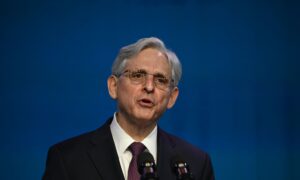 Attorney General Merrick Garland announced a Department of Justice-led investigation into the officer-involved death of Breonna Taylor in Louisville, Kentucky.
Taylor was shot to death during a police raid of her home in March 2020, with her death later becoming a rallying cry for Black Lives Matter protests and riots last year.
In the incident, police came through Taylor's door using a battering ram. Her boyfriend, Kenneth Walker, allegedly opened fire at police, who fired back, striking and killing Taylor, officials said.
Walker maintained that he was not aware that police were conducting a raid at the time. Last year, Kentucky Attorney General Daniel Cameron said a neighbor corroborated the police's claims that they knocked on Taylor's door, which disputed allegations that authorities used a "no-knock warrant," while he added that the officers involved were shot at first by Walker.
But on Monday, Garland said that the Justice Department will conduct a "pattern of practice" investigation into the city's police. "It will determine whether LMPD engages in unconstitutional stops, searches, and seizures, as well as whether the department unlawfully executes search warrants on private homes," he added.
"As in every Justice Department investigation we will follow the facts and the law, wherever they lead," Garland said. "If there is reasonable cause to believe that there was a pattern or practice of constitutional or statutory violations, we will issue a public report of our conclusions."
The investigation comes as Louisville has seen an uptick in violent crime. Police data shows that murders, rapes, and robberies were up more than 81 percent above the five-year average.
Kentucky's lawmakers passed a partial ban on no-knock warrants last month. The measure would only allow no-knock warrants to be issued if there was "clear and convincing evidence" that the "crime alleged is a crime that would qualify a person, if convicted, as a violent offender." Warrants also would have to be executed between 6 a.m. and 10 p.m.
Garland last week announced that the department opened a civil investigation into whether the Minneapolis Police Department had a pattern of using excessive force in arrests or during protests.
"It is clear that the public officials in Minneapolis and Louisville, including those in law enforcement, recognize the importance and urgency of our efforts," Garland said. "We come to them as partners, knowing that we share a common aim."
One of the officers, Brett Hankison, was indicted by a grand jury on three counts of wanton endangerment for firing his weapon into another apartment. The other two officers, Detective Myles Cosgrove and Sgt. Jonathan Mattingly, were justified in their use of force, Cameron said last year.
"Our reaction to the truth is the society we want to be," he said during a news conference. "Do we really want the truth? Or do we want a truth that fits our narrative? Do we want the facts? Are we content to blindly accept our own version of events? We, as a community, must make this decision."
"There will be celebrities, influencers, and activists who having never lived in Kentucky, will try to tell us how to feel, suggesting they understood the facts of this case and that they know our community and the commonwealth better than we do," Cameron said.
The Associated Press contributed to this report.