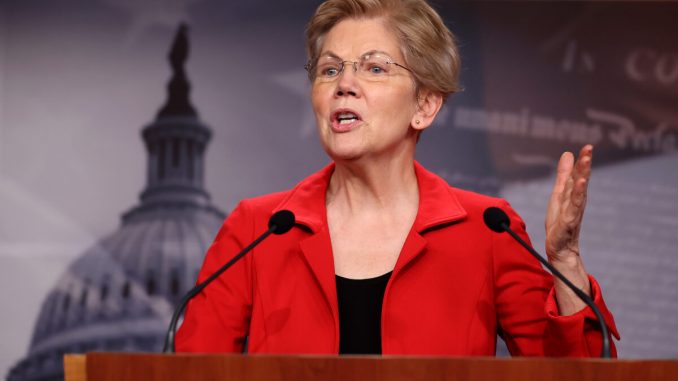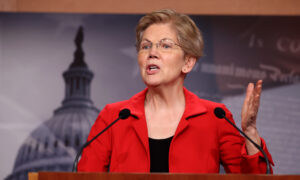 Sen. Elizabeth Warren (D-Mass.) and another Senate Democrat have raised questions about the rights of participants in the Jan. 6 Capitol breach, saying that some are being held in solitary confinement—even before their trials are slated to begin.
"Solitary confinement is a form of punishment that is cruel and psychologically damaging," Warren said in an interview with Politico. "And we're talking about people who haven't been convicted of anything yet."
Warren was responding to questions about the 300 or so individuals who were charged in connection to the breach. Most of those who were charged have been released on bond while they await trial, but a few dozen have been deemed dangerous, high risk, or flight risks; those have been ordered held without bond.
Officials in Washington have placed some of the detainees in 23-hours-per day isolation despite not having been convicted of a crime.
Warren added in the interview that she is concerned that the practice of holding some of the detainees in solitary confinement is a bid to "punish" the participants in the Jan. 6 riot or they're trying to "break them so that they will cooperate."
Sen. Dick Durbin (D-Ill.), who heads the Senate Judiciary Committee, said he was alarmed that all of the detainees are being kept in "restrictive housing," which entails solitary confinement.
"There has to be a clear justification for that, in very limited circumstances," he told Politico.
The Epoch Times has contacted the D.C. Department of Corrections (DOC) for comment.
"We appreciate the concern, patience and support of our neighbors as we work to keep all within DOC safe, as well as support the public safety of all in the District," said DOC spokesperson Keena Blackmon to the news website.
Some lawyers for the defendants, however, said the move is unconstitutional.
"This is not normal. It's not normal to isolate people and make them eat on their floor," said Marty Tankleff, who is representing Jan. 6 defendants Edward Lang and Dominic Pezzola.
Meanwhile, House Speaker Nancy Pelosi (D-Calif.) earlier this month said there needs to be a commission to investigate the breach.
"Today is the 100th day since the January 6th insurrection and assault on the Capitol and our Democracy," Pelosi wrote in her letter on April 16. "On this 100th day, we are determined to seek the truth of January 6th. To do so, we must have a January 6th Commission. To that end, we have once again sent a proposal for such a Commission to the Republicans, modeled after the 9/11 Commission."