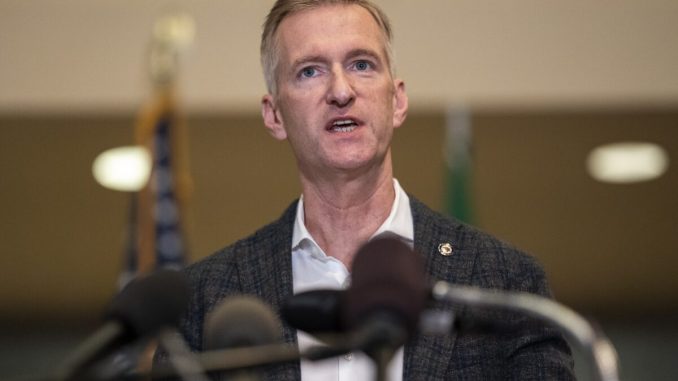 Portland's mayor struck a new tone on Friday as he called for residents to help "unmask" people behind the continued violence in Oregon's largest city.
In his most urgent appeal yet, Mayor Ted Wheeler encouraged whoever has information about the self-described anarchists who are committing crimes in late-night riots to contact the police.
The rabble rousers often show up to their so-called direct action events in cars. If anyone spots a license plate on one of the vehicle, they can give that information to the authorities, he added.
"Our job is to unmask them, arrest them, and prosecute them. I want to personally thank neighbors, family, friends, and others who have come forward with vital evidence. People know who these criminals are. They know what they're up to," Wheeler said during a virtual briefing.
The mayor also made clear that he was not asking people to become violent.
"If you see somebody engaged in criminal activity, and you can safely film it or take a photograph, please do so. To be clear, we're asking people to be engaged in a way that is nonconfrontational, that is nonviolent," he said.
"I'm asking people to speak out against this criminal destruction and violence. I'm asking people to help or they can do so safely by providing evidence. And I'm asking them to come forward, if they know something, or they know somebody who is engaged in this kind of criminal distraction. I'm not asking people to physically defend themselves or defend their property. That is the purview of the police."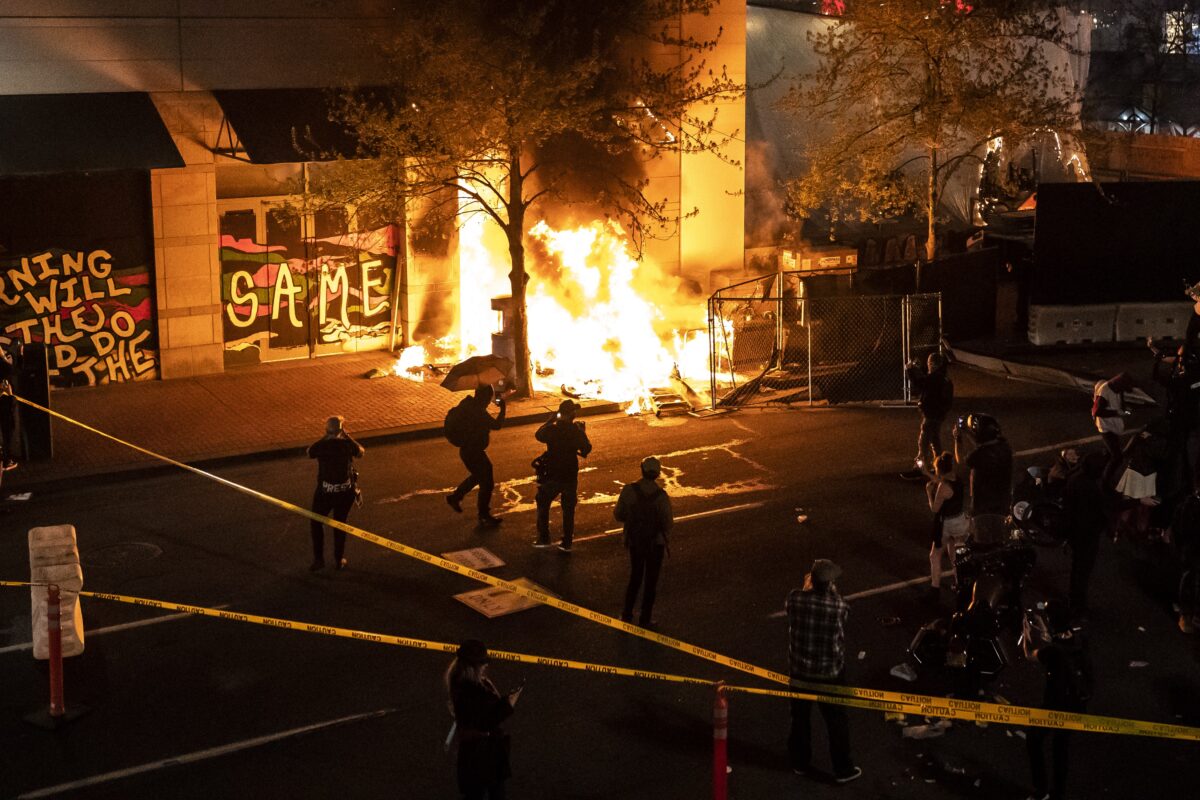 Wheeler said that Black Lives Matter leaders have already denounced the anarchists.
Don't Shoot Portland, which describes itself as a black-led human rights nonprofit, alleged that Wheeler "made a dangerous call to action to turn community members into vigilantes to defend property and 'take back our city.'" The American Civil Liberties Union of Oregon calls Wheeler's comments "inappropriate, irresponsible, and dangerous."
Portland has dealt with unrest since the spring of 2020. Riots regularly take place. Some of the people who have committed crimes are members of the far-left, anarcho-communist Antifa network. Others have identified as Black Lives Matter activists.
Most of those arrested and charged in protests or riots have seen the area's top prosecutor, Multnomah County District Attorney Mike Schmidt, decline to pursue the charges, resulting in them not facing punishment for what they allegedly did.
A particularly troubling stretch of property destruction and arson in recent weeks has prompted Portland and county officials to renew their focus on stopping the mayhem.
On one recent night, a crowd dressed in the "black bloc" clothing favored by Antifa members smashed windows at a number of establishments, including a Boys and Girls Club, a nonprofit that serves youth. The following evening, video footage showed a man punching a police sergeant in the face.
"We're seeing a lot of the same people at these events night after night after night and several people have been arrested now more than once for crimes ranging all the way from disorderly conduct to arson and even attempted murder," Chris Davis, acting police chief, told the briefing on Friday.
Schmidt's office is reviewing cases prosecutors previously dismissed if the alleged wrongdoers are arrested again, Davis said.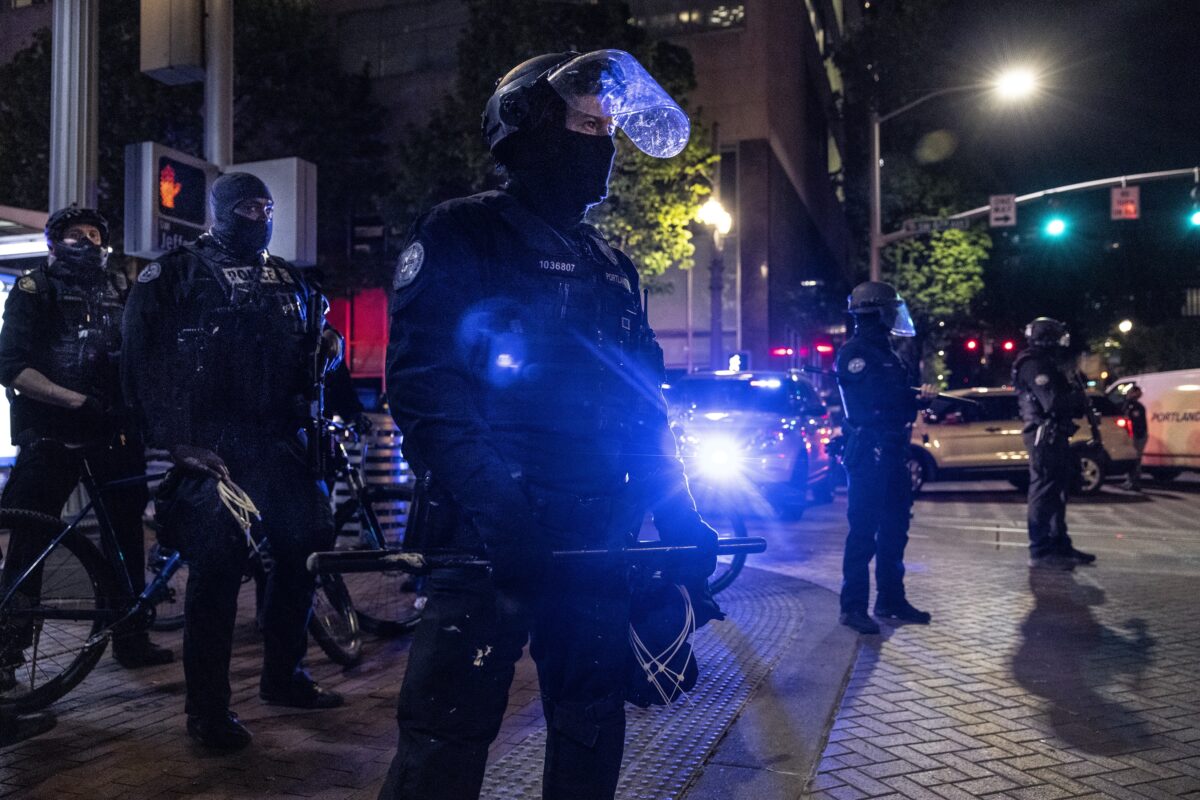 Schmidt in a recent video statement called the rioting that stretches back nearly 11 months "unacceptable," adding: "These harmful and criminal acts do not align with our community values. The First Amendment gives everyone the right to gather and to voice their opinions—whether we agree or overwhelmingly rebuke those beliefs. As District Attorney, I will always defend a person's right to free speech, but I will not defend nor support anyone who knowingly, recklessly or intentionally destroys property or engages in violence."
The rioters do not want things to get better in Portland, according to Wheeler.
"The city is beginning to recover, but self-described anarchists who engage in regular criminal destruction don't want things to open up, to recover," the Democrat said. "They want to prevent us from doing the work of making a better Portland for everyone. They want to burn, they want to bash."
Wheeler said that Portland is at a turning point because the groups of rioters are getting smaller, though they seem to be more determined.
The mayor extended a state of emergency through Monday amid concerns of continued unrest.
Later Friday, a march that called for people to "bloc up!" began in the city's northwest district neighborhood. About 75 people, who obscured themselves with all-block clothing, including face coverings, started smashing windows and forced their way into a tavern, police said.
One resident filming the riot had a rock thrown through his window. Rioters often harass or assault people filming, since the video footage can be used in criminal cases against them.
The group eventually dispersed. Two people were arrested.