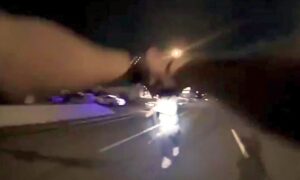 A police officer fatally shot a man after a traffic stop in Nashville on Saturday after he charged at the officer with two large knives, officials said.
Body camera footage of the incident was later released by the Nashville Police Department.
"Hey, stay in the car. Drop the knife," the officer is heard telling the man. "Dude, what are you doing; drop the knife," the officer then says the man darts around holding two butcher knives.
"I don't want to shoot you," the police officer is heard yelling as he requested backup.
Moments later, the man is seen running at the officer with two knives before the officer opens fire.
VIDEO: Nashville officer fatally shoots man armed with 2 butcher knives pic.twitter.com/dBqy0onxK7

— Breaking911 (@Breaking911) April 25, 2021
Metropolitan Nashville Police Department spokesman Don Aaron said in a press conference that the shooting took place in the city's Bordeaux neighborhood. He identified the officer as Christopher Royer.
"The passenger immediately got out of the Mercedes with two large butcher knives, one in each hand, and began running around erratically," Aaron also said.
Aaron said that the suspect who was shot was transported to Vanderbilt University Medical Center.
"What you don't see on there is that, when he was down, there were five officers who rendered aid to this individual," Police Chief John Drake said. "He did everything he could, I felt," Drake added. "He retreated, he asked the individual to drop the weapon several times, continued charging at him, and he was left with no choice."