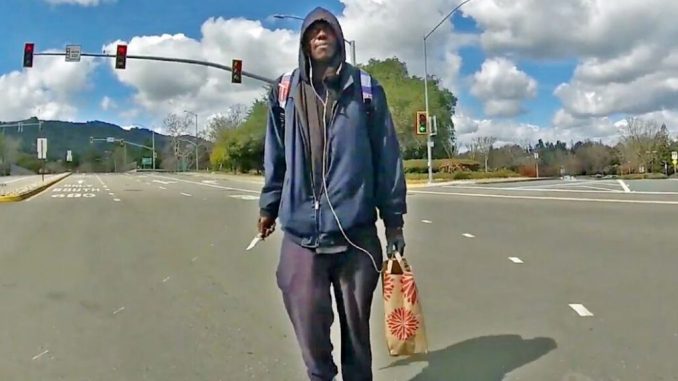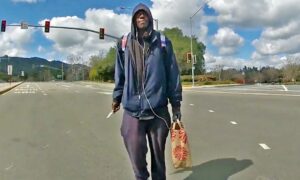 Authorities in Northern California released a graphic video showing the moment an officer shot a man in what may have been a suicide-by-cop incident.
The Contra Costa County Sheriff's Office released bodycam footage of the officer-involved fatal shooting of 32-year-old Tyrell Wilson in Danville, located in the Bay Area.
Danville Police officer Andrew Hall, in the video, is seen being called to an intersection, where he saw a male suspect throwing rocks at passing cars, according to the sheriff's office in a news release. The suspect was later identified as Wilson by the office.
Hall is seen telling Wilson, who is walking through an intersection in the middle of the day, "Get over here."
As Hall approaches, Wilson is seen pulling out a knife, backing away, and telling Hall: "Touch me and see what's up." Hall can then be heard ordering Wilson to "drop the knife" several times.
The video can be seen below (Warning: disturbing footage):
Hall has his service firearm drawn and pointed at Wilson, who then tells him: "Kill me" as he took several steps forward.
In reaction to the shooting, the sheriff's office said, "He did pull a knife on Officer Hall. He did threaten Officer Hall. And he did start advancing toward Hall toward Officer Hall in the middle of a major intersection."
The office added, "Officers are forced to make split-second decisions to protect themselves and the public and that's what happened here."
According to the footage, Hall is seen firing his weapon, fatally striking Wilson. Officials said Wilson, who was identified in local media reports as a homeless man, succumbed to his injuries at a nearby hospital.
The Contra Costa County District Attorney's (DA) office announced last week that Hall was charged with felony manslaughter and assault charges in connection to another shooting several years ago. The DA said Hall committed a crime when he shot Laudemer Arboleda nine times during a pursuit in 2018.