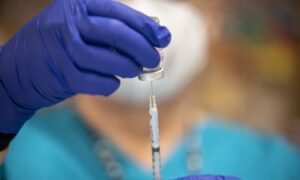 The University System of Maryland (USM) will require students, faculty, and staff at its 12 institutions to be vaccinated against the CCP virus in the fall semester, according to a press release from the school.
"We've been living with COVID for so long now that we forget we're still in the middle of a public health emergency. But these variants—and the increasing disease burden in young people—are reminding us again that we're not out of the woods," USM Chancellor Jay Perman said in a statement.
"And I'm convinced that the risk of doing too little to contain COVID on campus this fall is far greater than the risk of doing too much. For this reason, I'm requiring that all eligible students, faculty, and staff who will be on our Maryland campuses this fall be vaccinated against COVID. Of course, we'll comply with all federal and state laws in granting appropriate exemptions for medical or religious reasons," Perman added.
According to the CDC, college-age students are 870 times less likely to die from a CCP (Chinese Communist Party) virus infection than people aged 85 and over, the group with the highest risk of a fatal outcome. People aged 15–24 made up 1.7 percent of all CCP virus deaths in the United States.
USM enrolls more than 176,000 students.
Rutgers University was the first school to announce that it will mandate vaccinations against the CCP virus, commonly known as the novel coronavirus. At least eight universities had vaccine mandates in place as of April 6, according to Forbes.
Perman made no reference to whether students with acquired immunity to the virus would be exempt from vaccination, suggesting that the school would not consider making exceptions in such cases. A number of immunologists have said that acquired immunity to the virus provides greater protection than vaccines.
"Last week, I said that mandating a COVID vaccine is a reasonable and necessary means of preventing spread of the disease," Perman said. "I'll go one better: Mandating a COVID vaccine is the most effective strategy we have, especially as we try to reach herd immunity. It's not just one tool in this fight; it's our best tool. And one I believe is critical to our safe return to campus."
The mandate is a localized equivalent of a vaccine passport, a public health strategy that has already been outlawed in the government sectors in Florida and South Dakota. Florida Gov. Ron DeSantis has suggested he may go a step further a prohibit private entities from requiring proof of vaccination.