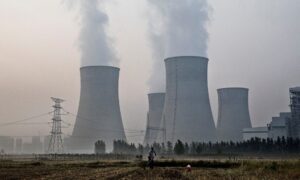 Commentary
President Biden organized his two-day virtual climate summit to start on the fifth anniversary of the signing of the Paris Agreement and end on Earth Day, so as to reassert American leadership in the fight to halt so-called climate change.
However, former Secretary of State Mike Pompeo told Fox News, "The decision for the United States to re-enter the Paris Climate accord and then the announcement that the President made today [to reduce US CO2 emissions by 50 percent by 2050] is an enormous gift to the Chinese Communist Party and a real threat to the United States of America."
According to Statista China has far more capacity from installed coal power plants than other nations, with China having 1,041.9 gigawatts, the United States 233.6, India, 229.2, and then, in fourth place, Russia with 44.8.
In 2020, according to the Union of Concerned Scientists USA, China was producing 28 percent of CO2 emissions, the United States 15 percent, while the UK and other European nations, apart from Germany, each produced around 1 percent. By law Germany is committed to shutting down all its nuclear power stations by 2022 and it currently accounts for 2 percent of global CO2 emissions.
China has 1,058 coal plants, yet its Paris Accord pledge was to only start reducing its emissions beginning in 2030. In the meantime it aims to add to its number of coal-fired plants substantially with new plants capable of producing 97.8 GW already under construction and others yielding a further 151.8 GW at the planning stage, totalling almost 250 GW.
Then add to that the numerous coal plants that China is helping to construct elsewhere in the world, plus any more it manages to build domestically, in addition to those already planned, by the time its Paris pledge is due to start.
Just those known new builds are more than the USA's entire current coal power capacity, which is around 234 GW and dropping fast; the EU's capacity in 2020 was 143 GW and is set to reduce to 60 GW by 2030.
Strangely, those who passionately believe that the kind of air they breathe out every day and plants breathe in is now the biggest danger facing the world don't seem to have a problem with CO2 levels rising exponentially in China.
As things stand, the sacrifices that the populations of the countries that have signed up to the Paris Agreement will have to make, from a net emissions perspective, will be meaningless—other than to take the hit and attempt to offset China's phenomenal and dirty growth until its 2030 promise.
Rather than accept this gloomy prediction, the huge climate change lobby believes it is possible to change China sooner. One of those adherents is British Prime Minister Johnson.
Having legally committed the UK to net zero-carbon emissions by 2050, he hopes his example will influence other nations to follow suit. He is also including climate change reduction in trade deals.
Seeing America now reverse its sceptical climate policy under President Trump seems to validate that view. Even before Biden's inauguration Johnson said, "I think now with President Biden in the White House in Washington, we have the real prospect of American global leadership in tackling climate change."
Although Boris Johnson leads the Conservative Party, he has more in common with America's Democrats, which explains the speed with which he rushed to congratulate Joe Biden for winning the election before key states had finished counting, and despite mounting legal challenges.
His former finance minister, Sajiv Javid, MP, was more blunt and dismissed Trump's election result legal challenges: "The behavior of the U.S. president is frankly adolescent."
Yet the change in America's climate policy only came about because of a controversial election result—certainly not because of Johnson's bargaining. Indeed, his attempts at climate hard balling seems to have blocked the all-important, post-Brexit US-UK trade deal with the otherwise anglophile Trump administration.
And he has stuck to the same formula in his negotiations with the new Biden administration. He told reporters, "Those measures can not only reduce your CO2 emissions and enable us to get to net zero by 2050, but they're also capable of really moving the economy forward. So we look forward to talking about that issue with the White House."
Yet the signals from 1600 Pennsylvania Avenue are still not looking hopeful for an imminent bi-lateral trade deal, this time due to Northern Ireland. Soon after the U.S. election was called a reporter asked the President-elect if he would be willing to say a few words to the BBC, which he did: "The BBC? I'm Irish."
"A quick word for the BBC?"

"The BBC? I'm Irish." https://t.co/GtJ5It4KE0

— Nick Bryant (@NickBryantNY) November 7, 2020
Biden's blatant snub of the UK's national broadcaster led Nigel Farage to ruefully comment, "The Conservatives had four years to do a trade deal with the USA and pro-UK President, and they failed. There is no chance now."
Nevertheless, buoyed on by the outcome of the U.S. election, China is now the next big hope for the global climate change lobby. But it doesn't do elections, or get too worried about trade battles, and for all the encouraging speeches its delegation gave at the Biden climate change summit, these are still only words.
Just how virtual was it?
Andrew Davies is a UK based video producer and writer. His award-winning video on underage sex abuse helped Barnardos children's charity change UK law, whilst his documentary "Batons Bows and Bruises: A History of the Royal Philharmonic Orchestra," ran for six years on the Sky Arts Channel. 
Views expressed in this article are the opinions of the author and do not necessarily reflect the views of The Epoch Times.