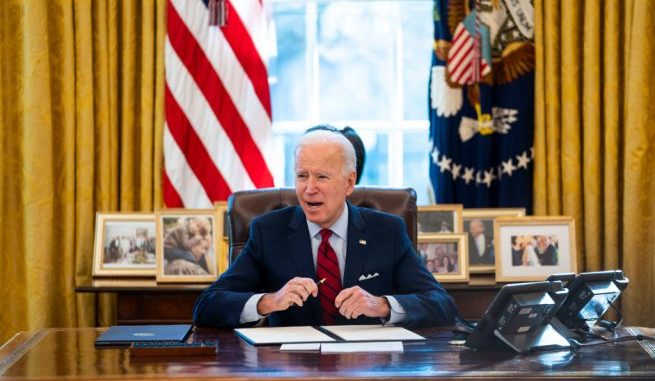 OAN Newsroom
UPDATED 2:20 PM PT – Thursday, January 28, 2021
Joe Biden tried to appeal to progressives by promising sweeping reforms, but the policies he advocated for have been in place for decades with little to no success.
On Tuesday, Biden kicked off his racial equity package by calling attention to so-called systemic racism. He claimed it's become ingrained in American institutions.
"I made it very clear that the moment had arrived as a nation where we face deep racial inequities in America," Biden said. "Systemic racism that has plagued our nation for far, far too long."
He assured the public that he has ordered the federal government to help fix this.
"I issued, among the first days, my whole-of-government executive order that will — for the first time — advance equity for all throughout our federal policies and institutions," Biden stated.
He noted his first executive order was a memorandum for the Secretary of Housing and Urban Development to "redress our nation's and the federal government's history of discriminatory housing practices and policies."
His promise of an anti-discrimination policy in housing practices came more than 50-years after the passage of the Fair Housing Act. According to a report by 'National Fair Housing,' the act has addressed discrimination and provided relief while still continuing to help tens of thousands of Americans.
However, what Biden suggested in his speech is very different. Contrary to his comments, the only specific things his "new policy" actually does is reaffirm the Fair Housing Act and refocus the department's attention on studying past policies.
While his order does introduce a vague agenda to counteract the impacts of past discriminatory policies, it does not publicly disclose which methods will be used to execute this.
Biden also announced he will direct the government to prioritize the self-governance of Native Americans and to focus on treaty responsibilities with the tribes, despite the fact this exact measure has been in place for over a decade.
However, Biden's final executive order introduced one new step. It banned the federal renewal of contracts with private prison operators, citing the higher number of incarcerated black people. This plan to reduce the consequences of crime came after a year of nationwide violence and prison releases.
Biden noted this is just the beginning of his administration's plan to address systemic problems in the criminal justice system. Nevertheless, the order wasn't met with overwhelming support — even from the progressive side of the political spectrum.
After its signature, a spokesperson for the ACLU — an organization that lobbied hard for the end of private prisons — summed up Biden's effort by saying: "While this executive order is important, it is well short of what the nation needs to end mass incarceration and racism in the criminal legal system."