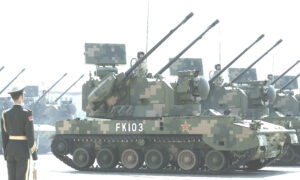 Chinese officials reiterate commitment for so-called national reunification with Taiwan, a democratic island that Beijing claims as its own, amid heightened tensions in the Taiwan Strait.
On April 16, Chinese Vice Foreign Minister Le Yucheng told The Associated Press: "China's national reunification is an unstoppable historical process and trend."
When asked if the Chinese side has a timetable for bringing Taiwan under Beijing's rule, Le didn't directly respond, but emphasized, "This is a historical process."
The Chinese Communist Party's (CCP) military expert, Wang Yunfei, provided his interpretation of Le's statement in an interview with Wenweipo.com, which is under the control of the Liaison Office of the Central People's Government in Hong Kong.
Wang is reportedly a researcher at a national defense policy institute. However, information about both him and the agency is opaque and unreachable online.
What Le suggested, the expert explained, was China does have a timeline, meaning the unification may come as soon as tomorrow, or in 2050 at the latest.
"That cannot be postponed indefinitely," Wang emphasized.
According to him, the historical process of cross-strait reunification is in the hands of China. It would approach as long as Taiwan touches any of the so-called "three red lines" set out in China's Anti-Secession Law, which was passed in March 2005.
Those red lines are embodied in Article 8 of the law, including Taiwan's secession from China under any name or by any means; occurrence of major incidents entailing the secession; or the loss of possibilities for peaceful reunification.
The anti-session law gives communist China the legal basis for military action against Taiwan if it secedes or seems about to, making the narrow Taiwan Strait a potential military flashpoint.
During the interview, Wang also warned that there is no way to peaceful, gradual, or de jure Taiwan independence.
In fact, China has never renounced the use of force to bring Taiwan under its control. The CCP regime has intensified its effort in sending its military airplanes to enter Taiwan's air defense identification zone (ADIZ), particularly after President Tsai Ing-Wen won her re-election by a landslide in January 2020.
In response to growing threats from the CCP regime, the Tsai administration has shown its resolve to confront China while seeking closer ties with the United States, Japan, and other democracies.
On April 16, a joint statement after a summit between U.S. President Joe Biden and Japanese Prime Minister Yoshihide Suga mentioned the "importance of peace and stability in the Taiwan Strait," the first reference to Taiwan in such a declaration by leaders of the two countries since 1969.
The latest move by the United States is the passage of the Strategic Competition Act of 2021 on April 21, which is meant to ensure that the United States is capable of meeting challenges from communist China. The act proposes regular arms sales to Taiwan, to strengthen Taiwan's defense capabilities, to encourage and promote Taiwan's development of asymmetric combat capabilities, pointing out that relevant measures will help prevent the PLA from projecting military power to areas beyond the First Island Chain.