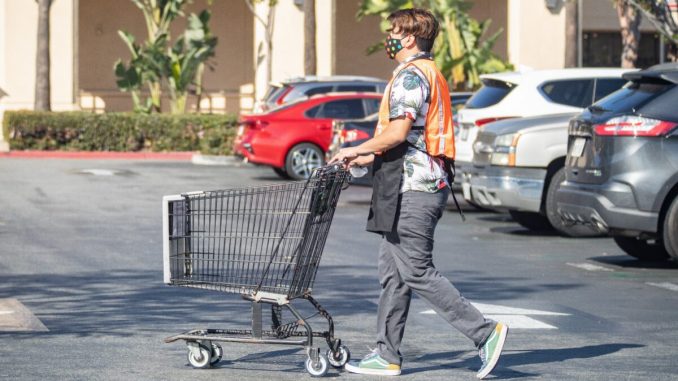 A proposal to boost the hourly wages of Tustin's grocery and retail drug workers failed to garner enough support to pass a city council vote.
Tustin city council on April 20 rejected the "hero pay" ordinance by a 2-3 vote. The ordinance would have increased the hourly wages of grocery and retail drug workers by $4 per hour for a four-month period.
"I'm absolutely against it from the standpoint that I don't think it's our role," Mayor Pro Tem Austin Lumbard said during the meeting.
"We should not step into labor negotiations—already negotiated contracts between the employees and their employers."
The ordinance would have affected about 800 grocery store employees and 50 retail drug store workers within the city.
Four Orange County cities—Irvine, Santa Ana, Costa Mesa, and Buena Park—have already adopted hero pay.
Irvine and Santa Ana have been challenged in court due to their hero pay ordinances, city attorney David Kendig said during the council meeting.
Kendig said Tustin runs the same risk with passing this ordinance, as such a lawsuit could cost the city between $25,000 and $100,000.
Councilmember Ryan Gallagher said that while the risk of a lawsuit falls onto the shoulders of all Tustin residents, the benefits of hero pay would be reaped by only a minority of the city.
"If we go to court and lose, everything that these workers will have received from this hero pay will be borne by our residents," he said. "That's an impact to every resident of the City of Tustin."
Some grocers in California have closed their stores, claiming it was due to hero pay.
Most the grocery chain Kroger closed two Ralphs and a Food 4 Less April 17 after the Long Beach city council mandated a $4 wage increase for pharmacy and retail employees.
It could also happen in Tustin as an unintended consequence of the ordinance, Gallagher said.
It would also discourage grocery stores from moving into the city, he said.
About 10 speakers voiced favor for the hero pay ordinance; many are members of the United Food and Commercial Workers (UFCW) local 324 labor union.
Cristian Martinez, a union representative, said that while grocery chains have increased their profits during the pandemic, they have not adequately compensated their employees.
"We see that retail companies have decided that they will be the winners of the enormous profits and the workforce will remain among those who lose out," Martinez said.
Gallagher said he's not discouraging the UFCW from pursuing this funding, but such labor negotiations should be handled between employers and employees, not elected officials.
"I don't think anyone on this council would appreciate the state stepping in and modifying our labor negotiations once they've been completed," he said.
Lumbard said the hero pay ordinance violates the Equal Protection Clause because it identifies "a certain segment of a certain industry and say they deserve more pay because the city council says so."
Grocery and food costs will increase as a result of the ordinance, impacting all Tustin residents who buy groceries, he added.
"[The] increase in labor costs could mean hundreds of dollars in grocery bills to a family of four," Lumbard said, adding that the unemployed and low-income seniors "are really going to suffer from something like this."
Mayor Letitia Clark said the ordinance is long overdue.
"The hope is that we could have probably addressed this earlier," she said.
"For most of the grocery workers, a lot of them are our youth in our community; they're seniors in our community—many of them are making minimum wage. And I would argue that they're not comparable with other people that we've considered to be frontline or first responder workers in the past. So, they have not been compensated."