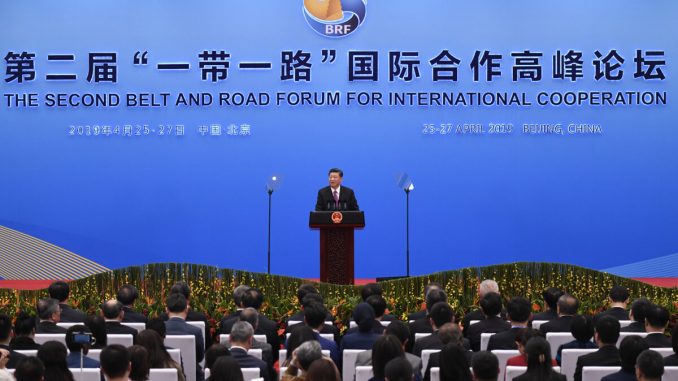 News Analysis
On April 21, the Australian government intervened to cancel the state of Victoria's controversial Belt and Road deal with Beijing stating that the arrangement was inconsistent with Australia's foreign policy and national interests.
The move was criticised by a Chinese diplomat who noted it would not help improve bilateral relations which became tense over the last year as Australia took refused to kowtow to economic coercion and took measures to protect itself from Beijing's interference.
While Victorian Premier Daniel Andrews' state Labor government has been relatively silent since the federal government's intervention, many experts and politicians who support classical liberal values at home and abroad, have expressed support for the move, with one state senator saying that it was "a great day for Australia."
What is the Belt and Road Initiative?
The BRI is the Chinese Communist Party's (CCP's) trillion-dollar dual-purpose infrastructure scheme that seeks to increase China's influence under CCP rule and trade links around the world while generating increasing income for China through a finance scheme for infrastructural development.
It is believed that the CCP also sought to use the initiative to gain greater access to export markets, facilitate trade, and promote the renminbi as a global currency.
First announced in 2013 by China's leader Xi Jinping, the name is derived from the concepts of the "Silk Road Economic Belt" and the "21st-Century Maritime Silk Road."
It aims to "achieve economic integration and interconnected development" between China and the world via a series of six major "corridors" and key maritime points, which include China-Mongolia-Russia; China-Central Asia-West Asia; the China-Indochina peninsula; China-Pakistan; and Bangladesh-China-India-Myanmar.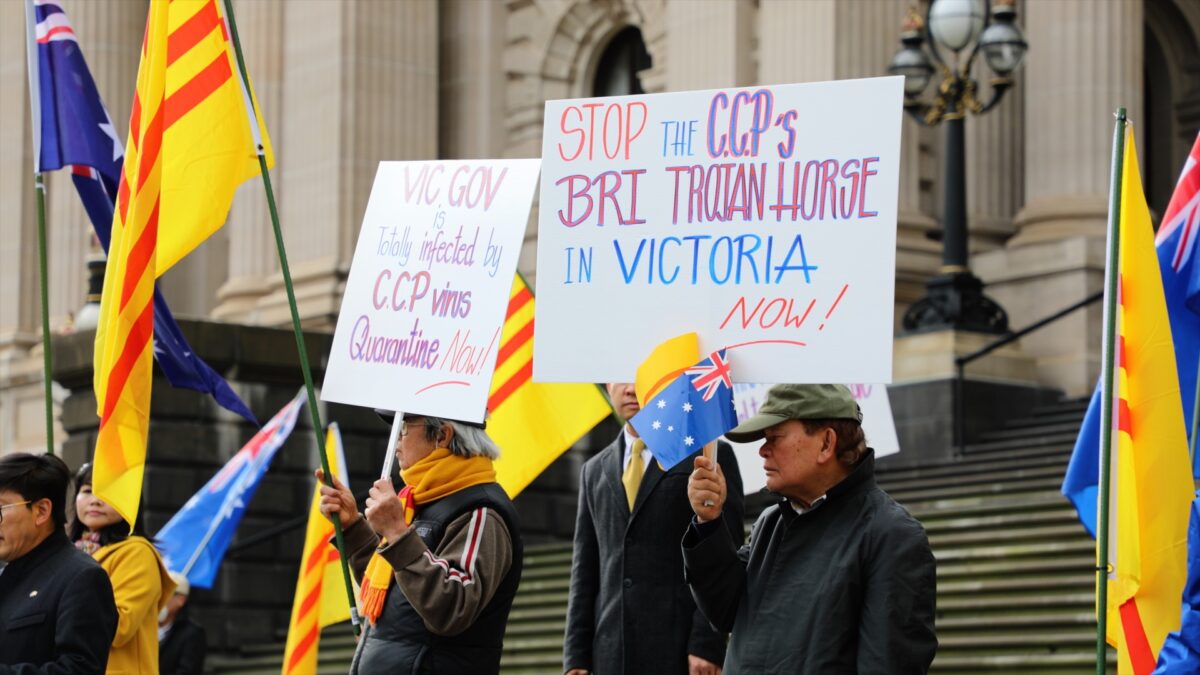 Approximately 70 countries have signed a BRI Memorandum of Understanding (MoU) with China, according to The Australian.
Key to this global expansion of China's money and power has been the CCP push to use Beijing-controlled state-owned enterprises (SOE's) for any BRI project. This is achieved by undercutting infrastructure bids or providing countries with unserviceable loans for projects that they cannot afford, resulting in "debt-trap diplomacy" and a loss of sovereignty for the business partner.
What is Debt Trap Diplomacy?
In recent years, the concept of debt-trap diplomacy has caused concern as many of the BRI projects financed through Chinese state-controlled lenders have left borrowing nations distressed by massive debt burdens.
For example, in December 2017, the Sri Lanka government agreed to hand over their entire Hambantota Port to Beijing on a 99-year lease, after Sri Lanka agreed to convert its debt of $1.4 billion into equity.
The Hambantota Port in southern Sri Lanka was financed and built by China as part of the BRI initiative. It is also a key strategic point for control over the Indian Ocean.
Likewise, in 2018, concerns about sovereignty led Sierra Leone to terminate a $400 million construction project of its airport that would have been entirely built, managed, and maintained by China.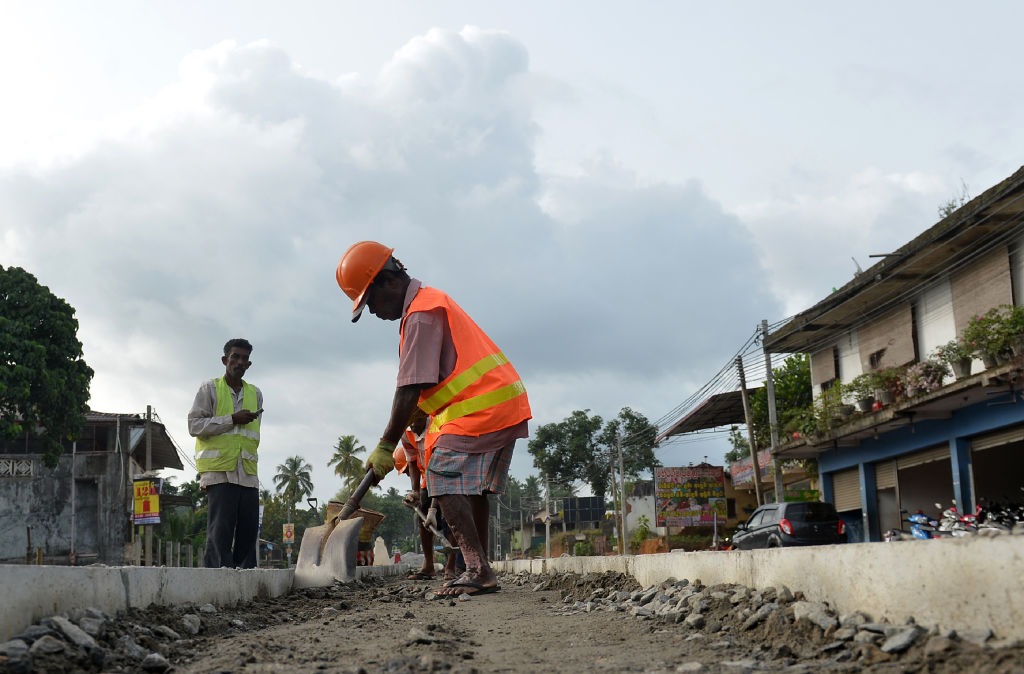 On May 24, 2020, then U.S. Secretary of State Mike Pompeo warned Australia to look "incredibly closely" into any BRI projects.
"There's often money loaned at concessional rates, or conditions placed in the debt documents, or government concessions that have to be made to the Chinese Communist Party," he said.
He also warned Australia that the United States would "simply disconnect" with Australia if Victorian's BRI partnership with Beijing presented any risk to telecommunications infrastructure.
"We will not take any risk to our telecommunications infrastructure, any risk to national security elements with our Five Eyes partners. We are going to protect and preserve the security of those institutions," he said.
According to Associate Professor Michael Clarke from the National Security College at the Australian National University, the CCP extracts political and economic concessions from such countries, such as in the Pacific region, which then poses a national security risk for the Western world, News Corp reported.
The Risk of Civil-Military Fusion
A further risk to BRI partner nations has been the decision by the CCP to establish a civil-military fusion doctrine (MCF), which means any Chinese SOE can be used for military purposes at any time.
Established by the CCP as a way to quickly modernize the People's Liberation Army (PLA), the apparatus encourages not only the conversion of technology into defense applications but also commercial enterprises' participation in the defense industries.
In terms of the BRI initiative, this has taken the form of port and telecommunications infrastructure which the CCP can then use to spy on or influence partner nations. This was the case in Djibouti where China managed to secure control over the strategic Port of Djibouti and establish a military base as part of the build.
Likewise in Papua New Guinea (PNG), Chinese SOE Huawei sought to build a telecommunication hub that the PNG government found to have deliberately used out of date encryption software and insufficient firewalls for PNG government records.
This would have enabled the CCP to spy on the country, a report commissioned by the PNG government noted.
Why is Australia concerned?
While the termination of Victoria's BRI deal was expected, another reason for the move was to curtail the growing influence of the CCP in Australia's region.
In August 2020, Federal Labor leader Anthony Albanese, Andrews' national counterpart, said the CCP had now become a more "assertive" force than any previous Chinese regime, The Australian reported.
While stating the national Labor party's position on Victoria's BRI deal, which he did not support, Albanese said that the CCP was "quite clearly" intervening in Australia's national interest.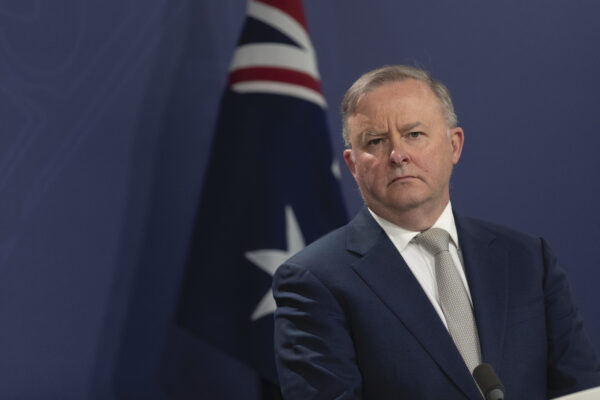 "And we've seen various examples of that on universities, for example. And we've seen that played out," he said. "This isn't a partisan issue."
This sentiment was also echoed by Australian Prime Minister Scott Morrison who said that any agreements with foreign governments must be in Australia's interests.
"It is vital that when it comes to Australia's dealings with the rest of the world, we speak with one voice and work to one plan," he said. "If they're inconsistent with the national interest, they'll go."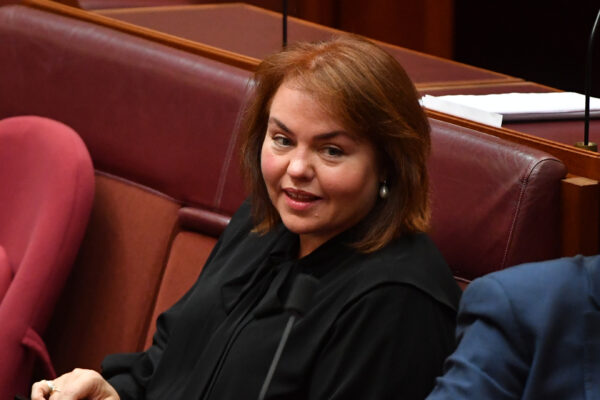 On April 22, Victorian Labor Senator Kimberley Kitching said agreements with foreign regimes are something that should be done by the federal government, not states.
"The federal government is constitutionally mandated under Section 51 of the Constitution to deal with external affairs of the country," she told Sky News.
"I think the problem here with the BRI agreements is that of course, we know that the Victorian MoU's were used by the CCP to spruik to our neighbours in our region, for them to enter into BRI arrangements as well."
BRI Fracturing Western Allies
Closer to home, New Zealand appears to be pivoting in its position towards China, with the country's Foreign Minister Nanaia Mahuta expressing her country's resistance to the Five Eyes alliance branching outside of intelligence sharing to discourse on human rights issues.
"We are uncomfortable with expanding the remit of the Five Eyes," she told reporters on April 19. "We would much rather prefer to look for multilateral opportunities to express our interests."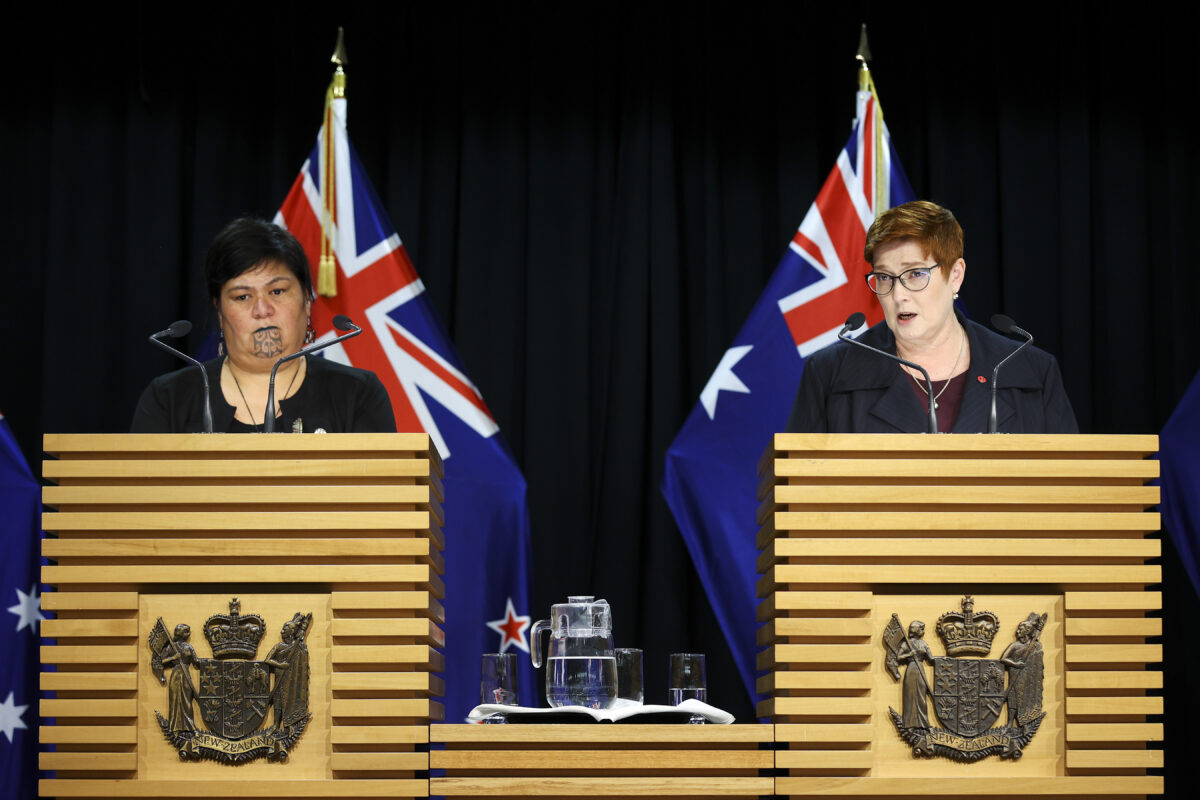 In March 2017, New Zealand became the first Western nation to sign a non-binding Memorandum of Arrangement (MoA) to join the BRI. Since 2017, China remains New Zealand's biggest trading with 29 percent of its exports dependent on the communist state.
One day after Australia's foreign minister vetoed Victoria's BRI deal, a joint conference was held with New Zealand's foreign minister.
During the conference on April 22, New Zealand's Mahuta said the Five Eyes alliance was "not necessary, all the time on every issue" as their "first port of call" when creating a coalition of support around particular issues in the human rights space. Mahuta added that New Zealand needed to "maintain and respect" China's "particular customs, traditions and values."
Mahuta's remarks appeared to echo comments made by U.S. President Joe Biden in February during a CNN town hall when while discussing the Uyghur genocide in China, he said the country had "different norms."
"Culturally, there are different norms that each country and they—their leaders—are expected to follow," Biden said.
The comments' ambiguous nature caused confusion, as some interpreted it to mean that Biden appeared not to take issue with genocide as it might be part of communist China's "different norms."
Similarly, Mahuta's comments drew criticism from UK politicians who viewed the comments as a signal that New Zealand Prime Minister Jacinda Ardern was "crudely sucking up to China and backing out of the Five Eyes agreement."
This will put New Zealand on a collision course with its western allies, according to Michael Shoebridge, defence director at the Australian Strategic Policy Institute.
"[New Zealand] will find that their policy framework collides with their values and interests, even if its purpose is to protect [New Zealand's] China trade," he told The Epoch Times.
"Quietly assuring Five Eyes partners everything is fine, while also assuring Beijing of the same thing, is not sustainable unless China radically changes direction under Chinese leader Xi."
Meanwhile, Australia's Foreign Minister Marise Payne said that while New Zealand had the right to determine its own response to human rights issues in China, she added: "We also have to acknowledge that China's outlook—the nature of China's external engagement both in our region and globally—has changed in recent years."