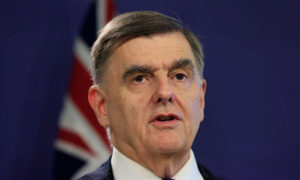 The Federal Government has limited the COVID-19 Pfizer vaccine to Australians under 50 while preparing to expand the AstraZeneca (AZ) vaccine rollout to those over 50 from May.
"With a few exceptions, Pfizer is now restricted to those under 50," Dr. Brendan Murphy, the Secretary of the Department of Health, told a press conference after National Cabinet on Thursday.
"But people always have a choice, and more Pfizer will be available later in the year. At this stage, we will not be making Pfizer available to those 50 and over."
Prime Minister Scott Morrison confirmed that the Pfizer vaccine would be prioritized for people under 50 and 1A and 1B groups.
"They will also be prioritised to those in residential aged care facilities and disability care in remote and very remote locations, and for quarantine and those essential front-line workers who are working in those areas which are vaccinated by the states and territories," Morrison said.
AZ vaccines will be available for those over 50 at state and territory vaccination centres and respiratory clinics from May 3 and then sent to GPs from May 17.
"(For over 50s) we recommend AstraZeneca, the risk-benefit for over 50 is vastly in favour of being vaccinated," Murphy said, emphasizing that the risk for those over 70s being infected is "far, far, far greater than this very rare condition."
Nearly 1.8 million Australians have been vaccinated so far, with around 60,000 doses administered every day.
According to Health Minister Greg Hunt, the proportion of adults who are vaccinated is currently around nine percent in Australia, compared to the over 50 percent in the United States and 63 percent in the United Kingdom.
Travel to and from India will also be tightened after the country continues to go through a catastrophic outbreak, with over 314,000 new cases recorded in one day.
Richard Marles, the Deputy Labor Leader, told Nine that India's current situation highlighted the need to speed up the rollout in Australia.
"This rollout has been botched. We are still in a situation where we're not looking at getting the country vaccinated by the end of the year," he said.