U.S. Senator Rick Scott (R-Fla.) has applauded the Australian government's decision to axe the controversial Belt and Road Initiative agreement signed by the Victorian state government.
Scott said in a statement, "Communist China's Belt and Road Initiative has one mission, to extend its control over other nations and advance its quest for world domination."
"I applaud the decision of the Australian government to stand up to Communist China and refuse to take part in General Secretary Xi's master plan," he added.
"I hope every nation around the world that has agreed to projects with Beijing will recognise the Communist Party's sinister geopolitical strategy and follow Australia's example."
Scott has been supportive of the Australian government's efforts to counter Chinese Communist Party (CCP) interference and recently called on Prime Minister Morrison to support moves to shift the 2022 Winter Olympic Games away from China.
Deals Cancelled Under New Foreign Relations Law
On Wednesday night, Australian Foreign Minister Marise Payne announced the cancellation of four agreements signed between Victoria and foreign countries, including Iran, Syria, and China.
"I consider these four arrangements to be inconsistent with Australia's foreign policy or adverse to our foreign relations," Payne said in a statement.
Two of those deals were signed between current Victorian Premier Daniel Andrews and Beijing's National Development and Reform Commission.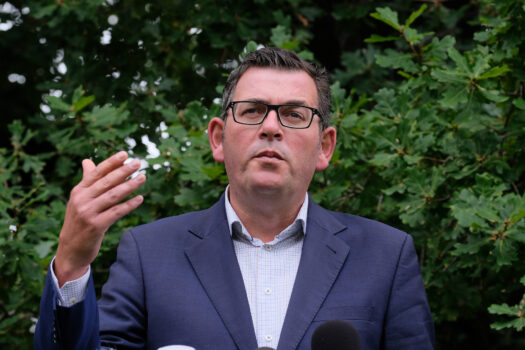 The first cancelled arrangement was a Memorandum of Understanding signed in 2018 that saw Victoria pledge to work on infrastructure projects within Beijing's Framework of the Silk Road Economic Belt and the 21st Century Maritime Silk Road Initiative, commonly known as the Belt and Road Initiative (BRI).
The second axed Framework Agreement was signed by Andrews in 2019. A third was supposed to be signed in 2020 but did not eventuate.
The announcement came just hours after top Chinese diplomat Wang Xining complained about Australia's tough stance towards Beijing and accused it of taking advantage of China.
"China is not a cow," Wang told the National Press Club on Wednesday. "I don't think anybody should fancy the idea to milk China when she's in her prime and plot to slaughter it in the end."
Meanwhile, the Chinese embassy in Canberra has criticised the move, labelling it "unreasonable and provocative."
The Australian Foreign Relations Act 2020 was passed in December last year amid increasing concerns over the BRI and Beijing-backed foreign interference.
The law granted the foreign minister the power to void agreements signed between foreign entities, and subnational Australian governments and public universities.
Experts predicted Victoria's BRI agreements with Beijing would be the first target of the law.
Other controversial agreements including sister-city arrangements, Confucius Institutes, and academic partnerships are likely to come under scrutiny as well.
The BRI is Beijing's trillion-dollar global infrastructure fund that has been accused of being a vehicle for the CCP to expand its global hegemony.
Some developing countries have struggled to pay off loans under the BRI, and in some cases, have been forced to hand over control of key assets and infrastructure to Beijing.