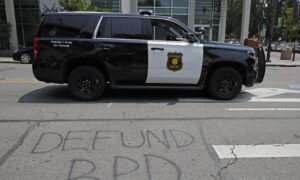 A Rasmussen Reports survey released Wednesday found that the majority of Americans are worried that anti-police rhetoric, which is often pushed by progressive Democrats, will result in a shortage of law enforcement officers and endanger public safety.
The April 13-14 survey, distributed to 1,000 likely U.S. voters, asked respondents, "How concerned  are you that the growing criticism of America's police will lead to a shortage of police officers and reduce public safety in the community where you live?"
Sixty-three percent said they are either "very" or "somewhat" concerned about anti-police rhetoric.
Eighty-four percent of Republicans, 52 percent of Democrats, and 59 percent of independents expressed different levels of concern over the rhetoric. Additionally, 52 percent of black voters said they are concerned, and 61 percent of non-white voters are equally troubled.
The questionnaire comes as the nation debates police reform, after the killing of a black man, George Floyd, was filmed. Police officer, Derek Chauvin, is shown holding his knee on Floyd for nine minutes. The killing last May caused a public outcry and Democrats began more consistent calls to defund police departments.
After a more recent shooting of a black man named Daunte Wright, Democrats double-downed on their opposition to policing in the United States.
"Policing in our country is inherently & intentionally racist. I am done with those who condone government-funded murder," Rep. Rashida Tlaib (D-Mich.) said last week. "No more policing, incarceration, and militarization. It can't be reformed."
"No fair-minded person believes that cops, many of whom are racial minorities, get up every day and go to work hoping for the opportunity to be able to hurt someone, including but not limited to people of color," said Sen. John Kennedy (R-La.) during an interview with Fox News on Thursday. "That's nonsense. But the 'woke-a-reestas' like the congresswoman, they really believe that. They really do hate cops, just because they're cops. They really do want to defund the police," he continued.
"The 'woke-a-reestas' really do believe that when a cop shoots a criminal, it is always—every single time—the cop's fault, but when a criminal shoots a cop, it is always—every single time—the gun's fault. These folks really do have contempt for America, they should have gratitude," said Kennedy.
Alexandria Ocasio-Cortez is another progressive representative who has been leading the call for reforming police departments and the justice system. After ex-police officer Derek Chauvin was found guilty for the murder of Floyd, she said the guilty verdict does not show that the U.S. justice system works.
"No, this verdict is not justice," said Ocasio-Cortez. "Frankly, I don't even think we call it full accountability because there are multiple officers that were there. It wasn't just Derek Chauvin. And I also don't want this moment to be framed as this system working, because it's not working." She added that the verdict cannot replace policy change within the criminal justice system.
Tlaib and Ocasio-Cortez's offices did not immediately respond to a request for a statement about Kennedy's interview comments.
Although President Joe Biden has said he does not support defunding police departments, he has pushed for the progressive climate, education, healthcare, police reform, and gun control agenda. Kennedy said President Biden is encouraging progressives, which is making communities less safe.
"He knows better, and he's encouraged it. And it is a hurting America, and it is hurting people. And I knew that President Biden would be left of center, I never dreamed he'd be left of Lenin," said Kennedy.
Contrary to what Tlaib and Ocasio-Cortez have said about police, the majority of Americans identified policing as "one of the most important jobs in our country today."