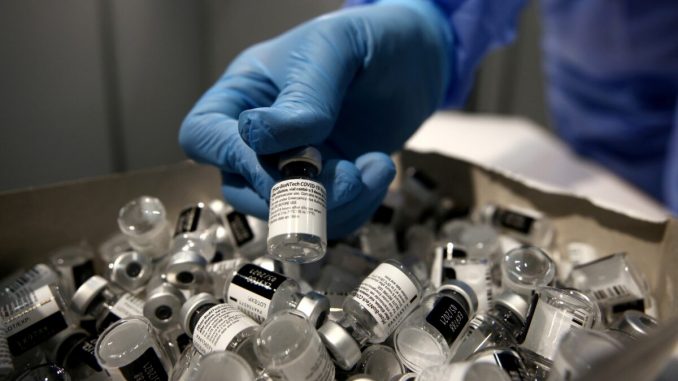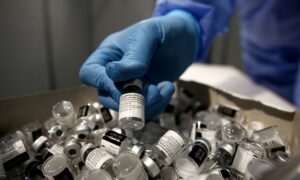 Pharmaceutical giant Pfizer has confirmed to multiple media outlets that it has identified counterfeit versions of its COVID-19 vaccine in Mexico and Poland.
A spokesperson told The Wall Street Journal that fake versions of the Pfizer/BioNTech vaccine in Mexico had fraudulent labels, while a substance inside vials in Poland was probably an anti-wrinkle treatment.
Tests confirmed that the doses identified in the two countries were fake.
Officials with the Justice Department's International Computer Hacking and Intellectual Property division in Latin America and Eastern Europe are aware of the counterfeit Pfizer vaccines in Mexico and Poland, the DOJ told ABC News, adding that they "are seeking to coordinate with and support local authorities and Pfizer, as needed."
A Twitter account run by the Polish government to promote COVID-19 inoculations and provide updates on the country's vaccine drive shared the WSJ report while noting that, "all doses distributed via the National Vaccine Program are sourced directly from manufacturers and are authentic. The practice described [in the article] is unlawful and is associated with acquisition of vaccines from dubious sources. In Poland, we have NOT identified any such inoculations, as noted in the article."
The WSJ report cited Mexican officials as saying that 80 people at a clinic in Mexico were injected with a fake vaccine, while citing Polish officials as saying that no one in Poland had received a counterfeit vaccine.
Poland's minister of health, Adam Niedzielski, responded to questions about reports of fake vaccines in Poland and Mexico, at a press conference in Warsaw on Wednesday. Reporters asked whether counterfeit vaccines may have made it into the official distribution pipeline.
"The risk of fakes making it into our official distribution is practically non-existent," Niedzielski said. "All certified products end up at vaccine administration sites and the entire logistical chain is designed to ensure safety and prevent any fake vaccines from official distribution," he added.
Polish news outlet Polsat News reported that its reporters had managed to buy a fake Pfizer vaccine in a sting in January, with the man who sold the vial subsequently arrested by police.
Lev Kubiak, Pfizer's head of global security, told WSJ that the global demand for the vaccine and shortfall in supply had led to the scam.
"We have a very limited supply, a supply that will increase as we ramp up and other companies enter the vaccine space. In the interim, there is a perfect opportunity for criminals," he told the outlet.
It comes after the World Health Organization warned in March of "falsified" Pfizer vaccines found in Mexico and warned that the shots "may still be in circulation in the region." The health agency added that the fake vaccines were supplied and administered to patients outside authorized vaccination programs.
The Epoch Times reached out to Pfizer for comment on the counterfeit vaccines, but did not receive a response by publication.